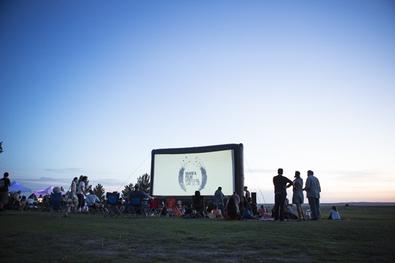 Marfa Film Festival submissions are nearly due; the Alley Theatre ready for its debut; and budget cuts are still causing worry. It's this week's Texas News Roundup.
Submission Deadlines Arriving for Marfa Film Festival
June 21 is the extended deadline to submit to the Marfa Film Festival. The festival will take place October 14–18, and "over five days we [will] screen a diverse mix of features, shorts, music videos, and experimental works, including a full afternoon schedule followed each evening by outdoor classics screenings in a starlit desert, with special happenings and spaces."

The Alley Theatre Soon Ready for Its Debut
Houston's Alley Theatre will be ready to unveil its $46.5 million renovation this fall, starting with a fundraiser on September 19 and opening October 2 with the comedy, "One Man, Two Guv'nors." Improvements include the addition of a four-story fly loft, allowing scenery and equipment to be suspended out of the audience's view; and an extensive traps system under the stage floor, so set pieces and performers can rise or descend. Perhaps most importantly, the theater is also doubling the bathroom facilities.
Budget Cuts Like a Knife
Texans are still reeling from the recent production budget cuts. With $32 million left for funding over the next two years, that "can go really fast," said Liz Atherton of the TAG Talent Agency. "It's not just Austin or Dallas that benefit from the film incentives program. It is every small town in Texas where they film, and they film all over Texas," Atherton said. "We take that away, and that's just devastating."
Inspired by this post? Check out our Texas audition listings!