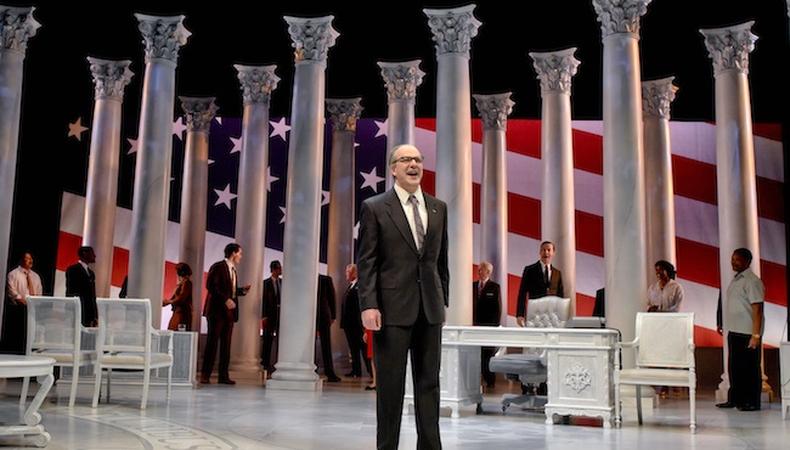 When the joint Alley Theatre and Dallas Theater Center (DTC) production of "All the Way" was announced, Alley acting company member James Black was slated to perform the iconic role of Lyndon B. Johnson. But four days before the first technical rehearsal, Black was forced to drop out for health reasons.
Kevin Moriarty, artistic director of the DTC and helmer of the production's Texas rendition, flew into action to find a replacement for the massive slot. "Whenever [you need to find a last-minute replacement], you look for actors who have done the role before." He was amazed to realize that, because the play was so recent, there were only four actors in the country who had done it before, and none were available. ("Bryan Cranston was a little busy," Moriarty jokes about the Tony-winning Broadway originator.)
He ended up tapping DTC acting company member Brandon Potter for the part—a lucky and important byproduct of both theaters maintaining resident acting companies from which to cull their casts. Despite being decades younger than LBJ, Potter came up to speed immediately, and made his debut off-book in front of a sold-out crowd. Reviews have been raves and long-standing regional theaters' devotion to resident actors has been vindicated.
Both Houston's Alley Theatre and the Dallas Theater Center (created in 1949 and a decade later, respectively) have been huge powerhouses in regional theater in the more-than-half-a-century since their founding. With such storied legacies—the Alley was given the Tony Award for Outstanding Regional Theater in 1996—and physically being separated by just 240 miles, you might expect there have been many opportunities over the years for the companies to mount a co-production, but "All the Way," which is currently playing at the Alley and moving to Dallas on March 3, is their first. And the principals agree—it's about time.
"Celebrating our shared artistic values and bringing our actors together to collaborate on an epic project has been a joy for all of the artists and staff involved," says Moriarty. "The Alley and [DTC] are the only two LORT [League of Resident Theatres] members in the state of Texas. Our cities share a common place in history as among the earliest in the country to establish resident theaters."
It's especially appropriate that the companies teamed up on a play with significant Texas roots. "All the Way," which was commissioned by the legendary Oregon Shakespeare Festival, won the 2014 Tony Award for best play, and a best actor award for Cranston who played the Texas politician and 36th president of the United States on the Great White Way. It seemed like a perfect fit for the two companies. Its size alone (a cast of 19) made a joint production financially sensible as well, says Moriarty.
"This collaboration allows us to not only bring our staffs and communities together around a shared telling of Texas history, but more importantly brings our resident acting companies together to collaborate in the rehearsal room and on stage for the first time," Moriarty adds. "Few American theaters continue to support resident acting companies; both the Alley and DTC do."
"All the Way" runs through Feb. 21 at the Alley Theatre, followed by a March 3–27 run at DTC.
Inspired by this post? Check out our Texas audition listings!