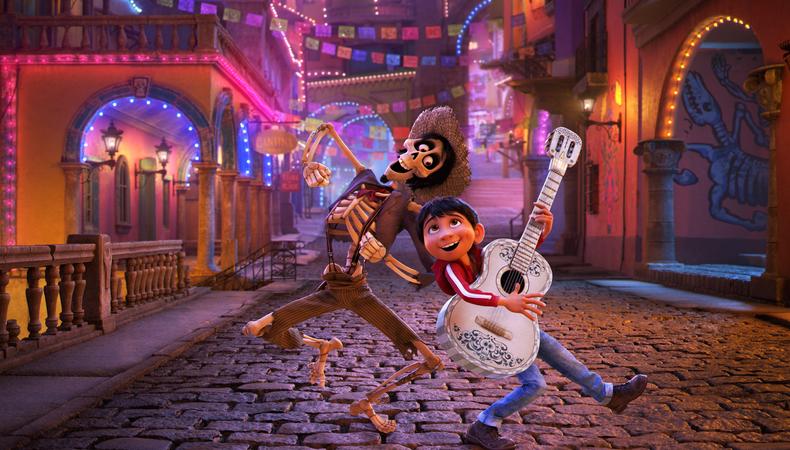 The 45th annual Annie Awards took place Feb. 3 in Los Angeles, awarding top honors to Disney and Pixar's "Coco". The Day of the Dead-themed family film won 11 of the 13 categories in which it was nominated, including Best Animated Feature—positioning it as the animated Oscar frontrunner.
READ: Lee Unkrich on Casting Kid Star Anthony Gonzalez for Disney Pixar's 'Coco'
The Annie Awards, known for predicting the next animated film to take home an Academy Award, honor excellence and achievement in animation, with a total of 36 categories including Best Feature, Best Feature – Independent, Production Design, Character Animation, and Effects Animation to Storyboarding, Writing, Music, Editing and Voice Acting. The ceremony, held at UCLA's Royce Hall, has undergone some changes in the last few years, splitting the Best Animated Feature award, with other top winners of the evening including "The Breadwinner" (from GKIDS) for the Best Animated Feature – Independent honor.
On the television side of the awards, "Rick and Morty" (Cartoon Network's Adult Swim) won the Best General Audience Animated TV/Broadcast Production for the buzzy episode "Pickle Rick." Best Animated TV/Broadcast Production for Children went to Cartoon Network's "We Bare Bears" for the episode "Panda's Art."
The Winsor McCay Award, a prize for career contributions to animation, was awarded to three recipients: British character animator James Baxter; SpongeBob SquarePants creator Stephen Hillenburg; and the Canadian animation duo Wendy Tilby and Amanda Forbis.
Interested in acting for animation? Click here Voiceover Training 101!
The Annie Awards were created in 1972 by June Foray, a legendary voice actor who passed away last July and to whom this year's ceremony was dedicated. Of the 2018 rendition Frank Gladstone, the awards' executive producer, stated, "This year, we paid tribute to our beloved June Foray, who always delighted in seeing how the event she founded continued to grow year after year. This year was no exception; June would have enjoyed the increasing numbers, but more important to her, and to us, has always been seeing the proof, inherent in the Annies, that the capability of people, worldwide, to create animated films has also continued to diversify and increase."
Check out the full list of this year's Annie Award winners here.
Hoping to star in the next animated hit? Check out Backstage's voiceover audition listings!