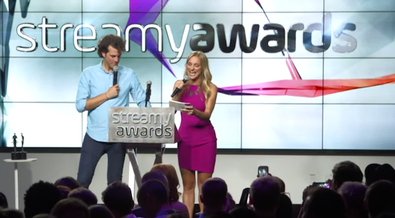 The 5th annual Streamy Awards were held last night at the Hollywood Palladium in Los Angeles.
The event honoring the crème de la crème of YouTube, Snapchat, and Vine creators was aired live on VH1 for the first time ever.
The best actress award went to Colleen Ballinger for her poor makeup skills and great everything else in her YouTube show "Miranda Sings" while James Van Der Beek snagged best actor for his work on "Adi Shankar's Bootleg Universe," the channel responsible for the dark reimagining of "Power Rangers," the costumed ninja kids show from the '90s. "POWER/RANGERS UNAUTHORIZED," stars Van Der Beek as the villain and has hit over 15 million views on YouTube.
Best ensemble cast and best directing went to the cast and crew of "Video Game High School," while "So You Think You Can Dance" Season 3 winner and YouTube personality Dominic "D-Trix" Sandoval won for best dance.
Beating "VGHS" by one win was "Epic Rap Battles of History," which won the collaboration, editing, and costume design awards for its creative take on rap verses spoken by historical figures Gandhi, Ebenezer Scrooge, Ben Franklin, Cleopatra, and more.
Best animated show went to "Cyanide & Happiness," and Mamrie Hart's TV and film–inspired cocktail recipe show "You Deserve a Drink" won for best writing.
Awarded for their excellence as creators in the drama and comedy categories were BlackBoxTV and the faux DJ personality Flula, respectively.
For mobile platforms, King Bach won for best Vine content while Shaun McBride took the Snapchat win.
Cameron Dallas was named entertainer of the year and prank show fouseyTUBE won show of the year. For the full list of nominees and winners, visit streamys.org.
Watch Ballinger accept her award for best actress below!
Inspired by this post? Check out our television audition listings!