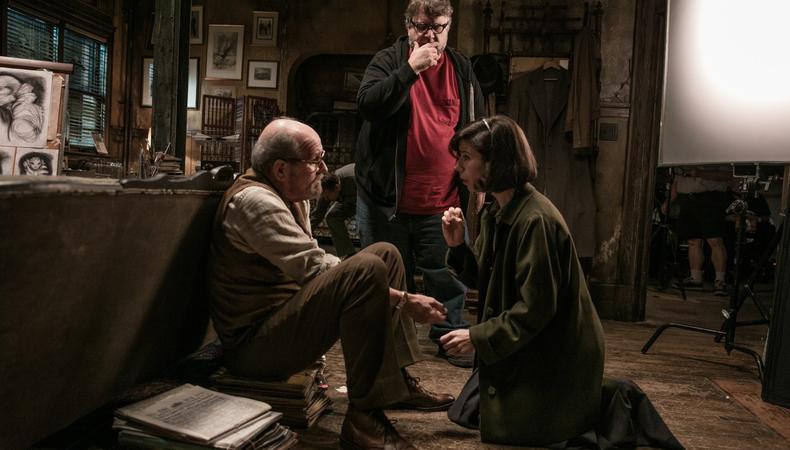 The Directors Guild of America's top award—outstanding directorial achievement in a feature—was handed to Guillermo del Toro Feb. 3 at the Beverly Hilton Hotel in Los Angeles for his Fox Searchlight Pictures feature "The Shape of Water."
A harbinger of Oscars success as well as the highest distinction given by Hollywood's directing guild, the DGA Awards recognize achievement in feature film as well as television, documentary, variety shows, and commercials. The 2018 ceremony, hosted by Judd Apatow, marks the award show's 70th year.
In addition to crowning their pick for 2017's top director, guild members honored Jordan Peele with the Outstanding Directorial Achievement in First-Time Feature Film award for his Universal Pictures horror hit "Get Out." Peele was also in the running for the big prize, alongside fellow Academy Award nominees Greta Gerwig for A24's "Lady Bird" and Christopher Nolan for Warner Bros.' "Dunkirk."
Reed Morano and Jean-Marc Vallée followed up their Emmy victories with drama series and mini-series wins for Hulu's "The Handmaid's Tale" and HBO's "Big Little Lies," respectively. In comedy series category, Beth McCarthy-Miller of HBO's "Veep" earned the award on her 12th nomination. Niki Caro earned her first DGA win in the children's series category for Netflix's "Anne with an E." Michael Apted was given the Honorary Life Member Award, Dwight Williams the Frank Capra Achievement Award, and Jim Tanker the Franklin J. Schaffner Achievement Award.
Last year's feature film prize went to eventual Academy Award winner Damien Chazelle for Lionsgate's "La La Land." The leader of this year's Oscar nominations was "The Shape of Water" with 13, including recognition for stars Sally Hawkins, Richard Jenkins, and Octavia Spencer. If del Toro earns the Best Director statue, the DGA Awards will have predicted that category's winner five years in a row.
For more information on the DGA and a full list its 2018 winners, click here.
Check out Backstage's film audition listings!