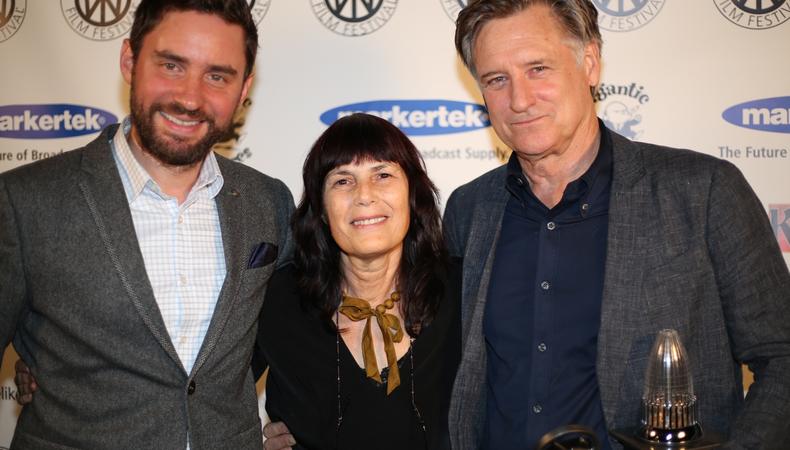 The 2017 Woodstock Film Festival concluded Oct. 15 with awards for actor Bill Pullman and Bob Byington's dark comedy feature "Infinity Baby." Stylized by its founders as "fiercely independent," the fest celebrated its 18th annual iteration in Woodstock, Rhinebeck, Kingston, Rosendale, and Saugerties, New York.
Running Oct. 11–15, the event screened dozens of new titles, including Richard Linklater's "Last Flag Flying" (Amazon Studios), Ruben Östlund's Cannes champion "The Square," and "Infinity Baby," the Best Narrative Feature award winner starring Kieran Culkin, Megan Mullally, and Nick Offerman that premiered earlier this year at SXSW.
The Woodstock Film Festival has in years past screened such Oscar-nominated projects as "Far From Heaven," "The Imitation Game," "Up in the Air," and last year's "Loving."
The Maverick Awards Ceremony Oct. 14, which included a tribute to the late director Jonathan Demme, honored legendary producer and manager Shep Gordon with the Trailblazer Award in recognition of his groundbreaking career. Pullman, meanwhile, was presented by director Jared Moshe with the honorary award for Excellence In Acting. "The Ballad of Lefty Brown," Moshe's new western drama starring Pullman, premiered to an enthusiastic audience earlier at the fest; the film will premiere with a Dec. 15 release from A24 and DirecTV.
More info on the Woodstock Film Festival, which "showcases some of the best contemporary filmmaking from around the world, featuring passionate, creative, captivating and affirming work by some of today's most promising and accomplished independent filmmakers," can be found at their website.
For more updates from the frontlines of film festival season, follow along with Backstage's awards coverage!
Check out Backstage's film audition listings!