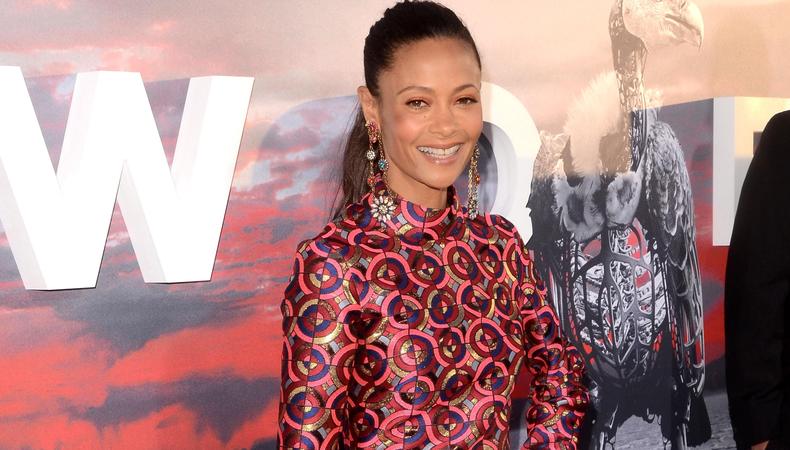 Thandie Newton knows her values. That means she can ask for help or speak up for herself without needing validation.
In 2013 the Emmy-nominated actor led London's One Billion Rising flash mob to end violence and gender inequality. In 2016 she began speaking out against sexual harassment in the entertainment industry. And her human rights work inevitably seeps into her life on set. In interviews Newton has explained her deliberate choice to take on Maeve Millay, the brothel madame and sentient android in HBO's "Westworld": by playing the often nude robot, she gets to engage in conversations about what it means to be a human.
Although her activism inspires her acting, Newton clarifies during her "In the Envelope" podcast interview, "I don't see 'Westworld' as an opportunity to carry a torch for the work that I do outside; it just happens to be relevant to me." Newton finds authenticity in her portrayal of a feminist character overpowering her world's oppression—without using each scene to be self-righteous or pedantic.
READ: Evan Rachel Wood's Advice to Child Actors—and Their Parents
It's a rich love for both acting and activism that drives Newton. "If you have a lust for creativity, just start doing it at home," she advises artists. "Write, get your friends together, get your iPhones and start filming." She recommends that actors ground themselves in their love of the work and understand that they cannot do everything alone.
A recent story that her friend told her resonated because it lines up with this thinking. When her friend was 11 years old, he wrote a letter to Jim Henson's workshop about his love for puppeteering and his aspiration to work for the company. At the time, he received a response saying that he was too young to be a professional puppeteer. But by age 17, the workshop found his letter, reached out, and hired him. Now he plays many monsters and creatures in various "Star Wars" movies. "That's a true story," Newton says. "So I think if you love something, if you're really excited and animated by the desire to be creative, you can't do that on your own."
Ultimately, Newton argues that your love for the craft should never undermine your humanity; the two are inextricably linked. Knowing your values can mean speaking up for yourself. You should always be able to walk away from a job or audition, for example, with your dignity intact.
That goes for any situation involving those in power abusing that power. "If a director asks you to do something pervy, tell them to fuck off," concludes Newton. "No role is worth it."
To listen to Newton's "In the Envelope" podcast interview in full (along with "Mr. Robot" star Carly Chaikin), click here!
UPDATE: Newton is no longer just a nominee; at the 70th Emmy Awards ceremony Sept. 17, the "Westworld" star took home the award for outstanding supporting actress in a drama!