Inside a stark Hollywood photo studio, Amy Adams' detailed phrasing while discussing her acting process conjures finger-painted fridge notes, candles with lost wicks, and a garage-strung tennis ball patting a windshield. "I like lived-in characters," she says. "I want a character to feel like that's who she's been her whole life. I don't want it to feel like a performance," adding, "I want it to feel like someone you know."
The women she brings to the screen are so convincing, it's easy to imagine encountering them at crosswalks after the end credits living the new life you've dreamt up for them: Ashley Johnsten ("Junebug") rode her first plane and had another baby; Sister James ("Doubt") left the church to counsel sexual abuse victims; Julie Powell ("Julie & Julia"), worn down by the competitiveness of foodie Instagram accounts, returned to rustic cookery.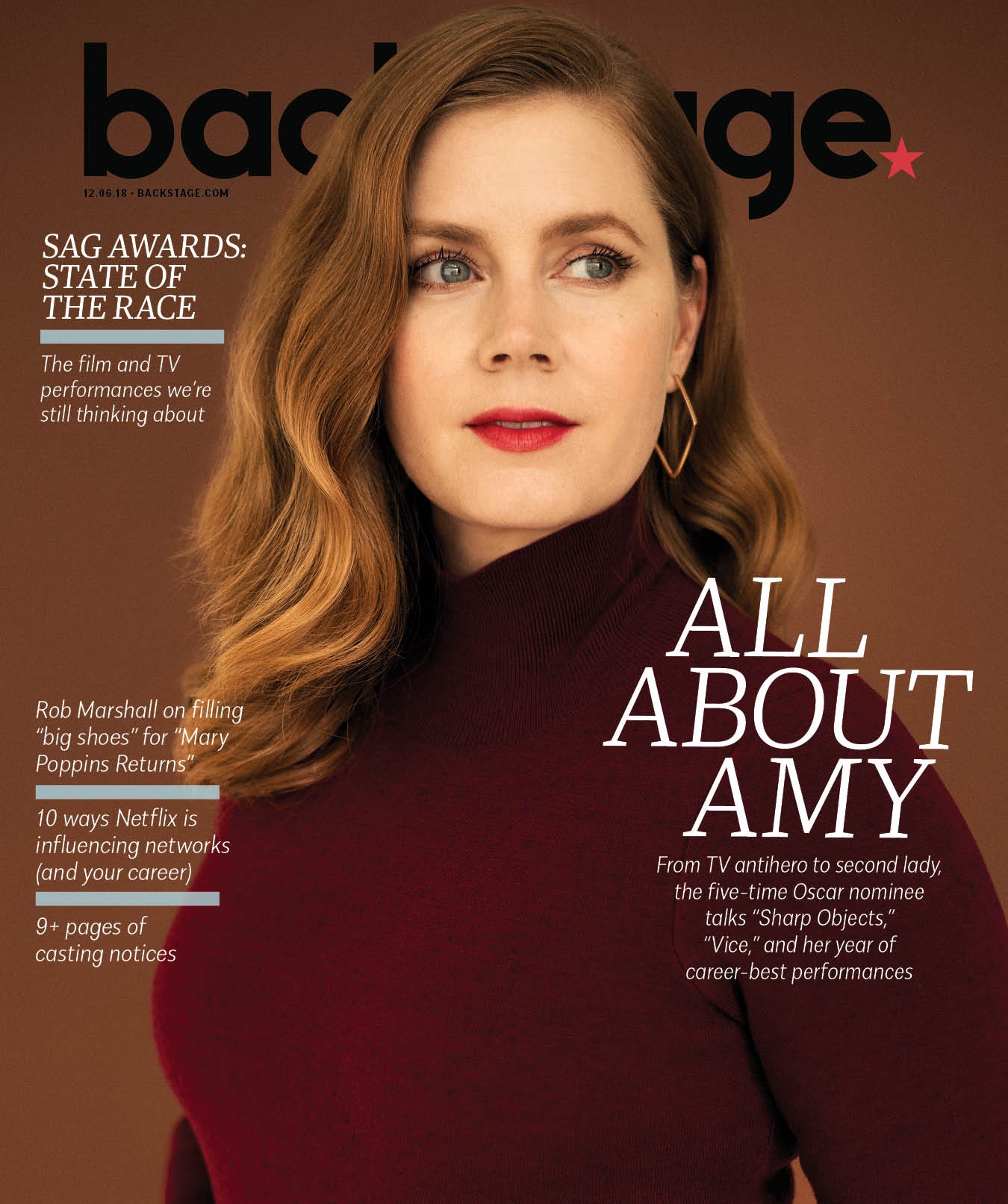 Although Oscars have eluded Adams five times, she's in the awards conversation again for Adam McKay's Dick Cheney biopic "Vice" and her recent work on "Sharp Objects," which has already made her a front-runner in 2019's Emmy race (not to mention a lock for the upcoming SAG Awards).
Adapted from Gillian Flynn's novel, the eight-part HBO miniseries, which debuted in July, enlists Adams as Camille Preaker, a St. Louis crime reporter doubly imprisoned by words. We pick up years after Camille has extracted herself from the Missouri Bootheel and her mother Adora's (Patricia Clarkson) manicured claws, only to be sent back to investigate the murder of a local girl. Forced to again write herself out of small-town America, she manages her anxiety by quietly and constantly pouring vodka into her water bottles while resisting the urge to etch another 350 cries for help into her skin—from "INJURY" to "WRONG" to "VANISH." Her addiction to self-harm—revealed in parsed-out flashbacks—mandates a dress code of long-sleeved forced modesty; almost every inch of her skin remains covered, despite the sweltering Missouri heat.
During the 91-day shoot, daily scar application took one to three hours. "Because they're head to toe, I had to stand up pretty much in my underwear," says Adams. "Being confronted with the sight of me every day as [my skin] would transform and standing there feeling really vulnerable, it really fed the character."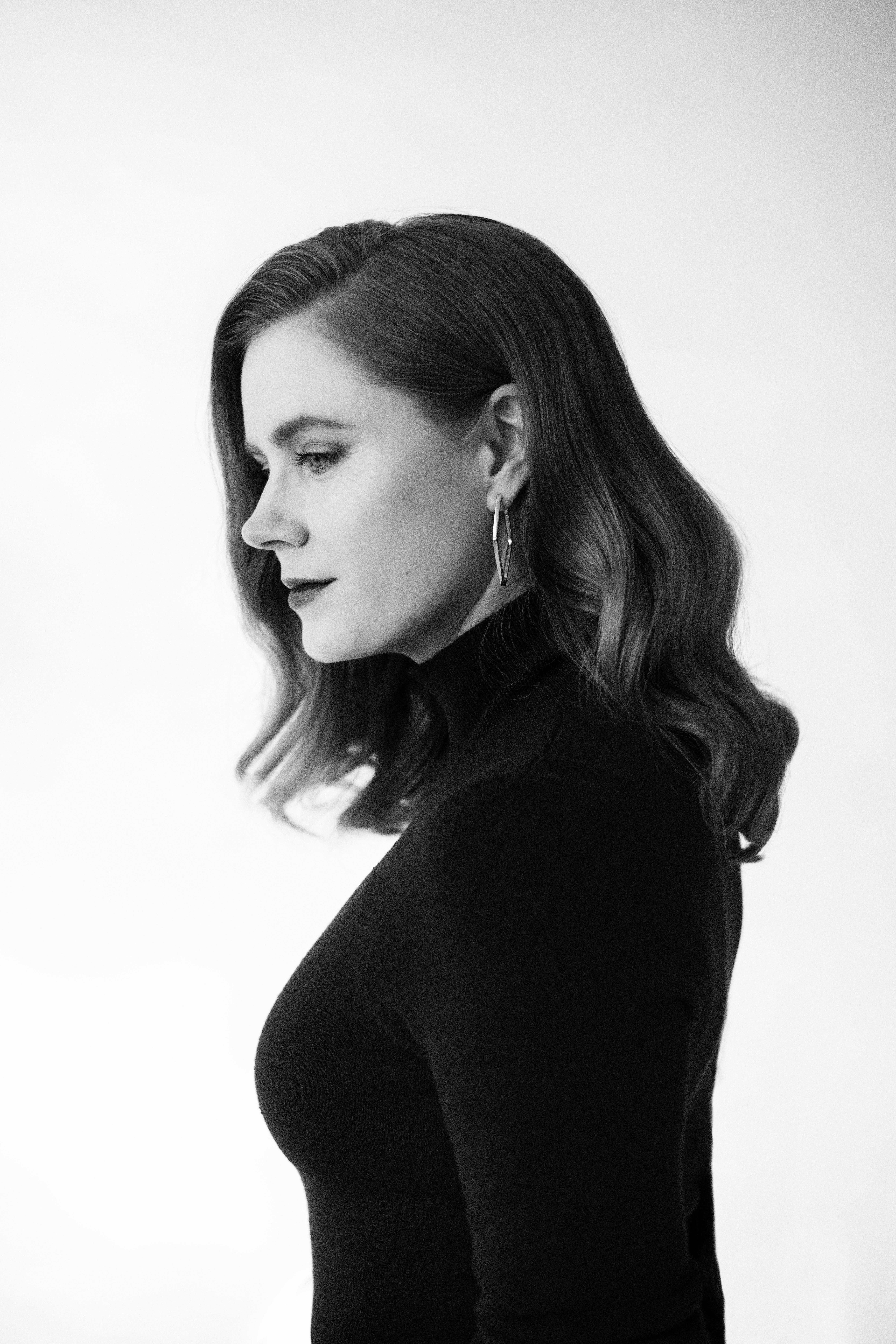 Long before arriving on set for director Jean-Marc Vallée ("Big Little Lies"), Adams (also an executive producer on the project) started her preparation by "mining" details from Flynn's text and ordering numerous books on self-harm. She spent "hours and hours and hours" with her acting coach, Warner Loughlin, whom she refers to as her "acting therapist," since "essentially we go in and break down the characters...discussing [their] past[s] and moments and motivations."
Vallée was against the use of voiceover, "so it was really important to me to be able to communicate her inner monologue just through acting," Adams says. "There's a sadness and an intensity about her, but she's also very raw and very vulnerable, and also very compassionate, like strangely compassionate."
Her character's compassion comes through best in her relationship with her charming but manipulative younger half sister Amma (Eliza Scanlen), and Adams decided she wanted to help cast the role. (She also had a say in who played Detective Richard Willis, the love interest she chases to question each suspect and witness; the part went to her onscreen "Julie & Julia" husband Chris Messina.)
For Amma, Australian teenager Scanlen "just was undeniable." In the audition room, Adams recalls, "She not only kept up, but she got ahead," meaning "with every slippery trick I was trying to use to see if she could [handle them,] engaging, disengaging, saying a line really quietly...just seeing how she'll react to things," Scanlen rose to the challenge. When Vallée encouraged Scanlen to show affection, the young actor crawled onto Adams' lap and stole a kiss. Theirs is an at first cautious chemistry that blossoms as the season and their relationship progresses, and Scanlen's scenes with Adams are some of the show's best.
Developing a rapport with her co-stars was necessary for Adams' preparation, but getting ready for "Sharp Objects" also meant constructing Camille's sense memories. "You kind of tell yourself the stories of what happened to the character," she says, explaining how she assembles from scratch a very specific set of recollections for the women she plays. For example, filming "Arrival" required many instances where her character, Louise Banks, pined for the little girl she'd lost. "To think about my daughter, a trigger would be the smell of the shampoo in her hair," says Adams. Her process involves putting these manufactured memories "into my body as reality," ergo "just a real big mind bend." Although these thoughts are assigned to characters, "they feel really real, because you go into detail."
Channeling Camille necessitated three months of Adams exploring the fictional journalist's anger and sadness. "That need to relieve yourself of pain, to make your pain visible, was something I identified with," she says. "I get to work out my crap by playing these characters and exposing myself in a way that feels relatively safe," reasoning that the strength her family provides (plus the stress relief of yoga and hiking) is why she knows she can "come back" from emotionally taxing shoots.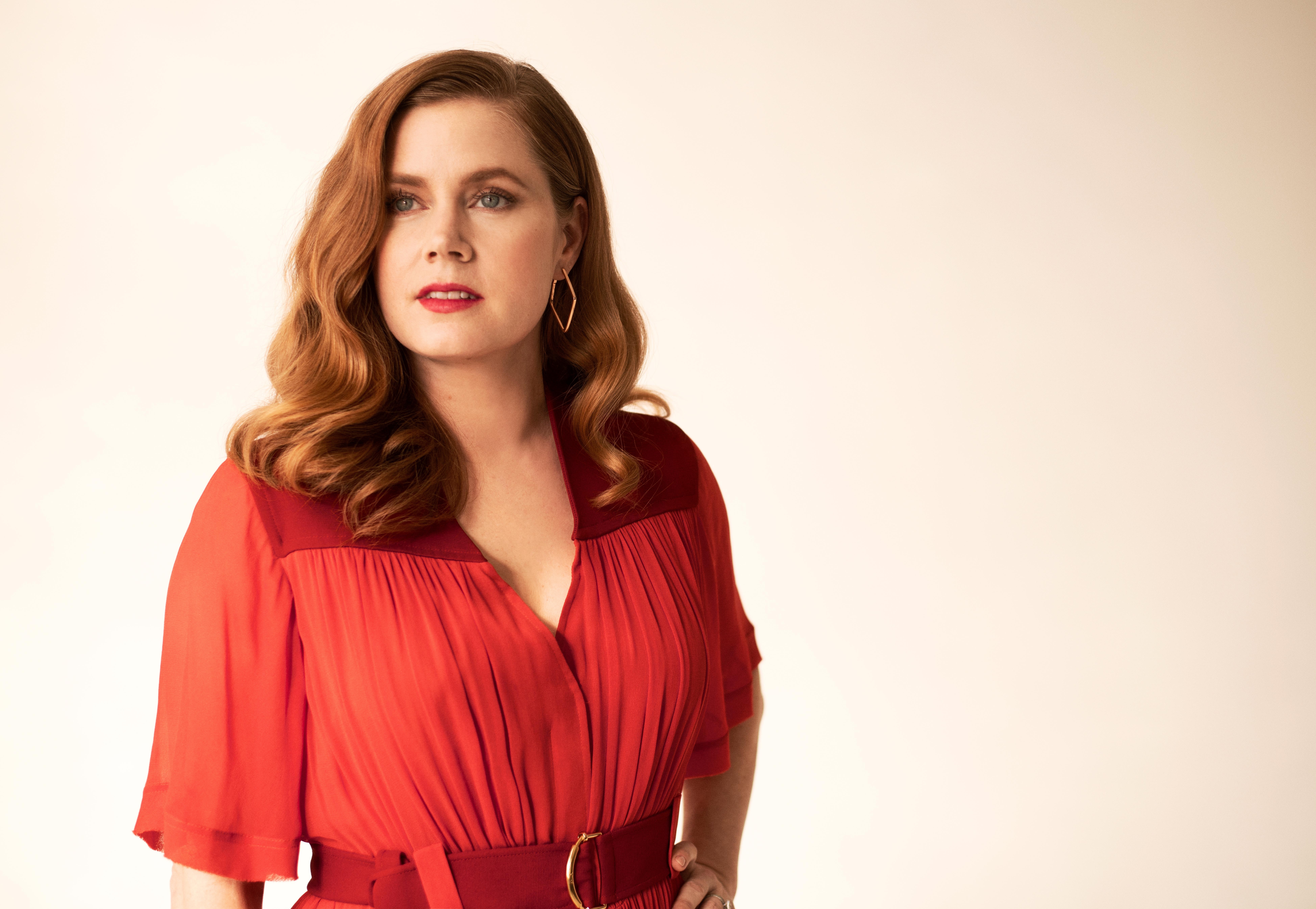 The one step Adams didn't take while developing the character was seeking out actual survivors of self-injury. "That felt so personal, and I never want to feel like I'm exploiting someone else's pain," she says.
However, Adams did look to sit down with Lynne Cheney, whom she portrays in "Vice"—McKay's much-awaited follow-up to his Academy Award–winning "The Big Short"—but for the sake of creative license, the filmmakers did not pursue the family's input. A biopic of George W. Bush's running mate, "Vice" (out Dec. 25) brings together the talents of Christian Bale (Dick Cheney), Sam Rockwell (Bush), Steve Carell (Donald Rumsfeld), Tyler Perry (Colin Powell), and many others.
"A lot of times, you'll walk away from the movie and you'll be thinking about a specific part or a specific scene, and I was left with the sum of the parts just blowing me away," she says of the film, whose producers include Brad Pitt and Will Ferrell (who played Adams' paramour in another McKay entry, "Talladega Nights: The Ballad of Ricky Bobby").
Both she and now three-time co-star Bale ("The Fighter," "American Hustle") "approached our characters with a lot of respect and compassion, and then it's our job as actors not to judge the characters we play," Adams says. "So it's interesting now on the other side of it, because I know it's going to [inspire] very interesting conversations, [and] I actually am still in defense of my character."
Upon accepting the role of second lady, Adams laughs that she merely "knew who [Lynne Cheney] was, and I knew that Eminem mentions her in one of his songs, so I knew her point of view."
She continues, "I really came to like and respect her as a woman. She's very self-motivated, she pursued her education, she has a Ph.D; she didn't just sit by, she had jobs of her own. She's very outspoken—whether I agree with what she says all the time or not, she's not afraid to use her voice for what she believes in. I could probably do a little more of that."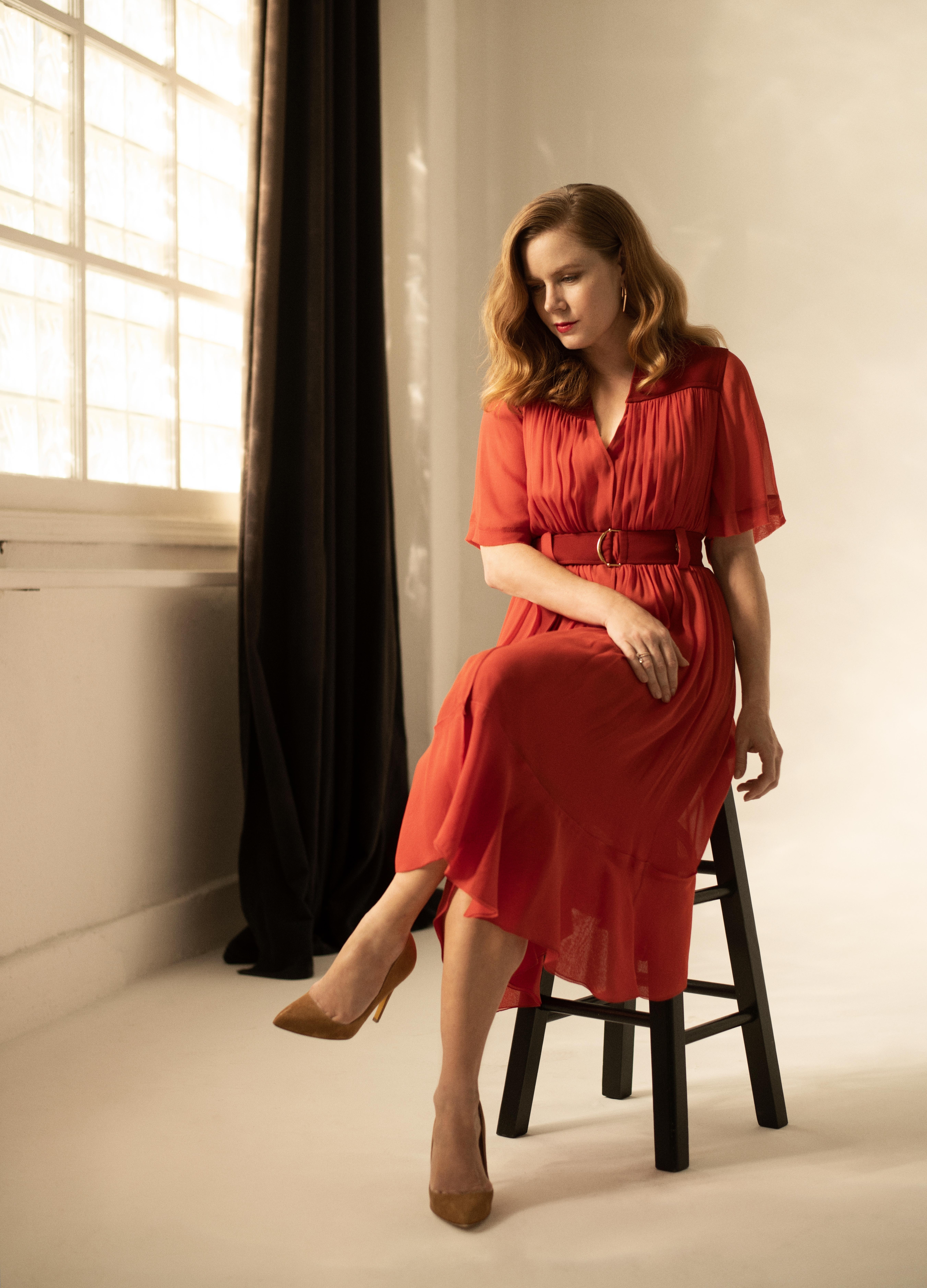 Still quite self-aware, Adams says that she is beginning to worry less about how others perceive her and her choices. Back in the auditioning phase of her career, she says, "I just constantly did not present myself well or wore the wrong thing, or I was very nervous and my energy was somewhat socially awkward." Meanwhile, on sets, she "didn't want to seem like the weird actor acting like the character."
Eventually, she accepted that "I'm weird, and I'm going to be walking around, saying lines, talking to myself, and whatever the quirk is that my character has. I'm going to be doing that, and you all will think I'm nuts—and I might be."
It took time to get to this point, she admits. "[In the past,] I got caught up in thinking about things that weren't that important, like being successful or getting the right job or having the right anything. No, it wasn't that [I was turning down roles], it was just that I wasn't kind to myself about my failures, and so one failure would feed into another failure and another because I couldn't get ahead of it," she remembers. "I was auditioning, but I was too nervous because I felt too much riding on it.
"Now, it's easy to look back and say that, but at the time, I was ready to pack it up.... I was doing a television show, and I had been let go from the television show, and that's when I was like, Clearly this industry and I are not—at least this part of it, film and television—aren't gelling." She considered heading to New York or exploring teaching in order to find happiness in the pursuit rather than the result. Then she landed "Junebug," a role she says came as a result of "letting go."
With practice, she's learned to balance the thick skin of an artist with the vulnerability required for creative flow. "Care!" she advises. "Everyone's like, 'Oh, I act like I don't care.' That's my least favorite quality in people. I care way too much," she says, laughing. "You put all of it into the work, into the preparation."
Photographed by Luke Fontana on November 2 in Los Angeles; Hair by Laini Reeves, makeup by Pati Dubroff, styled by Petra Flannery