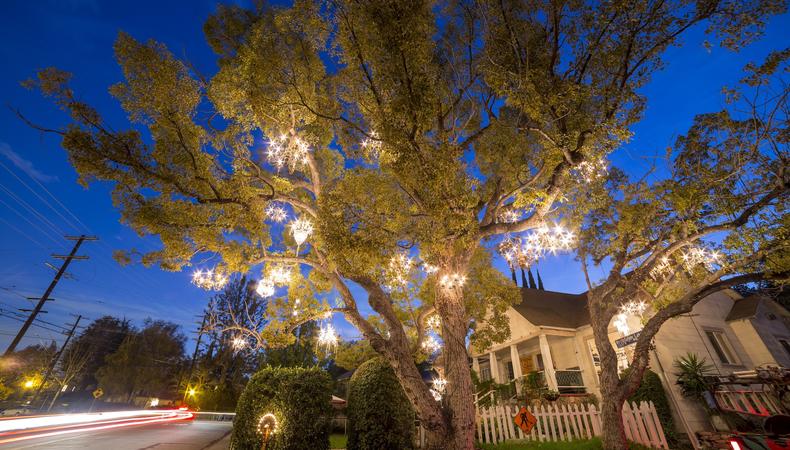 Crowned "The Williamsburg of the West," Silver Lake is synonymous with L.A.'s hipster culture. While L.A. sightseeing busses skip this neighborhood, it has gained popularity after its frequent appearances on popular shows like "Transparent" and "Casual." If you're looking for an urban, creative enclave filled with nightlife, music, restaurants and independent coffee shops, you'll feel right at home in Silver Lake.
Cultural Hubs
The Lyric Hyperion is a theatre venue, bar, and vegetarian restaurant all in one, which caters to Silver Lake's sizable thespian community. A self-described venue "by artists for artists," the Lyric's mission is to support and nurture the Silver Lake arts community by providing a space for creators to exhibit their productions to the greater public. The venue's black box-styled theatre is available to rent, and the Lyric assists with promotion, ticketing, and equipment rental. Reasonably priced workshops and classes taught by leading industry professionals are also offered periodically.
Open for close to 100 years, Vista Theatre, located on the border of Silver Lake and neighboring Los Feliz, is a landmark single-screen movie theater screening new releases and cult classics. Contemporary films, both big budget and indie, are projected during the afternoon and evening, and Saturday midnight showings are dedicated to classics like "Rocky Horror Picture Show" and "The Room." Ticket purchases are only available in person but are only $9.50 a pop, a steal in the post-MoviePass era.
If you saw a famous band play in L.A. before they exploded, chances are it was at The Satellite. This concert venue and bar is one of the best places to watch live music from up-and-coming indie bands. If your budget is tight don't miss free residencies and $2 (yes, you read that correctly) beer flights every Monday night. On weekends, the venue transforms into a dance party for "Dance Yourself Clean" set to a playlist of classic indie rock hits.
Pedestrian-only Sunset Triangle Plaza hosts the Silver Lake Farmers Market every Tuesday and Saturday. The market offers a bounty of farm fresh local fruit and vegetable as well as delicious food trucks with everything from pupusas to vegan empanadas to freshly made crepes. Additionally, the more robust Saturday market adds vintage clothing stalls and live music.
The Namesake Silver Lake Reservoir is a hub for socializing and outdoor recreation where you can enjoy the year round sunshine. The 2.1-mile loop is perfect for a run or a leisurely stroll. The adjacent Silver Lake Dog Park is the place for your four-legged friend to roam and a great way to meet local dog owners if you're new to the 'hood.
Public Transportation + Freeways
While Silver Lake isn't directly located on the Metro, the Red Line stop at Santa Monica and Vermont is just a 15-minute walk from Sunset Junction and takes you directly to both Downtown or to Universal City in under 10 minutes. If you're driving, hop on the 101 Freeway to Universal Studios in the Valley in under 10 minutes (without traffic).
Rental Costs
Living in Silver Lake comes with a hefty price tag, though occasional rent-controlled apartments can still be found. The median rent for a one-bedroom is $1,900.
Where to Eat/Drink/Chill
EAT
On a budget: Flore Vegan is a healthy option for plant and meat eaters alike with a plethora of options to satisfy every comfort food craving. The menu includes vegan meatloaf, decadent chicken and waffles, and a mouthwatering dessert case greeting you at the front entrance.
They don't take reservations at Night and Market Song, but we promise the wait is worth the reward. This popular eatery whips up traditional Thai favorites such as Pad Thai and green curry as well as some eclectic fusion dishes like Pastrami Pad Kee Mao and Fried Chicken Sandwiches.
If you just received a hefty residual check, Pine and Crane's assortment of Taiwanese fusion tapas should satisfy. Carnivores and herbivores alike will enjoy slurping the mouthwatering variety of dumplings, noodle soups and Tofu Mapo Bowls. Expect a wait during peak hours.
DRINK
Right on the border of Silver Lake and Los Feliz, Good Luck Bar is the go-to spot for a happy hour drink, or a post-acting class nightcap. The menu's Tiki-style cocktails are potent and flavorful. The interior is dimly lit by crimson colored lights with comfortable seating on red leather couches in the lounge area.
For coffee, there's only one Starbucks but no lack of ways to caffeinate in Silver Lake. It would take weeks to explore the multitude of independent coffee shops. The following spots win in atmosphere, coffee quality, and WiFi access.
Intelligentsia: Yes, the Silver Lake outpost of Intelligentsia is admittedly a bit of an Instagram trap with its famous white and blue tiled floors, but the staff is helpful, Wi-Fi is strong, and the people-watching unparalleled. Be warned, finding a table can be a challenge on weekends.
LaMill Coffee: Located right on Silver Lake Boulevard, LaMill's menu includes not only a delectable selection of coffee and teas but also a full food and drink menu making it an excellent place to spend a hefty part of the day and avoid whatever roommate drama is occurring at home. There is ample indoor and outdoor seating and all drinks and pastries are half off after 2 p.m. during their daily happy hour.
Silverlake Coffee: Silverlake Coffee is a decidedly less pretentious no-frills spot. Grab an iced coffee and cheese bagel on your way to work, or to spend hours memorizing lines on their roomy outdoor patio. There's also a spacious parking lot—a rarity in L.A.
Health and Wellbeing
Before a stressful audition, recenter your body and mind at Silverlake Yoga. This traditional yoga studio has a full schedule of Hatha, Vinyasa, and Iyengar classes as well as healing sound baths and breathwork classes.
If you're in need of some TLC, The Now's menu of massages can be customized with aromatherapy, crystals, soothing eye masks, and CBD-infused calming balm. Prices are reasonable with soothing massages starting at $40. Packages are also available at a discounted price through their no commitment monthly memberships.
What We Love and What We Don't
Pros: There's always something new to do, see, or eat here. If you're looking for a hip, vibrant spot with neighborhood charm and character you can't do better.
Cons: Unfortunately Silver Lake is a hidden gem no longer, reflected in the pricey average rent cost. While it's definitely possible to get around car-free, Silver Lake is best suited to those with a vehicle.