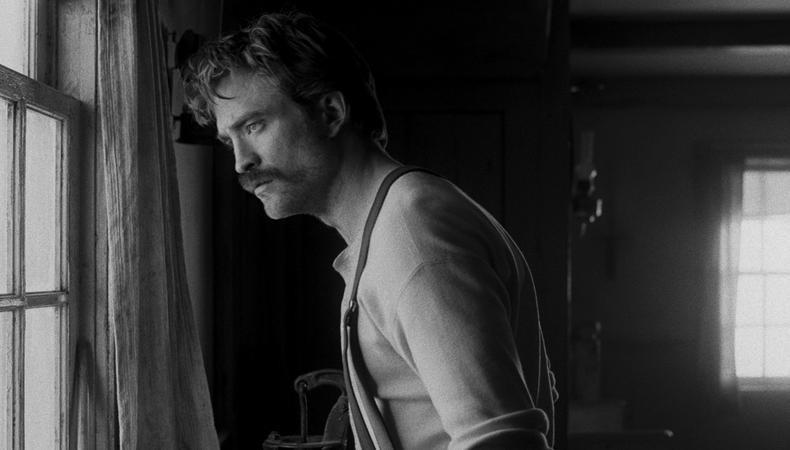 Any actor who has had the opportunity to work with Robert Eggers can attest to this: The director is nothing if not committed to accuracy. What you'll be wearing, the house you'll be standing in, the kettle you'll be holding, the words you'll be delivering—all will meticulously reflect the world he's created.
To that end, Eggers is a two-time proven master of atmosphere. He first hit fever-pitch, prestige-horror fame in 2015 with "The Witch," and he's now poised to do it again with another A24 pick-up, "The Lighthouse." Set in 1890s New England, the film stars Willem Dafoe and Robert Pattinson as two lighthouse keepers who descend into starved, booze-fueled madness after a four-week stint on a rocky crag unexpectedly stretches longer.
For the filmmaker, ambience is often the impetus for his ideas. "I saw this black-and-white movie with this dark, kerosene-lit, fishy, cotton-smelling, sweater-y atmosphere," he says of the vision that inspired "Lighthouse." An erudite creator when it comes to his sets, Eggers and his team built all the period-accurate structures featured in the film, including the lighthouse, the wooden house where much of the production takes place, and the furniture—which looks so real, one can practically see the patina of evaporated sea salt covering every surface. To ensure it was all correct, he pored over late 19th-century fisherman's manuals, studied symbolist paintings and referred to photographs (a luxury he wasn't afforded for his Puritan era debut four years ago). He also pulled from classic folklore texts to introduce the mythological themes that run through the storyline.
The result vividly captures the elements and circumstances that trap the protagonists: torrential rain, whipping winds, intense manual labor, and incessant seagulls—plus hallucinations and having to contend with only one another for weeks on end. Visually signaling the feeling of claustrophobia is Eggers and his cinematographer Jarin Blaschke's decision to use a squared-off, 1.19:1 ratio for the monochromatic film. The particular framing choice demanded a certain level of specificity in the rehearsal room.
"Because the cinematic lens that Jarin and I designed is so specific, I had to have rehearsals ahead of time with the actors so they knew their blocking and it didn't feel like they were just hitting certain marks and it could feel somewhat natural. It's not like in theater, where we're trying to do scene work," he explains. "If their props were available [they were used]—I think Willem used the hero keys and watch that he used in the film, and perhaps always had glasses. Sometimes we had the right flatware and plates, and sometimes we were using rehearsal props from the craft service table."
Ensuring the actors felt comfortable in their respective processes was a priority for Eggers. While Dafoe wanted extensive rehearsal time, Pattinson was much more focused on discovering his moments in real time. The differing processes stretched the director in ways that he says gave him new tools when it came to working with his cast. "It was better to give [Pattinson] the wheelbarrow on the day for him to discover just how difficult it is to push a wheelbarrow with an iron wheel over a bunch of rocks," he says with a laugh.
For Dafoe, his efforts went largely into studying the Herman Melville–inspired text. "Willem is one of the greatest actors that has ever lived; I don't know a lot of people who could play this role," Eggers says. "A lot of people could support the historical research behind why [the part] is a New England thing, but basically, to most people on the planet, Willem's doing a fucking pirate accent, and you believe him as a person somehow."
When it came to casting, Pattinson wasn't the obvious choice. Though Eggers says he has always been a fan, even when "other people who have the same kind of snobby, annoying taste as me thought he was just a 'pretty boy,' " it was Pattinson's career-redefining performance in the Safdie brothers' "Good Time" that proved he was right for the role of Ephraim. ("The Lighthouse" is one of Pattinson's many departures from his early-career "Twilight" role and signals a permanent shift for the actor; he's since said he'll only do films that he finds "weird and challenging.")
One scene in particular required Pattinson to be sprayed continuously with a hose to mimic rain. "This is a story about people going insane in extreme weather. You have to believe that as an audience, so the performances have to convey a certain something, and the actors are going to have to contend with the elements," says Eggers. "Apparently, Rob wished me physical harm that day—I didn't know that, because he's very professional. Rob was in the trailer and was like, 'If he needs another take, I'll do one.' Even if he wanted to punch me, that's how Rob was. Rob and Willem wanted to be pushed to that level. Where you get yourself into a [bad] situation is if you're working with an actor who is fearful to put themself out there, but, hopefully, you don't cast someone who doesn't have courage."