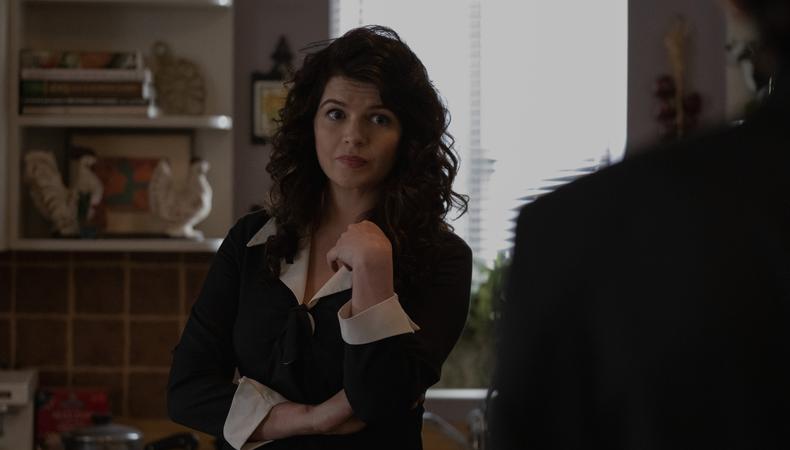 The following audience Q&A for our on-camera series Backstage Live was compiled in part by Backstage readers just like you! Follow us on Twitter (@Backstage) and Instagram (@backstagecast) to stay in the loop on upcoming takeovers and to submit your questions.
Casey Wilson is embracing her flair for the dramatic. The former "Saturday Night Live" and "Happy Endings" star has traded in straight comedy for dramedy on "The Shrink Next Door." Wilson plays Bonnie, the wife of Paul Rudd's Ike, a sycophantic therapist preying on his patient (Will Ferrell). Wilson recently spoke with Backstage on Instagram Live to discuss the upcoming Apple TV+ original, as well as all things acting. Check out the excerpted interview below, in which Wilson details everything from the best self-tape advice she's received to how she nailed Bonnie's accent.
In classic pandemic fashion, Wilson auditioned for "The Shrink Next Door" in her bedroom.
A lot of journalists have been like, "How did you pick this project?" And I'm like, "Well, I auditioned." I was not exactly offer-only, which was kind of exciting in terms of what you talk about here, which is you never know when your next part or role could come to you. And so I just did the old-fashioned way of auditioning. I auditioned in my own bedroom with a camera, and my friend—masked up—came over and filmed me. And then I begged a friend to sit on the opposite end of the room and read the lines with me. Then [I] kept bugging my agent and manager to see if I got the part.
Wilson turned to a casting director friend for tips on acing self-tape auditions.
To me, [self-tape auditions] are almost harder, because you want to do it a thousand times, as opposed to, you go and blame it on, "Maybe I didn't have a good audition in that run." My friend, who's a casting director, said her one bit of advice to everyone was for your reader to read much softer than you. Because they're near the camera, and it drives them nuts, and sometimes they stop playing tapes when the reader is too loud. That was a hot tip.
While preparing for "The Shrink Next Door," Wilson logged more time with the dialogue coach than any of her castmates.
I did [work with a dialogue coach], Joel Goldes, who I worked with on "Gone Girl" as well. I worked with him quite a bit, because I'm from Virginia, I naturally gravitate more towards a Southern accent, so I hadn't done something like this, and I was terrified. Just terrified. Everyone else did a couple sessions with Joel, but I was like, "Hey Joel, it's me. Ready to do another one." They were like, at a certain point, we can't continue to pay for you to work with Joel.
Side writing projects, like her short film "Daddio," have kept Wilson grounded in an unpredictable industry.
The writing piece of my career has always kind of saved me, in the sense that when you can't act, or you're like, "I'm not getting a part," or "I'm not in the kinds of things I want to be in," you can still do something creative, and feel creative. And weirdly, as much as I love writing, acting is my greatest love, but there's something about walking into an audition room [and you are] for lack of a better word, really desperate: "I need a job, I don't have money, I have to get this," or "I really want this part." Something about writing grounded me, like, "OK, well, I am working on this other creative thing." It's hard to act alone, you know, how many one-woman shows can I do? So, at a certain point, writing allowed me to be creative on my own time.
The "Happy Endings" star has one piece of advice when it comes to writing your own work.
You know, as cheesy as it is, I think everyone has their own story. And if you look at someone's body of work, you kind of see that story, told in various ways over time. We all have our narrative. I say, exploit your own story. Everybody's got something to say, and we need more points of view, so if you're thinking about it, try it. My husband says this, but I think he's quoting someone: "Writing is finishing." Many of us want to write but just don't finish anything. We let our own self-destructive voice get in the way, and I think a lot of times successful writers are just able to sit down and finish. And that might be what's standing between you and a job, in a way. It gets so frustrating and uncomfortable to write. Just try it, and do it, and who cares?
Looking for remote work? Backstage has got you covered! Click here for auditions you can do from home!