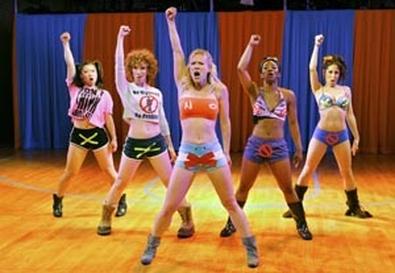 Patti Murin
Where you've seen her:
Patti Murin was most recently seen in an Off-Broadway production at the Judson Memorial Church, playing a determined basketball cheerleader in the Aristophanes-inspired musical "Lysistrata Jones" and garnering rave reviews. Written by Douglas Carter Beane and composer-lyricist Lewis Flinn, the show is now slated to open on Broadway at the Walter Kerr Theatre on Dec. 14. Previously, Murin understudied the roller-skating female lead in the 2007 Broadway tuner "Xanadu" and went on 40 times, she says. Prior to making her Broadway debut in that zany production, she performed at regional theaters across the country, playing leading or featured roles in close to 20 musicals—some of them revivals but most of them new works, including "Princesses," which almost made it to Broadway; "Clueless: The Musical" and "Give It Up," which morphed into "Lysistrata Jones."
Upcoming projects:
Besides preparing for her debut as a lead on Broadway, Murin is spending her limited free time participating in readings for various new musicals that are hoping to land backers. But her thoughts are focused on the challenges of doing eight shows a week in a lead and maintaining her physical and especially vocal health. "I never performed eight times a week; the most was seven performances," she says, adding, "I feel very strongly about not taking time off and missing performances because of vocal problems." On the other hand, she feels confident because she created the role and has had a chance to hone her acting and singing chops at the Dallas Theater Center, where the project began, and later Off-Broadway.
Breaking in:
Brought up in Hopewell Junction, N.Y., Murin had her sights set on a musical theater career at an early age. She majored in musical theater at Syracuse University and moved to New York City two weeks after graduation in 2002. Her career trajectory to date has been steady and workmanlike. She concedes that she was lucky to land day jobs—including an on-and-off three-year gig with an insurance company—that allowed her to take time off for auditions, callbacks, and work in various regional productions. Other day jobs, as a guide with the "Sex and the City" bus tour and as a freelance babysitter, have been equally flexible. She's now in the enviable position of being able to focus exclusively on her true vocation without worrying about day labor.
Keeping a healthy perspective:
Part of her good fortune, Murin says, is having a wonderful support system that includes friends, family, and, most central, her husband, actor Curtis Holbrook. Both are committed to the marriage, she says, and don't go out of town for long periods: "My marriage now determines a lot of what I do and don't do. Being married also reminds me that there is something else beyond the next audition." Indeed, she says, it's very important to have friends outside the business for added perspective. Another aspect of a healthy outlook is to make a genuine effort to mitigate feelings of envy when an actor friend walks off with a role you auditioned for, she says. "I now feel if I don't get a part, I should be happy for an actor friend who does. We have no control over it anyway, and whether you get a role or not has nothing to do with who you are. You may be just an inch too tall. So feel good for your friend."
—Simi Horwitz
Edward Tournier
Where you've seen him:
Edward Tournier, who was born in Paris and grew up in Boston, has been active in Southern California theater since he moved to L.A. five years ago. His many successful and challenging stage roles include characters in "Futura" at Theatre @ Boston Court (Los Angeles Drama Critics Circle nomination), "Supernova" at the Elephant Theatre (LA Weekly nomination for best ensemble), and "Mercury Fur" for Needtheater (Ovation nomination for best ensemble). About his portrayal of an oversexed, alcoholic teenager in "Supernova," Back Stage wrote, "The superb Tournier juggles his character's boorish behavior alongside the hurt feelings that have festered in the family, creating a compelling portrait of inner turmoil." Tournier is a dedicated member of the theater company Rogue Machine, where he appeared in "Razorback," and has enjoyed the opportunity to cut his teeth as a producer and assistant director with the troupe. "I think those jobs fell to me because I was willing to step up and take them, as often happens in theater," he says. "As I did more and more plays, I got more familiar with how it all works, more skilled and experienced, and started seeing things from a wider point of view. Directing and producing seemed like a natural growth from acting." Tournier also has TV shows to his credit, including "Without a Trace" and A&E's "The Cleaner."
Current project:
Tournier is playing the unusual role of a bonobo (similar to a chimpanzee) in the world premiere of Henry Murray's "Monkey Adored," at Rogue Machine through Nov. 20. "This species of ape is known primarily for its democratic sex drive, not discriminating by age, gender, or status," the actor explains. The allegorical play, which includes several humanlike animals, is set in a brutally violent world where the repressed animal characters are planning a revolt. Tournier calls his role very challenging, physically and otherwise, but says it's "an absolute blast to play." He adds, "I get to really 'monkey around' and leave my inhibitions at the door."
Breaking in:
The role that Tournier believes got his career rolling was that of an aspiring actor, who grows from 16 to 26 years old, in "Secrets of the Trade," Jonathan Tolins' bittersweet play, which premiered in 2008 at the Black Dahlia Theatre and was later produced Off-Broadway. Tournier's ambitious young character forges a relationship with a famous middle-aged actor-director (played by John Glover), who becomes his mentor. "That was the first play I did in L.A. that got a lot of attention," says Tournier. "It was very popular with audiences and had a sold-out run. It was a critical success, and there were a lot of good things that came out of it."
His philosophy:
Tournier says something that happened in his career that he never planned for was working almost exclusively on new plays. He describes it as "incredibly rewarding." Beyond that, his vision includes making a living in film or TV. "That's why I'm out here," he says. "My passion and background are on stage, but when it comes to making a living, that only seems possible if you have a film or TV thing going." Yet he would feel especially fulfilled to be able to do it all. "That's the dream," he says.
—Les Spindle
Annaleigh Ashford
Annaleigh Ashford in "Rent" (Photo by Joan Marcus)
Where you've seen her:
Annaleigh Ashford has been a steady presence on the New York theater scene since she graduated with a bachelor's degree in acting from Marymount Manhattan College—at 19. "I was on the fast track," Ashford says. Months after graduating, she landed in the New York Musical Theatre Festival production "Feeling Electric"—an early version of the Pulitzer Prize winner "Next to Normal"—which she considers her big break. That show got her a gig in the first national tour of "Wicked," understudying Glinda. She went on to create the role of Margot in the musical "Legally Blonde" and play Jeannie in "Hair" on Broadway last summer. She also had a bit part in the first "Sex and the City" movie and is a recurring guest star on the New York–based Web series "Submissions Only."
Current projects:
Ashford is currently starring as Maureen, the volatile performance artist, in the Off-Broadway revival of "Rent." While she was nervous about following in the footsteps of Idina Menzel, who originated the role on Broadway, Ashford brought her own experience to bear. "When I was in college, I knew quite a few performance artists who were working consistently downtown, so I've seen a lot of performance art," she explains of her new take on the bohemian lesbian activist. "I wanted to explore more elements of the physical. And they understood what I was going for, and it was extremely exciting." While her first love is the theater, she's excited about acting in all mediums. She'll appear in the much-anticipated midseason series "Smash" on NBC. "As an actor, I really would just love to work in any way that I can," Ashford says. "I've been given the opportunity to explore that medium—because it is so different from the theater, that's been exciting creatively. It's a different world. But the acting stays the same. The process stays the same. It's just a different medium. I'm partial to anything where I get to act."

Endless auditioning:
Like any actor, Ashford must deal with the unpredictability of the profession. "I always tell people that I have more job interviews in a week than most people have in their life," she says. "I think that's the hardest part about being an actor: You have to have the continual belief in yourself, in your craft." A self-proclaimed horrible judge of auditions, Ashford says she never knows how to feel after one: "When I auditioned for 'Legally Blonde: The Musical,' I thought I did a terrible job and there was no way I was getting a callback. And then I got a call literally the next morning saying I got the job in one audition."

Always be creating:
To keep her craft sharp, Ashford values her training. "Working in musical theater, it's like flexing a muscle," she says. She regularly takes dance classes and has kept up with voice lessons since she was 9. She trained in clowning with David Shiner while working on the Cirque du Soleil show "Banana Shpeel," and she has taken Bob Krakower's on-camera class and Craig Carnelia's musical theater class. "It's actually an important part of the creative process, to always be creating," she explains. Ashford's dream roles include Nina in "The Seagull" and Martha in "Who's Afraid of Virginia Woolf?" "That's not going to happen for years," she says. "As an actor, your career is your whole life, or at least it should be. You can act until the day you die."
—Suzy Evans
Hunter Parrish
(Photo by Michael Muller/CPi Syndication)
Where you've seen him:
Hunter Parrish has been acting since he was about 6 years old but still considers himself a student, always willing to learn from his peers and veteran co-stars. Born in Richmond, Va., and raised in Plano, Texas, Parrish has guest-starred on several TV shows, such as "CSI: Crime Scene Investigation" and "Law & Order: Special Victims Unit." He has also appeared on Broadway as Melchior in the musical "Spring Awakening" and in the movies "RV," "Freedom Writers," "17 Again," and "It's Complicated." For the last six years, he has played Silas Botwin on Showtime's Emmy-winning drama "
Weeds
."
Current project:
Parrish is currently making his second appearance on Broadway, starring as Jesus in the revival of "
Godspell
," now in previews and scheduled to open Nov. 7. Though he's playing a biblical figure, the musical "is about love and community," he says. "People have their personal [ideas] for what or who Jesus is and what he means…. I'm staying far away from that and I'm focusing on how much love he as a man had to offer and to teach other people how to spread their love as well."
Breaking in:
Parrish's interest in performing began at 5 years old. During a church service, he enjoyed singing alongside his family, and the next summer, he visited New York and saw "Cats" on Broadway. "I started crying," he remembers. "From watching people on stage moving, singing, dancing, I was like, 'I got to do that.' I wanted to be on stage." He soon took Peter Sklar's Beginnings workshop and starred in its end-of-term showcase, after which a manager offered to represent him. Parrish began working on stage and moved into film and television roles as he became older, though he never lost his affinity for theater. When he was about 17, he received the script for "Weeds." He was home in Texas at the time, so a friend taped his audition and he mailed it in. He heard nothing for some time and assumed the producers were not interested. Then he was told it was a choice between him and two other actors to play Silas, the son of a pot-dealing suburban mom played by Mary-Louise Parker. Parrish flew out to Los Angeles and won the role. "I guess they saw something," he says.

Time leap:
When he replaced Jonathan Groff as Melchior in "Spring Awakening," Parrish needed to play a character living in late-19th-century Germany. He found it an interesting challenge: "I spent a lot of time right before each show listening to music that wasn't necessarily from the time period but that took me from present day and focused me." He adds with a laugh, "I have a crazy personality, and my brain is incredibly scattered and needed that to bring myself down."
What he's learned:
"Trusting myself was the biggest obstacle, and still is," Parrish says. "Every time I sit down with any script, I read it closely and get into it, so I can see where to make big decisions and go for it, because that's what people respond to."
—Frank Nestor
Andre Holland
(Photo by Michael Tammaro)
Where you've seen him:
Andre Holland
got bitten by the Shakespeare in the Park bug after his first year in New York University's MFA acting program, when he appeared in the ensemble of the Public Theater production of "Much Ado About Nothing." Last summer he returned to Central Park, playing Bertram in "All's Well That Ends Well" and Claudio in "Measure for Measure." He considers his first professional break after graduating from NYU in 2006 to have been the play "Blue Door" at Playwrights Horizons. "New York Times" critic Charles Isherwood wrote, "On the evidence of this blazingly good performance, I can confidently say that Mr. Holland…is an actor of some serious potential." In 2009, Holland made his Broadway debut in "Joe Turner's Come and Gone," and in 2011 he received rave reviews for his work in Manhattan Theatre Club's production of "The Whipping Man." (Isherwood called him "one of the most engaging young stage actors of his generation.")
Upcoming projects:
This fall, Holland can be seen guest-starring on the fifth season of USA's "Burn Notice." The final episode of his short-lived TV show "Friends With Benefits" aired in September, and he is taking some time out now to work on writing projects. He's writing his first full-length screenplay, something he is "dying to do," he says. "I'm having a hard time finding the parts that I want to be doing next. I think it's up to me to create those opportunities for myself. Not only do you have to be a good actor, but you also have to be a good creator and care enough about it to go out and make it yourself if you have to. That's tough. But it's also equal parts exhilarating and exciting."
Mama's boy:
In Alabama, where Holland grew up, his mom was a champion for him and his two sisters, and she put him in a community theater production even though he was too young. "She sort of forced them to let me be a part of it," he remembers. His mother's "you have not because you ask not" philosophy has helped him throughout his career. "Be persistent," advises Holland, who wrote letters incessantly to the Public Theater requesting an audition that first summer. "If you want to do it and you know you want to do it, then knock on every door you can find. Audition for anybody that will let you audition for them. Really go after it."
Permission to act:
Holland didn't always have acting on his mind. He played baseball in high school and initially studied political science at Florida State University. Walking by the college theater building one day, he saw a flyer for a black theater festival run by Woodie King Jr. of Off-Broadway's New Federal Theatre. Using more of his mother's moxie, he convinced the department to let him participate in the event. "At the end of it," he recalls, "Woodie King Jr. caught me in the hallway and he said, 'Son, I want you to go home, call your mama, and tell her Woodie King Jr. said it's okay for you to be an actor." But he still wrestled with finding his place. While studying in London, he saw Adrian Lester in Peter Brook's production of "Hamlet," which changed Holland's outlook. "In my mind, I never put together [that] a black man could be playing Hamlet well," he says. "Seeing him do it really just broadened my horizons. It gave me permission to be where I am right now. To play in Shakespeare in the Park. Had I not been in that theater, I probably never would have had the courage to risk going after it."
—Suzy Evans
Adam Chanler-Berat
(Photo by Norma Walter McBride_Retna Ltd.)
Where you've seen him:
Adam Chanler-Berat created the role of Henry in the Pulitzer Prize–winning musical "Next to Normal," then went on to originate the character Peter in "Peter and the Starcatcher," the much-raved-about Off-Broadway adaptation of Dave Barry and Ridley Pearson's prequel to J.M. Barrie's "Peter Pan."
Current project:
Chanler-Berat is now tackling one of the most iconic musical theater roles of the '90s, playing Mark Cohen in the Off-Broadway revival of "Rent" at New World Stages. The show opened in August and has been well-received by critics and audiences.
Big shoes:
Stepping into an established role was not easy for Chanler-Berat after creating two originals. "It was a little shocking," he says. "It's tough. There is a certain idea of the role that I wanted to honor in some way." Having worked with Anthony Rapp, the original Mark Cohen, in "Next to Normal" (Rapp was the assistant director), Chanler-Berat was especially anxious to pay tribute to the character. "But I think getting caught up in that is just asking for trouble," he says. "And I think Michael [Greif, the director] was so gracious to let us really figure out who these people are."
Born this way:
"As cliché as this sounds, I think it's true that you are born an actor, and I was born with this bug," Chanler-Berat says. "I tried to run away from it at a couple points in my life, and I just found myself back in its loving arms again." As a young boy, he performed for friends and family every chance he got. Every time a costume could be worn, he was in one. "I made a play about the Easter Bunny, and I'm not religious," he says. "And my family is pretty much Jewish. But I made up plays for any holiday I could. I've been doing it privately. Now I just get paid for it."
—Emily Cegielski