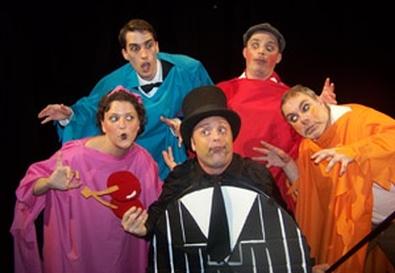 Most theatergoers will come half-equipped to the rollicking mash-up "Theater of the Arcade: Five Classic Video Games Adapted for the Stage," and I'll leave it to the cultural historians to unpack what it means when the majority of people sitting in a theater are more familiar with Donkey Kong than Tennessee Williams.
Each of the short plays in playwright Jeff Lewonczyk's ingenious cycle loans the style of a seminal playwright to a beloved coin-op game. So the poor frog from Frogger becomes one of Samuel Beckett's existential monologists, the estranged Mario Brothers find themselves in a hallucinatory Sam Shepard play, and Pac-Man is recast via Bertolt Brecht as Der Rundegelbenimmersatt, a gluttonous German aristocrat. These in-jokes are clever but never too pretentious.
The six-person ensemble is impeccable, but Fred Backus deserves the high score for his effete Rundegelbenimmersatt and his turn as a David Mamet alpha male in "Magdalena Magellan Mars," a foul-mouthed send-up of the spaceship pilots from "Asteroids."
Presented by Piper McKenzie and the Fifth Wall as part of the New York International Fringe Festival at the Bleecker Theatre, 45 Bleecker St., NYC. Aug. 13–27. Remaining performances: Tue., Aug. 16, 4:30 p.m.; Thu., Aug. 18, 5:45 p.m.; Sat., Aug. 20, 4:30 p.m.; Sat. Aug 27, 7:45 p.m. (866) 468-7619 or www.fringenyc.org.