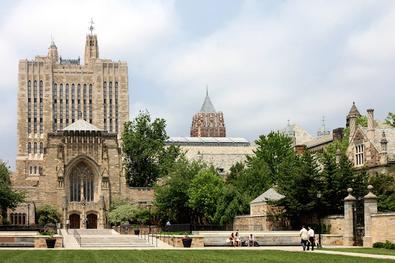 Attention, college applicants! The Princeton Review has released its annual rankings of everything from campus radio stations to the best parties. If you're looking to study theater either as a major or an extracurricular activity, these 10 schools with the best stage productions merit a spot on your list.
1. Wagner College (Staten Island, N.Y.)
For the last decade, Wagner College Theatre has ranked among the Princeton Review's top five programs. Now in the No. 1 slot, the school continues to attract students with musical, technical, administrative, or educational aspirations, as well as those who enjoy having Broadway one scenic ferry ride away.
2. Carnegie Mellon University (Pittsburgh)
The country's oldest acting conservatory and first degree-granting drama institution has been innovating and thriving since 1914. With a list of alumni that includes Matt Bomer, Zachary Quinto, and Tony winner Billy Porter, CMU's school is an impressive launching pad for superstars who can really act.
3. Yale University (New Haven, Conn.)
Running parallel to the famous School of Drama is an undergraduate program with a well-rounded approach to the theory and practice of theater. Students are surrounded by industry professionals and resources, and the Yale Dramatic Association—the second-oldest college theater company in the U.S.—produces plays by graduates Cole Porter and Thornton Wilder.
4. Bennington College (Bennington, Vt.)
Boasting a roster of accomplished alumni such as Carol Channing, Alan Arkin, and Peter Dinklage, Bennington remains a favorite among aspiring theater-makers who prefer rigorous dramatic training in a rural environment. Different departments converge to collaborate on their work, so graduates leave with a comprehensive knowledge of every aspect of the production process.
5. Emerson College (Boston)
Emerson's comprehensive course catalog includes musical theater, stage management, and educational theater classes, and its faculty remains deeply connected to the Boston arts scene. The B.A. program can be taken with or without an acting component, and each of the BFA tracks contextualize students' training by emphasizing theater's place in culture and society.
6. Ithaca College (Ithaca, N.Y.)
Graduates of this college's theater department tend to wander from upstate all the way to Broadway. Jeremy Jordan, Kerry Butler, and Aaron Tveit all called Ithaca home, and with five amazing conservatory-style degrees and two minors on offer, it's no wonder the program continues to draw the best of the best.
7. Drew University (Madison, N.J.)
With a beautiful campus only 30 miles from Manhattan, the Theatre Arts Department at Drew provides students access to rigorous courses and a plethora of resources, including internships at the Shakespeare Theatre of New Jersey, the Bickford Theatre at the Morris Museum, and major Off-Broadway or regional companies.
8. Fordham University (New York City)
Casting director Julie Tucker has hailed the work of Fordham's theater students as "the caliber of a graduate program." Located in the heart of NYC, the program turns its students into tomorrow's most successful actors, playwrights, and designers. Award-winning alumni include Denzel Washington and Patricia Clarkson.
9. Vassar College (Poughkeepsie, N.Y.)
Ever since Hallie Flanagan founded the Experimental Theater of Vassar College, drama students have been mounting professional-level productions under the direction of a remarkably dedicated faculty. With its intimate liberal arts classes amid the picturesque Hudson Valley, Vassar is a young theater artist's dream. And yes, Meryl Streep got her start there.
10. Northwestern University (Evanston, Ill.)
The Ivy of the Midwest embraces history and theory in its approach to theater and dance, and boasts a list of alumni that includes Stephen Colbert, Zach Braff, and David Schwimmer. Graduates emerge with a heightened awareness of the ins and outs of performance today. Living near Chicago's thriving arts scene doesn't hurt either.
Ready to audition? Check out our theater audition listings!