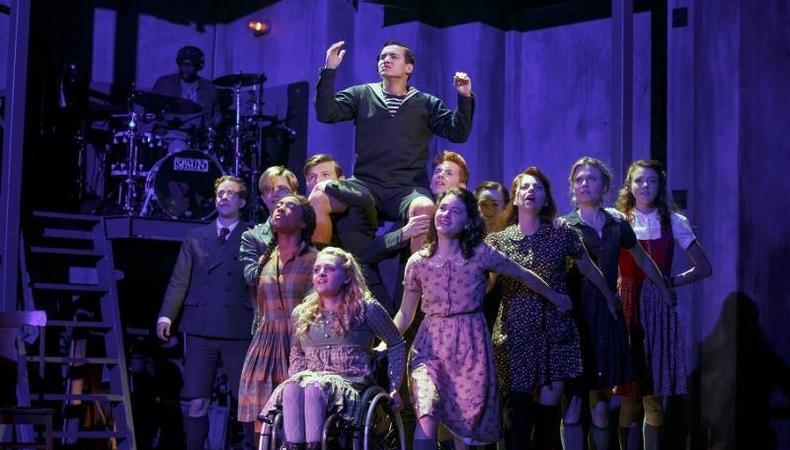 Diversity in casting extends beyond ethnicity, age, and gender orientation. These nine theater companies create opportunities for artists with a variety of physical, intellectual, and emotional disabilities, illuminating the human experience for actors and audience alike.
National Theatre of the Deaf
This Tony Award-winning theater company has been touring the country for almost 50 years, and gives both deaf and hearing artists the chance to work side by side on accessible productions. Funded by the Department of Education during its original conception, the NTD performs full productions in American Sign Language while also incorporating spoken lines. The arts organization has brought ASL to thousands of audiences throughout the country—and has even made appearances on Sesame Street.
Detour Company Theatre
Based out of Phoenix, Arizona, Detour brings artists with developmental and certain physical disabilities together to make theater under the direction of a nurturing community of coaches. The company has a huge impact on the local community and beyond, performing shows like "Mary Poppins" to packed houses of fans.
Identity Theater
This NYC–based group of "differently abled" artists creates works that inspire discussion and exploration of the whole human experience. Its mission is to create more performance opportunities for professional actors with disabilities, both by putting a variety of actors on its own stage and by opening the minds of theatergoers at large.
Theater Breaking Through Barriers
Originally known as "Theater by the Blind" before altering its mission in 2008 to include actors with a wide range of disabilities, this Off-Broadway theater aims to show "the exuberance and independence as well as the challenges of lives lived with disability." TBTB earns critical acclaim for its inclusiveness and its contributions to the New York theater scene.
Apothetae
Named after a pit in Ancient Greece where weak babies were said to be discarded, this New York–based theater company creates new plays that make the disabled experience visible. Inspired by the lack of "collective history" in the physically and mentally disabled community, Artistic Director Gregg Mozgala leads the charge in affecting change through theatrical performance.
That Uppity Theater Company
Known for innovative pieces that confront a variety of hot topics (gay rights, gender issues, and racial justice to name a few), this Saint Louis–based theater company began the "DisAbility Project" over 20 years ago to create more inclusion for artists with disabilities. The project now tours to various communities, sharing a message of openness and understanding with its audience.
InterAct Theater
Based out of the University of Minnesota, the InterAct Center is a "radically inclusive" not-for-profit company that gives voice to the disabled population and expresses the arts as essential to humanity. The center focuses on visual and performing arts, and creates full-time opportunities for artists with disabilities. InterAct's theatrical component is ensemble–based, and produces fully staged new works along with smaller projects that are based on community collaboration.
Phamaly Theatre Company
Phamaly, which stands for the Physically Handicapped Actors and Musical Artists League, has been producing full-scale theater since 1990 and has had a major impact on the inclusion of handicapped artists nationally and internationally. The Denver–based company inspires audiences to "re-envision disability" through its high-quality plays and musicals, including this season's "Fuddy Meers" (through Feb. 28) and "Taking Leave" by Nagle Jackson.
Deaf West Theatre
This Los Angeles–based theater company made history last year when its award-winning production of "Spring Awakening" moved from California to Broadway. The groundbreaking musical was the first of its kind on the Great White Way, pairing deaf and hard-of-hearing actors with hearing counterparts for a thoughtfully choreographed collaboration between spoken word, song, and American Sign Language.
For more information on these and other diversity initiatives, visit inclusioninthearts.org.
Inspired by this post? Check out our audition listings!