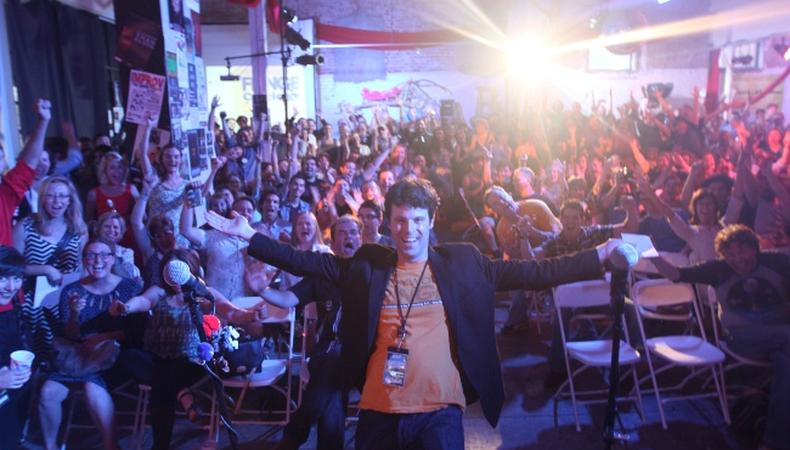 There's still time to enter a theatrical production into the Hollywood Fringe Festival. Just don't call it a showcase.
"We avoid the word 'showcase,' as that is a rather pregnant word in Los Angeles," said Ben Hill, the festival's director and founder.
He recalled, with an audible shudder, the bad old days when most plays were honeypots staged in intimate theaters with Spartan production design by actors, with the sole purpose of attracting managers and agents.
"The performing arts in Los Angeles has long since surpassed the 'showcase' paradigm," said Hill. "Now we have people coming and actually trying to create great art for the purpose of the art."
The purpose of the Fringe isn't just art for art's sake. Participating artists get to keep 100 percent of their ticket sales and only pay a $175–$250 registration fee and the reduced space-rental cost to mount their production. Actors, said Hill, also gain valuable producing experience.
"L.A. is replete with actors. We've got a crazy amount of actors but for the performing arts to thrive, what we need in Los Angeles are more theatrical producers," he said. "We give them an opportunity to test their producing chops and to learn about the craft of producing. You learn how to control a budget, how to deal with a venue."
The festival still isn't widely known outside of the arts community in Los Angeles but that's beginning to change. Attendance has nearly doubled in the last four years, going from 17,000 in 2010 to 35,000 last year, according to Hill.
"You always have the cards stacked against you when you're producing a theater festival in Los Angeles where most people have their eyes on the film industry," he said.
This year, though, there are some 300 shows scheduled for 1,500 performances in 50 performing spaces. More than 1,000 performers will be involved.
"Based on number of shows, we are the largest performing arts festival in the United States," said Hill.
Previews start June 5 (the festival runs through June 29) but Hill said new shows are being accepted up to "the bitter end."
"All you need to do is find a venue and then you submit to the Fringe with the registration fee and you have a show," said Hill. "It's a completely uncensored, uncurated, open-access festival. As a result, we get a whole range of a lot of different types of shows."
Inspired by this post? Check out our audition listings!