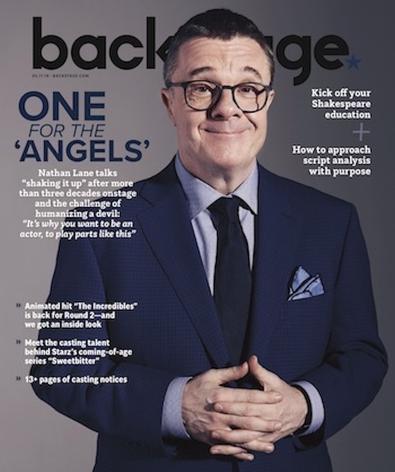 "These are moments," says Nathan Lane, "and I shouldn't talk about them." He's realized midconversation that in describing an intimate scene from "Angels in America," he's veering too close to revealing something comparable to a magician's secrets—a vulnerability reserved only for performances. The inner workings of perhaps the greatest stage actor of his generation.
"We sort of found it in rehearsal," he says of the moment in question, an exchange between the fading Roy Cohn and his nurse in "Perestroika," Part 2 of Tony Kushner's dramatized treatise on homosexuality, AIDS, and faith in the Reagan era. "He banishes me. And I grab his hand on my arm and hold it and look up at him, then let him go." Lane mimes the action, at a fraction of the intensity he brings to the role onstage. "Then I say something awful to him a minute later!" He detaches from the imagined scene, back into the interview.
It's a tiny, tantalizing glimpse of what it must be like to act opposite him.
Nathan Stewart-Jarrett, who plays the gay nurse, Belize, in this Broadway production transferred from London's National Theatre, has firsthand knowledge of that challenge every night—a daunting task, surely, given Lane's aptitude for scene-stealing and sheer magnetism. "He's the greatest scene partner," says Stewart-Jarrett, likening their complicated, adversarial dialogue to a high-stakes tennis match. "The real thing about him is he holds himself to such an impossibly high standard—that he meets and exceeds. You end up in that slipstream and also raise your game."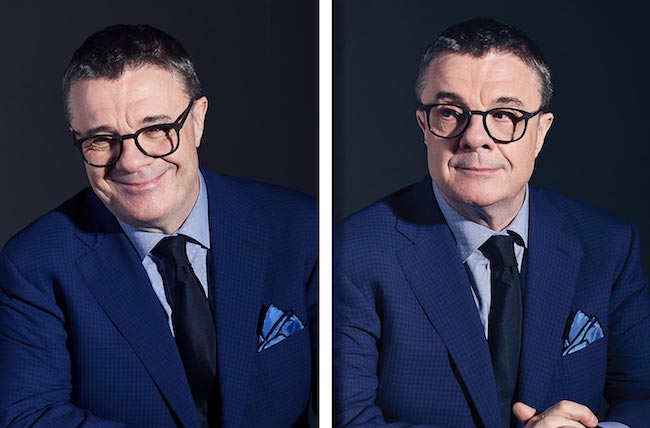 That "slipstream" effect is true offstage, too. Gracious and effortlessly funny, Lane makes unnecessary apologies about his relatively low energy on the Monday of his photo shoot. "Monday I'm usually just sitting in a corner, vegetating," he says. Between "Millennium Approaches" and "Perestroika," the latter proves the more grueling of Kushner's epics, at least for Lane. As the real-life closeted Cohn—one of the 20th century's most notorious prosecutors and the plays' embodiment of vindictive conservatism—Lane practically pours his soul onto the stage, first with Cohn's ruthless charisma, then deteriorating to his stubborn rage against the onslaught of AIDS. "Angels" is the kind of drama that demands that level of commitment; for Lane and his co-stars, including Andrew Garfield, Lee Pace, and Denise Gough, each week at the Neil Simon Theatre is something of a theatrical marathon.
Does he use his days off from the Broadway schedule to rest his voice? He smiles and demonstrates that punch-line precision: "Not today!" But he's thrilled to be speaking with Backstage. "I would read Backstage and Show Business, when I was very, very young. This was the late '70s. I remember them very fondly. And those were the days when you had a service," he recalls with a laugh. "You would call in: 'Any messages?' It was always no. It was always very depressing; no one had called."
It would be years of browsing casting notices, working odd jobs, and scraping by before he achieved anything resembling a big break. Born Joseph Lane in Jersey City, New Jersey, he tweaked his name to mirror Nathan Detroit from the musical "Guys and Dolls," a character he fantasized about playing on Broadway (and later did). "I came from an Irish Catholic family—alcoholic father, bipolar mother. It was tough. There were some tough times," he says, again gently steering the conversation away from details. (Upon coming out to his mother, she said she'd prefer him dead.) "I'm sure that's part of what drove me into the arms of show business. It was an escape."
A drama scholarship to Philadelphia's St. Joseph's University, it transpired on his very first day there, failed to cover costs; instead, Lane reasoned he could make some money and put off school. One summer stock theater gig, several comedy tours with standup Patrick Stack, and a Mickey Rooney sitcom later, Lane met agent Jeff Hunter and made his Broadway debut in the 1982 revival of "Present Laughter."
Relentless perseverance matters in the entertainment industry, of course, but in Lane's case, it seems what got him through those early days was pure passion. "It's just about pursuing your dream," he says simply. "Everyone has to find their own way."
Now he's lived that dream several times over. Along with counting the likes of Neil Simon, Terrence McNally, Jack O'Brien, and Stephen Sondheim as longtime collaborators and friends, Lane opened "Angels" with 21 Broadway credits, five Tony Award nominations—six now, thanks to his May 1 nod—and two wins to his name (for "A Funny Thing Happened on the Way to the Forum" in 1996 and Mel Brooks' "The Producers" in 2001, also two of the three ceremonies he's hosted), plus pretty much every other theater accolade in existence.
What about an Oscar to add to his spoils? He grins, skeptical. "OK. I'll do what I can!" As is often the case with stage actors, Lane is most widely recognized for what he calls his "handful of good parts in film": voicing Timon in Disney's animated classic "The Lion King," or being the only actor ever to outshine Robin Williams in Mike Nichols' "The Birdcage," or, more recently, for his hilarious, Emmy-nominated appearances on ABC's "Modern Family." But Hollywood has never represented what Broadway has, and not just because of its more limited offerings. "They think of you a certain way," he says with a sigh. (Besides, he adds, they're really only churning out tiny indies or superhero blockbusters at this point: "You're never going to see me in Wakanda!")
"Theater is a goal in and of itself—certainly as you get older, it's still where all the great parts are.... I suppose if I really wanted more of a film career I would have done something about it, moved to L.A.," he muses. "But then I wouldn't have [played] all these tremendous parts I've played."

But Cohn, as Lane points out, isn't exactly a logical next step for a Broadway leading man beloved for his almost preternatural comedic timing. Wickedly charming as the character is in Kushner's portrayal, the diabolical Cohn still seems a far cry from Lane's recent, riotous New York stage appearances in McNally's "It's Only a Play" and last season's "The Front Page" revival. When the National's Rufus Norris and director Marianne Elliott approached him with the idea of seven months in London, Lane thought back to the original George C. Wolfe production he'd seen in the early '90s and realized the role had never been on his radar.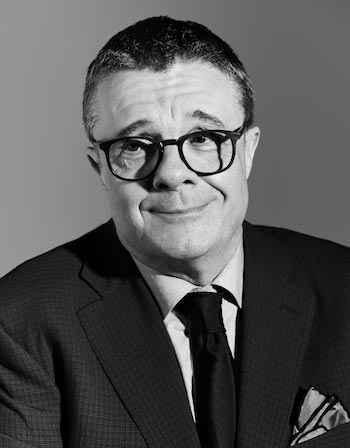 "For some reason, I don't know why, it's turned out to be a very good part for me!" He laughs self-deprecatingly. Under Elliott's direction, Lane harnesses rather than represses his natural likeability, making Cohn's outbursts of bile all the more shocking. As Stewart-Jarrett puts it, "He's very charming and he brings that into Roy. But he's also able to access things that aren't him."
"You can't play a monster, you can't play evil," explains Lane. "This is someone who thinks he's right." Suddenly, he's reciting from the play, slipping into Cohn's New York accent, a window into his process opening again: " 'I have sex with men. But unlike nearly every other man of which this is true, I bring the guy I'm screwing to the White House and President Reagan smiles at us and shakes his hand. Because what I am is defined entirely by who I am.' " The window shuts, and again Cohn's ferocity disappears.
"It's why you want to be an actor, to play parts like this," Lane says. "Certainly in the last several years, this is kind of the culmination of a lot of the work I've been doing."
In fact, several of Lane's recent credits—Douglas Carter Beane's Tony-winning "The Nance" in 2013, a run on CBS' "The Good Wife," playing F. Lee Bailey on FX's "The People v. O.J. Simpson: American Crime Story"—can be traced back to a turning point: a New York Times profile pegged to his work in Broadway's "The Addams Family" musical. The 2010 career retrospective, for which, Lane emphasizes, he was both flattered and appreciative, referred to him as the last of the "great stage entertainers."
"I felt, is that how I'm seen?" he remembers. "It couldn't have been a nicer piece, but it stayed in my mind and I said to myself, I need to shake things up. I need to challenge myself. I need to challenge the audience."
So he emailed Robert Falls of Chicago's Goodman Theatre about joining Brian Dennehy in its 2012 production of "The Iceman Cometh." Lane played Hickey, Eugene O'Neill's fallen angel who seeks to end his fellow barflies' purgatory; the casting effectively pulled the rug out from under audiences expecting the actor's impish comedy.
In delivering those Herculean monologues, at both the Goodman and later at the Brooklyn Academy of Music, Lane says he experienced "real breakthroughs" onstage. After over 40 years performing, he was learning new things, more determined than ever to expand his craft. "O'Neill is asking you to be as brave as he is in the writing and to go as far as he goes—which is very far. It kind of demands an exposure and going to the darkest places of your soul, otherwise it doesn't work.... There were nights that it was almost hallucinatory, where it takes you emotionally. I highly recommend O'Neill if you're looking to shake things up—let's put it that way!"
Almost-hallucinations are common in Kushner's work, too, where ghosts and angels drop in and spirituality supersedes literalism; particularly in portraying Cohn's losing battle with disease, Lane found the emotional rigors of "Iceman" prepared him for "Angels in America." "You're watching someone die over time," he points out. "He was a self-loathing Jew and a self-loathing homosexual, but he would never allow himself to be vulnerable.... There's something sort of admirable about the way he fights to the very end. In a way, AIDS humanized him like nothing else had."
Lane finds himself quoting the play again, this time Stewart-Jarrett's speech as Belize:
" 'A queen can forgive her vanquished foe. It isn't easy. It doesn't count if it's easy, it's the hardest thing. Forgiveness. Which is maybe where love and justice finally meet.' " His eyes well up. Again, you get the sense that as present and perceptive as Lane is out of character, it's on the stage that he withholds nothing.
What else could explain his ability to pull us all into his orbit onstage, to teach us more about ourselves as we're watching him? "That's what the theater is supposed to do," says Lane. " 'Look at your life. We're showing you, what do you think? What does this mean to you? Do you see yourself?' "
---
21st Century Breakdown
What would the real Cohn think of this revival of "Angels in America" if he were alive? "Oh, he's smiling in hell right now!" exclaims Lane. "Not only because the play has been revived and people are seeing Roy Cohn talked about, but the person he lawyered for and mentored is now president of the United States. He'd be thrilled beyond belief."
That's right: While older generations associate Cohn with his involvement in Joseph McCarthy's infamous hearings and the trial of Julius and Ethel Rosenberg, 2018 sees Cohn in a rather unexpected context: he represented Donald Trump in the '80s, influencing, perhaps, our president's explosive brand of conservatism.
Recently when Trump bemoaned not having enough friends in his corner, asking, "Where's my Roy Cohn?", Lane made an ingenious move: he told "Angels" producers to take out a full-page ad in the New York Times featuring him as Cohn and the answer to Trump's question: "Here."
"Perestroika" first bowed on Broadway 25 years ago, and now a new demographic of theatergoing Americans is discovering Kushner's genius—a generation grappling with oppressive forces other than AIDS. "It feels even more resonant and important now even than when it debuted," says Lane of the magnum opus. "Because this is the worst possible time! Tony feels, when he was writing about Reaganism, that's why we've wound up with Donald Trump; it led to this moment."
Yet a speech late in the play about "a kind of painful progress"—the closest Kushner's "Gay Fantasia on National Themes" gets to both a thesis statement and call to action—proves that we need this story now more than ever. The arc of history bending toward justice, suggests Lane, gives us hope. "It can happen but it takes work," he says.
"Like 'Death of a Salesman,' like 'Iceman Cometh,' these are the major plays, and they should be seen again and again because they speak to a new generation and inspire new writers, hopefully." The great work begins, indeed.
Check out Backstage's Broadway audition listings!
Photographed on April 9 in NYC by Chad Griffith; Groomed by Melissa Dezarate