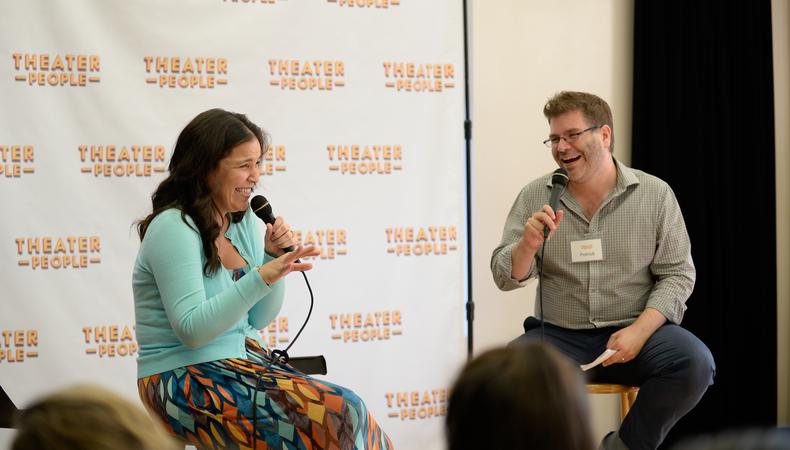 The only reason Patrick Hinds launched "Theater People," his biweekly podcast of one-on-one interviews with Broadway's biggest stars, was that he wanted a podcast like that to exist.
"It really happened because I was a podcast nerd," the host and creator recently told Backstage. "I was obsessed." Although theater-related interview series had emerged here and there on the airwaves, Hinds—"a theater lover but not an actor"—found himself craving in-depth conversations with the artists he admired on the Broadway stage. Thanks to "Theater People," those conversations with Tony Award-winning actors, from Michael Cerveris to Renée Elise Goldsberry to Laura Benanti, are now available to thespians everywhere.
In early 2014, however, several factors were working against Hinds and his producing partners Mike Jensen and Vonia Arslanian. "We didn't know anything about production or sound or editing," said Hinds with a laugh. "I had no technical know-how." Plus, being a Broadway enthusiast didn't necessarily mean strong connections to Broadway itself. "We didn't have a way to get people on the show! Other than to reach out on Facebook or Twitter."
Through various friends of friends, Hinds eventually booked early guests, including Annaleigh Ashford and Michael Urie, by reaching out—and simply asking. "The theater community in New York is small and people wanted this to exist," he said. Seventy-four episodes later and counting, he added, "It's my full-time job and I make a living doing it. And I've never been happier." (Asked to pick a favorite, Hinds said his interviews with "In the Heights" stars Karen Olivo and Lin-Manuel Miranda will always remain highlights.)
This summer, "Theater People" has launched a series of interactive live shows, following and expanding upon the podcast's format. "The intention was to bring fans and artists together in unique and affordable ways," said Hinds. "It's not your typical live show, not an event where you have to do a cover charge and drink minimum." Fans at the first two live shows got to see Lesli Margherita and Lindsay Mendez up close and personal; tickets to upcoming shows featuring Eden Espinosa (July 17) and Laura Osnes (Aug. 7) are available now.
READ: "5 Reasons to Tune in to the Ensemblist"
Hinds' advice for aspiring podcasters—or anyone dreaming of a project they would like to see exist—is to just jump in. "Don't overthink it, just start," he advised. "If I had let in those voices saying, 'We wouldn't figure it out' and 'Why even bother,' I never would have pursued it. It's probably advice that creative people get all the time. But you can't hear it enough."
For more information and to listen to full episodes of "Theater People," visit theaterppl.com.
Inspired by this post? Check out our Broadway audition listings!
Want to hear from some of Broadway's best? Watch here: