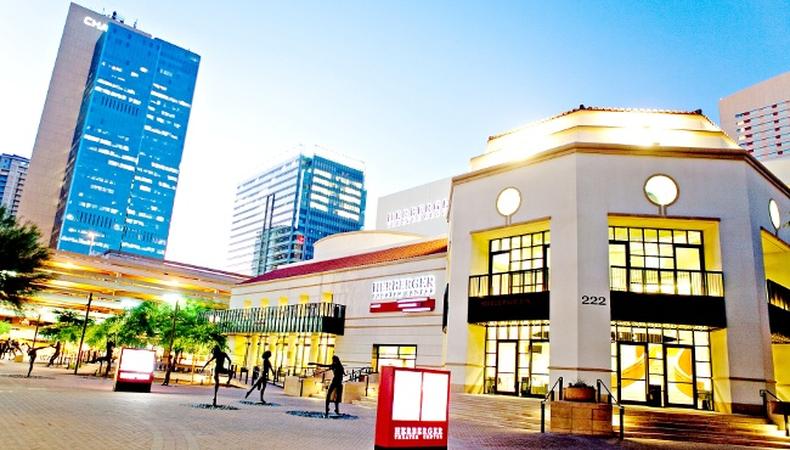 As befits the country's sixth most populous city, the people of Phoenix are eclectic, forward-thinking, and constantly shifting to confront new realities. The same could be said for the theater they attend.
"There is an audience here," says Mark Mettes, CEO of the Herberger Theater Center. "Especially in downtown Phoenix." Arizona's urban heart provides its citizens with a thrilling, thriving, 21st-century way of life. Many downtowners, as Mettes points out, have flocked to Phoenix for its warm temperatures and affordable living; they believe that way of life isn't complete without an array of theater, film, art, and music.
"A lot of [our] audience comes from different cities and they're used to getting art and performance art and having it be more accessible. There's a lot of work happening in terms of attracting businesses and corporations, and having a vibrant arts scene is such an important part of that."
Last year, the Herberger, located among some of downtown Phoenix's tallest skyscrapers, celebrated its 25th anniversary of developing and empowering theatermakers. The performance venue and arts incubator has staged over 11,000 productions and provides both the Arizona Theatre Company and Center Dance Ensemble with residencies to produce their work. Through its tireless outreach initiatives and arts education programs, which incorporate the building's second-floor art gallery, the Herberger is committed to the cultural advancement of the entire Valley.
Mettes says a lot of his work involves curating multidisciplinary projects that will challenge theatergoers young and old, radical and traditional. "There is an audience that very much enjoys traditional theater and wants to sit and watch a traditional production in a proscenium theater, so we have to respect that," he acknowledges. But engaging with new audiences who interact with performance differently is a means of investing in the long-term sustainability of theater itself. "If we can do things that appeal to that new audience, and appeal in ways that traditionalists might find challenging—as long as we're respecting both audiences and trying to bridge that gap between those audiences—I think that's really important to the future of performing arts, and certainly at the Herberger."
Keeping a similarly attentive focus on the future is Phoenix Theatre, the largest producing regional company in the Valley. "We are that place where smaller companies can get their start," says Associate Managing Director Marylou Stephens. Up-and-coming actors filter through the company's three performance spaces (general auditions are held every April), while playwrights can flex their muscles at a new works festival in the spring.
Phoenix Theatre is all about providing tomorrow's talent with "the ability to get your big break," Stephens says; the company seeks to develop careers that will springboard all the way to Broadway. "Many people can't break out of just doing community theater or are looking for that professional entity like ours."
Community or regional theater are certainly options for Phoenix-based actors, but to truly embed oneself in the city's cultural fibers means staying abreast of the more unconventional performance opportunities. The Herberger's Lunch Time Theater series invites up-and-coming companies to stage one-acts for professionals on their lunch breaks, while the Phoenix Theatre's youth summer camps and page-to-stage program join teens with emerging artists.
Young theatermakers, in fact, have access to plenty of resources to help hone their skills and influence the performance art of tomorrow. The Herberger's Young Leadership Board, made up of enthusiastic teenage artists, hosts standup comedy nights and participates in arts festivals to support the nonprofit's youth outreach programs. As Mettes says, in Phoenix "it's really important as we talk about the future to know we have our ears to the ground."
Inspired by this post? Check out our theater audition listings!