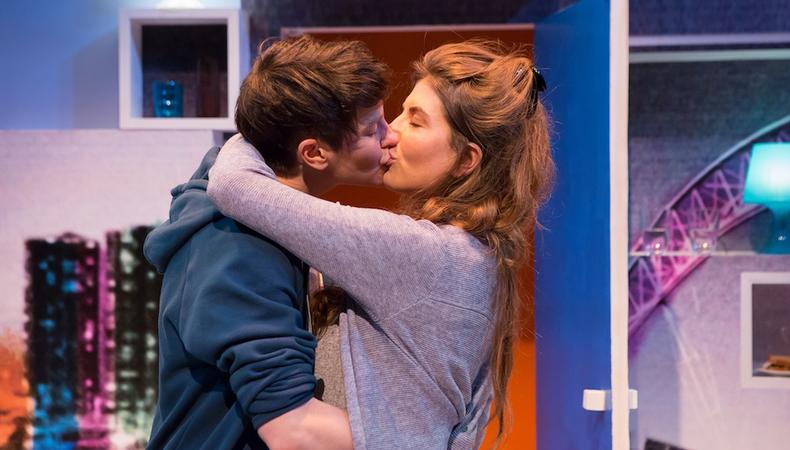 It is the very few among us who get the opportunity to do what they love for a living. And it's even fewer those who get to do said dream job with their best friend. But for Louis Hartshorn and Brian Hook, it's an everyday reality.
After a mutual friend introduced them, the two grabbed a beer (or cider, depending on who you ask) and the rest was, as they say, history. Aside from sharing a last initial, Hartshorn and Hook also realized that their approach to theater and dreams of producing certain types of shows were too similar not to act on. It was the fortuitous drink in 2007 that ultimately led the two to form
Hartshorn - Hook
, a producing and general management company who specialize in producing commercial theater in the West End and around the world.
The boys of H+H chatted with Backstage about what it's like to start a business out of a bedroom, the thrill of producing shows across an ocean, and why kindness is key.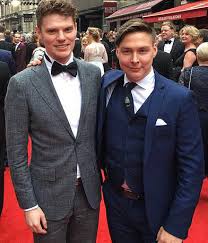 Tell us a little about Hartshorn - Hook.
L: We're a commercial producing and general management company with broad tastes and a lot of passion. We've always balanced doing commercial work with shows that we have fallen in love with, and it's our job to make as much of our work as possible fall into both categories.
B: The core of the company is that we are two best mates supported by an amazing team, and we always make sure we enjoy what we do. If it's not fun, we're not doing it right.
What drew you to the performing arts?
L: There's something about hospitality and entertainment—seeing people transfixed by something, or leaving a venue at the end of the night having had an emotional revelation or with a huge smile on their face. It's so rewarding.
B: Oh, I was doing it for the fame and money. But yeah I guess those things are cool! I had a brief spell as an actor, but then shortly after meeting Lou and setting up the company, I found I really enjoyed making jobs for other people. The alchemy of a production is still a real thrill. Although we sometimes appear to be a glorified administrator, it's fundamentally a very creative role.
How did you guys get your start?
B: I'll set up the scene. A decade ago around this time of year, I was working front of house at The Palace Theatre in Manchester on "The Producers" (of course). I'd never met Louis but was in the throes of taking shows to the Edinburgh Fringe. One of the cast in "The Producers", Robin Sebastian, said there was a fella backstage who had a similar outlook and that we should go for a beer together.
L: It was actually a cider! We chatted in the bar next to the theatre one evening and I remember after we left, Brian text me to say he thought we should work together. I went to see Brian's Edinburgh shows and he came to see my Rat Pack show (back in the days when I was still performing in it) and we decided we'd set up a company as soon as the festival was over.
B: And that's how it was. We dreamt big even though we had to start in a makeshift office in Louis' bedroom. I remember at the same time as we borrowed £500 to finance our first show, I also put a fluorescent Post-It note on the wall that read "produce a West End show in 5 years". I got a business partner and a best mate.
READ: How to Become an Actor in the U.K.
What do you wish someone had told you when you were just starting out?
B: One of the pieces of advice that keeps coming back we were given when we first started out. Louis' dad texted us right in the middle of one of our most difficult early days when we were really at the coal face of the Edinburgh Fringe with an unhappy company. Out of the blue, with no idea of the day we were having, he simply texted 'rule everything with kindness'. It surprises me how often I come back to that.
L: That you must always be prepared to walk away from a project or a deal. That isn't the same as giving up—it's about making the right decisions and not putting yourself in a tough position just because you want something. My advice based on my experience would be never to give up. Typical, I know. But it's so true. We spent years and years earning nothing from producing, trying to turn the passion into a career. We'd work overnight shifts to afford to live and come straight into our temporary office the next day, exhausted. Most of the time, the passion and friendship kept us smiling, but there were a couple of difficult times when quitting looked like the sensible option. I'm so glad we kept at it.
How do you choose what work to produce?
L: We don't often work in the subsidised sector, so the work has to have a measure of commercial realism about it—whether that's producing a well-known title on the medium to large scale, or producing what we think has a lot of potential but on a small enough scale to test it out safely.
B: And sometimes the work chooses us. It's been important not to put ourselves in a box. We're as happy co-producing on a big hitting West End musical as we are touring as we are making shows in abandoned warehouses. I think the challenge of being diverse producers is really exciting. We put Shakespeare's "Richard II" into the House of Commons. That was cool.
What's the one thing anyone looking to produce their own work in the U.K. needs to know?
L&B: Never put your own money in the show!
B: No, we jest. In fact, often that's a necessary or exciting thing to do. You should treat every investor with absolute respect and don't be afraid to ask for their input.
L: I think it's wise to think about shows from an audience perspective. A lot of the companies we see struggling are ones which are putting on work which tends towards being self-gratifying. The beneficiaries of a project should be identified and their needs or desires assessed to see whether work is going to achieve its outcomes—whether artistic, social, commercial or a mixture of these.
What should actors know about how producers work?
B: I think sometimes it's easy to feel like we're not on the same side. So as often as possible, go for a beer with your producers without an agenda. Try and remember that you're both in this against the odds. That the decisions they make often have a thousand reasons that aren't clear in a rehearsal room or a stage.
L: The most unpleasant aspect of producing is that people view the financial reality of theatre as a producer being "money-grabbing" or some other negative stereotype. Most shows lose money and keeping a budget realistic is necessary to ensure that the work can take place. I think that echoes what Brian is saying: we are all on the same side and we love what we do.
What's the biggest difference between producing work in the U.K. and the U.S.?
B: The Unions behave differently in the U.S.—they are very firm, which makes it comparatively expensive to produce in the U.S. It's probably at least three times the price to launch a show in New York as it is in the West End. It's no wonder we spend a lot of time taking shows from the U.S. to the U.K.
L: It does feel like they are disproportionately strong here which appears to be bad for the industry as a whole. Theatres sit empty in New York for months because of the system making it impossible to produce anything nimbly.
What's the best way for an actor to make a good impression on you?
L: It's all about being friendly and open. We're in a very personal industry, and it's wonderful when you are in a room with people you enjoy being around.
B: I stay pretty clear of the casting process. I trust my directors to make those choices and whilst I feel like I can offer helpful advice, I've always had a better time when a director has made those choices. As far as writers go, it can be a long process between meeting a writer and developing their work. I think a friendship is key while doing that. They're going to have to trust you to put together the team and realise their "child".
When you're working with actors, what's one thing they can do to make your job easier? What's one thing they often do that annoys you?
B: Thays a tricky one. I think as far as producers go we keep ourselves quite visible, quite approachable and we always care very deeply about the shows we are working on. So working with H - H it makes us happier when they notice that. When there's a sense of community in our casts, our job gets so much easier. It annoys me if I hear of an actor acting as if they are above anyone, or talking down to any member of the production staff, crew, or admin team. I'll take 9/10 acting ability if they're a 10/10 person every day of the week.
What projects do you have on the horizon that you're really excited about?
B: There's a lot going on in H - H towers at the moment! We're really excited about transferring the New York run of "Rotterdam" back to the West End. We open a huge version of "The Great Gatsby" alongside "The Guild of Misrule" in June, then we're getting the band back together for our "Blues Brothers" show. We're enjoying bringing "I Loved Lucy" from New York to London, and there are a few shows we want to make, such as a version of "Neverland."
L: We are working on a community version of "West Side Story" for Spring 2018 with Future Stages. It's an amazing outreach project with young people from disadvantaged backgrounds performing the full show in incredible venues with professional orchestras. It's going on in Manchester, London, and Glasgow with different casts in each city. For the young people in Glasgow, to get to perform with the Royal Scottish National Orchestra, for example, is going to be extraordinary. It's nice to have that kind of diversity in our work. Hopefully, we'll be back to New York with something else sooner rather than later!
Check out Backstage's London audition listings!