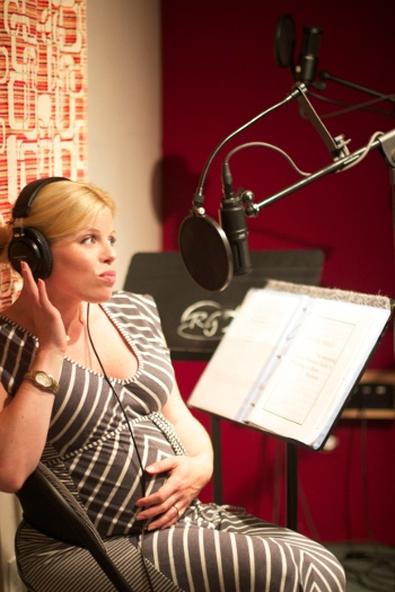 After the success of last year's theater and parody book "#SOBLESSED: The Annoying Actor Friend's Guide to Werking in Show Business," Twitter star Annoying Actor Friend couldn't help but push the envelope a little further. And considering how all of this started—a joke about actors who overshare on social media that turned into a blog and Twitter account and then into an Amazon best-seller—pushing the envelope is something we've come to expect from the humorous Internet vigilante.
"Like most things I do, it all began as a joke," says AAF of the new audio book edition of "#SOBLESSED," the royalties from which will be donated to Broadway Cares/Equity Fights AIDS. "When the book was published last year, I said to a friend, 'I should do it as an audio book and win a Grammy for spoken word!' Shortly after, I actually started thinking about how I could make that happen."
After almost two years under a secret identity, AAF knew that revealing who he/she was was out of the question. But who does one get to record one's audio book and do it justice? Well, Brian Dennehy, Alan Cumming, Megan Hilty, Keala Settle, and more of Broadway's biggest stars, of course.
AAF originally imagined dozens of actors reading random passages, but quickly realized "that would have been a hot mess to schedule and pretty confusing to listen to." So with the help of director Piper Goodeve and engineer Jayme Mattler (a Grammy nominee for Michelle Obama's 2013 audio book "American Grown"), AAF put the wheels in motion.
"Piper set a structure that could include as many voices as possible while still providing the most cohesive audio book for the listener's ear. After we settled on 10 voices, we made a list of actors we thought we could reach out to and which sections we'd like them to read," he/she says.
AAF hired many of the talent through Twitter direct messages and some personal contacts, but not everyone was that easy to reach.
For a few of the actors, AAF posed as a messenger from BC/EFA and delivered packages that included the book and an explanation of the project. And for Cumming, who AAF hoped would be the "host" of the audio book, the note mentioned the Scottish star's May Backstage cover. "That issue featured a mention of my Tonys article on the cover, and in my letter I explained how #blessed I felt to have my name next to him on Backstage magazine," says AAF.
And just a few weeks later, the "Cabaret" actor was in. "The fact that we got the Emcee to essentially be the emcee of this audio book couldn't have been more perfect!"
Much easier was the decision to donate the audio book's royalties to BC/EFA. "One of the things I hadn't done yet was find a way to use my platform to raise money for [the organization]," he/she says. Plus, using the project as a charitable venture "made it easier to reach out to actors who might not be familiar with Annoying Actor Friend, but are passionate about BC/EFA."
Even better, the stars all had different voices for Annoying Actor Friend. "Megan Hilty had a playful, childlike tone. Julia Murney's is more jaded. Will Swenson had a laid-back vibe. Tituss Burgess brought the sass. Krysta Rodriguez found the perfect line between lovable and douchebag. Brian Dennehy sounds like he's doing freaking Shakespeare! If we could sell just the raw recording of [Dennehy] riffing in between takes, we'd probably make millions for BC/EFA."
The audio book version of "#SOBLESSED" is available now via iTunes, Amazon, and Audible.
Read more articles written about and by Annoying Actor Friend here!