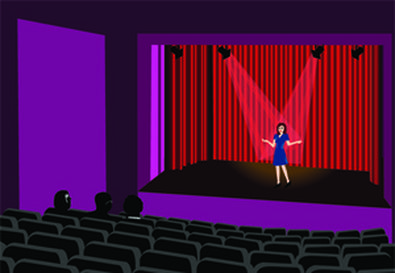 Park, No Recreation
The logistics of working at smaller theaters
Actors who perform in L.A.-area theaters under the Actors' Equity Association 99-Seat Plan aren't going to get rich doing so. Yet, as they practice their craft, it's a happy occasion when there are certain comforts or amenities available along the way.
But finding safe and convenient parking can be a challenge, particularly in areas like the North Hollywood theater district, where boulevard meters require payment up until 8 p.m. and side-street parking is scarce. Meters requiring money at night are now prevalent in other areas too, including many Hollywood neighborhoods. Some companies, such as Hollywood's Actors Co-op, the Sierra Madre Playhouse, and Pasadena's Theatre @ Boston Court provide free parking for audiences, actors, and other theater workers at or near the building. Macha Theatre in West Hollywood has limited free parking. Other situations vary widely. Yet, where there's a will, there's always a way.
Some theaters offer fairly spacious separate dressing rooms for each gender, such as at Pasadena's Fremont Centre Theatre. At others, however, dressing rooms can be a tiny coed cubbyhole behind stage, adjacent to restrooms shared by actors and audiences. For each of its three performing spaces, the Hudson Theatres complex in Hollywood has two separate dressing rooms, one smaller than the other. In theaters with especially tight areas for costumes and makeup, modesty sometimes has to be left at the stage door.
Actors needing quick and convenient nourishment should note that the Hudson complex has a popular on-site cafe, serving sandwiches, snacks, and beverages at reasonable prices. As for freebies, producers of Hudson shows sometimes bring food and beverages for the cast.
—Les Spindle
Close to You
There are no small actors, just small spaces
Achieving that perfectly sublime connection between actor and audience is no mean feat. So what happens when you throw an extra challenge into the mix? For instance, when performing on many of the smaller Southland stages, actors find themselves in extremely close proximity to the very people they're trying to reach.
Actor Ramon de Ocampo, who has gotten up close and personal with audiences at such venues as the Road Theatre Company, finds that physical closeness forces an actor to be unrelentingly truthful. "Not to say you're not truthful on large stages, but when the furthest person in the house is eight feet away, at some point someone will always be looking at you—up close, literally watching you sweat," he explains. "It's a great opportunity to 'live' inside the world of the play. There's really nowhere to hide. That's both an advantage as an artist and a disadvantage."
Actor Erin Matthews, who has performed in such intimate spaces as Sacred Fools Theater Company, prefers playing to a smaller house. "I've never been a huge fan of looking out over the tops of heads into the moors or whatever," she says. "In a small theater, the audience is an additional character in the show, whether you break the fourth wall or not. The energy exchange is immediate."
That said, this type of enforced coziness can lead to unusual snafus during a performance. The audience, notes Matthews, feels "right at home." "Comments on performance, plot, costumes, can really throw you, not to mention the dreaded cell phone," she says. Speaking of cell phones, one of de Ocampo's most memorable small-theater experiences happened to involve one of those pesky devices. "In the middle of a very intimate scene of emotional weight, a cell phone went off," he remembers. "Not just any ring, either: It was a deep blues riff, and it kept repeating itself as the scene went on. It was loud and difficult to not break character and laugh because of how absurd the timing was."
The most ridiculous part? "It was actually one of the performers' phones who was on stage at the time," says de Ocampo. "If the theater were bigger, that thing would have never been heard by the audience, would have been easier to hide, or likely, would have been deep in the wings."
Matthews, meanwhile, recalls a rather blush-worthy wardrobe malfunction during a performance of "Louis & Keely: Live at the Sahara" at the Geffen's Audrey Skirball Kenis Theater. "The audience was very close to the stage, the front row about a foot from the playing area," she says. "There was a number in which I stripped down to a rather modest corset and trunks. Well, this one particular performance, those modest trunks didn't quite make the costume change, and I found myself shaking my be-thonged behind right in the faces of an appalled room of seniors—certainly a time when I would have liked a less, ahem, intimate space."
—Sarah Kuhn
Live From L.A. (and New York)
Why well-known screen actors do small theater
Few people question when an actor best known for film and television work decides to appear on Broadway: There's nothing quite like the rush of live theater. And it's always good to keep the acting muscles at work. But what about small theater? Increasingly, why are so many actors better known for appearing onscreen than trodding the stage popping up in 99-Seat houses in Los Angeles or Off-Off-Broadway theaters in New York?
For one, theater casting can often afford to be more imaginative than film casting. When Mark Feuerstein, now appearing on USA's "Royal Pains," was offered the part of the cad who visits several ex-girlfriends in Neil LaBute's "Some Girl(s)" in 2008, he signed up without even having read the play. It didn't matter that the show was in the 99-Seat Audrey Skirball Kenis Theater at the Geffen Playhouse in Los Angeles. "It's such a great challenge; you're not just the hero who saves the day at the end of the play," he told Back Stage. "Honestly, when you've done the lead in a bunch of sitcoms and played the noble Republican on 'The West Wing' and the sweet, doting boyfriend in 'In Her Shoes' and the sweet companion to Mel Gibson in 'What Women Want' and done the best friend-slash-reliable guy, getting offered to play a shit-heel in a Neil LaBute production is a thrill."
You also never know where a production can lead or where your next role might come from. Josh Lucas credits Manhattan Theatre Club's 1998 production of "Corpus Christi" with helping him land a pivotal film role. "It was really helpful to my career," Lucas told Back Stage in talking about the Off-Off-Broadway production. "Even though the play wasn't terribly successful—it was a huge hit only because of the controversy, but it really got terrible reviews. But the director of 'American Psycho' saw the play and cast me."
There's also, of course, the love of the medium. Said Lucas, "My mother [once] said to me, 'Why are you still doing this?' and I was so angry at her. But I really, really love it. If you can say that to yourself even through all the failure and frustration, it's worth it. I remember doing a play with Calista Flockhart and six others and there were regularly only three or four people in the audience. Every night, we'd still walk out there and go, 'This is really cool.' "
It's a sentiment shared by French Stewart, best known for several seasons on the NBC comedy "3rd Rock From the Sun." Stewart recently appeared with "Roseanne" star Laurie Metcalf in Justin Tanner's "Voice Lessons," which played at L.A.'s Zephyr Theatre before a run earlier this year Off-Broadway at Theatre Row. He is currently appearing in "Watson" at Sacred Fools Theater as Sigmund Freud, a role he originated in the theater's late-night show "Serial Killers." Said Stewart, "When I was 18, I was doing shows in 99-Seat Waiver dumps and scrubbing their toilets. Sound like fun? It actually is. I'm 46 and I'm still doing the same thing. I like being a part of a community. I like making something out of nothing. And I like surviving on my wits with a group of friends for two hours with no escape hatch. Plus, the money is great."

—Jenelle Riley
Look Here!
A few tips for makeup in small and large spaces
There is a lot to consider when you apply theatrical makeup, including the size of the performance space. For starters, of course, your role informs the makeup, as does the style of the production. Similarly, the lighting design has to be taken into account. The brighter the lights, the more washed-out and flat-faced you might appear if you're not wearing the appropriate colors or highlighting your features. Skin color and quality—its blemishes and flaws—are issues that must be addressed.
Within those parameters, however, in small spaces, theatrical makeup is altogether more cinematic and less exaggerated in its application, says makeup artist Angelina Avallone, whose extensive theater credits include "The Addams Family," "Memphis," and "A Little Night Music." "In a small house—99–200 seats—the actor may be five or six feet away from the audience, whereas in a large house, you can be 30 feet away," she points out.
Regardless of the theater's size, all actors, male as well as female, should use foundation, but always remain mindful of their skin's color and texture, which can vary depending on the part of the face, she says. In general, "realistic" makeup covering the face must blend with your skin tone. But ears and neck—front and in back—must also blend with the face. "If it doesn't, there's the danger of a stripy look that is especially pronounced in a small space," Avallone says. "Look in the mirror front and profile. When you turn sideways, you'll know if the face is a different color from the neck or ears. Check under the chin."
Avallone says all actors, male and female, should use eyeliner, though its application is subtler and lighter for a smaller space. Similarly, eyebrows should be enhanced with pencil. If it's appropriate for the character, the eyebrows can be arched, but once again a lighter touch for the smaller space. In all spaces, men should wear mascara on the upper lashes, but not necessarily the lower. "That can make them look feminine," Avallone says. Women, however, should wear mascara on upper and lower lashes. Lip treatment varies more dramatically with space size. Lip balm is essential for male actors, and if the size of the theater permits, it's not a bad idea for men to outline their lips with pencil. Women, of course, will wear lipstick, though the color and application are at least in part informed by the size of the theater. Outlining the lips in pencil must be done subtly—if at all—for a small space. In a large theater a woman can reshape her lips with the outlining pencil, making them appear fuller.
Avallone notes that good and relatively inexpensive makeup kits are produced by Ben Nye, Cinema Secrets, MAC, and Makeup Forever. "Every actor should have a kit, and these companies offer industry discounts for actors and theatrical personnel who come in with an Equity card."
—Simi Horwitz
And, Scene!
Quick tips for auditioning for theater
Auditioning for theater requires somewhat different muscles from those needed for film or television. Alaine Alldaffer, a New York-based theater casting director who has also cast TV and film, emphasizes, "In theater, it's all about the text. Focus on the language; don't paraphrase. Often the playwright is in the room. In TV or film, it's about your image. With theater, you're the vehicle for the text." She adds that for theater it's better to be on-book: Even if you have memorized the text, have it hand. Alldaffer says the people in the room don't want a finished performance. They'd rather see a work in progress that can be shaped.
Stephanie Klapper, another New York theater casting director, who has cast projects on both coasts, also talks about the importance of the text, urging actors to be well-versed in the whole script before coming to the audition. "If at all possible, get the script," she says. "Obviously, if it's a play that's been done before, the script is available. But even if it's a new play, 99 percent of the time you can get it. This is not the same as a film, where sides may be the only thing available."
The other major issue, of course, is scale. As everyone knows, for film the acting has to be brought all the way down. Conversely, on stage, the acting has to be enlarged vocally and physically. "When you're auditioning for theater, we should hear you," says Klapper. "Your voice should be projecting, and your choices should also be projecting." It's equally important for the actor to be comfortable in his or her body. Unlike a film audition, where the actor may be confined to a small space or even a seat, in theater the auditioning actor should feel free to use the whole space, advises Alldaffer. But clearly, all choices have to be rooted in the text. She strongly urges actors who have not auditioned for theater recently to take a theater auditioning class to "work the muscle."
That said, there is a fair degree of overlap between auditioning successfully for theater and film. In both cases, the experts agree actors should come in prepared and ready to perform, having made strong choices ahead of time. Most casting directors prefer actors not to ask questions that could have been answered ahead of time. And most say that once an audition has started, the actor should complete it without interrupting himself to start again. Coming in with props and dressing in character are usually frowned upon, though subtly suggesting the character with the appropriate outfit is advised. At all auditions, being courteous and personable is a must. "Come in enthusiastic," says Klapper. "At least let us think you are. If you're not invested in what you're doing, there's deadness, no spark. Make sure you want the job. Don't come in because you want to meet people and think you might get the next job."

—Simi Horwitz
Those Who Can, Cast
Three Los Angeles casting directors who focus on theater offer advice to the brave souls of the L.A. stage.
Michael Donovan, Michael Donovan Casting, CSA
What he's always looking for in an audition:
"The specifics, the willingness to make a choice and to commit to it. This is what I hammer when I'm teaching. So many actors are so afraid of that, because they're wondering, 'What do they want?' You know what we want? We want you to be good. We want you to come in and give us something to work with. I think a lot of actors don't understand that."
His worst fear about actors:
"The worst fear you have with actors, sometimes, is that what you got at the audition is what you're going to get and there isn't going to be anything else. Which is why I really encourage my directors to redirect the actor at an audition. 'We love what this actor is doing; there's no reason to redirect.' Well, here's what you didn't find out: You didn't find out if the actor is directable. I suggest redirecting them, even if you have no intention of using it, just to see how you work together."
His best advice for actors:

"Have fun. It's so simple. You have given yourself the gift of doing what you want to do. Do you know how few people in this world do that? There's no way to know whether you are going to be hugely successful at it, but I think there's a great deal of success in just doing it—taking those chances and putting yourself out there. Never being able to say, 'I could have. I should have. What would have happened if ... ?' You can't say that, because you're doing it. I think a lot of what we do is process. Enjoy that. Understand that if you do the work all the time, when it is your turn, you'll be ready."
Amy Lieberman, Independent casting director
On preparing for an audition:
"Don't overwork it. Don't overprepare. Leave room in your brain so, if you are asked to do it another way, you are capable of hearing what you're being asked to do and changing quickly. I see a lot of actors say they understand, and then they give you exactly what they gave you before because their brain can't work that quickly on taking in new information. The first audition does not need to be memorized, but you should be fairly well-acquainted with it. For callbacks, yes, you should be memorized. And if you can ever get the script, and with theater you usually always can, read it."
On what actors should never do in an audition:
"Never walk in with any excuse whatsoever. If your mother just died, you shouldn't be there. If you had a car accident last night, you shouldn't be there. If you worked too late, you couldn't get home to read the sides, you shouldn't be there. Never walk in with an excuse of any kind. We don't want to hear it. We're not going to feel bad for you. That's not being mean; that's just a reality. You can't walk in with an excuse and expect anybody to do their job and get something cast."
On choosing a monologue:
"Choose something that you can really sink your teeth into and show yourself off to the best of your ability. The monologue has to pop, so when you walk out of the room, I will remember you later. It's not easy finding the right monologue. That was the toughest job for me as a young actress. I didn't have the patience to sit and read plays. And you have to. You have to see what relates to you and what you relate to."
Her best advice for actors:
"Be you. You can't be the next person who's prettier or taller or cuter or younger. You can only be you. And that's all I'm looking for. I'm looking for you to show me who you are. Don't overact. Don't try to become my friend. Just come in, do your audition. We all have our own friends. That's not why you're coming into the room—to impress me as a person. You want to just show me what you've got as an actor."
Erika Sellin, Center Theatre Group
Auditioning for Center Theatre Group:
"Unlike film and television, we usually offer the script on every project, so that's available. There's a lot of information out there—we even put it on the breakdown—about our creative team. Actors need to know that if the playwright is alive, chances are very high that he or she will be in the audition room and that they should respect the language that's been given to them. It never goes well if they get into paraphrasing. It's good to walk in there knowing that the playwright's there, who the producer is—whatever information you can get your hands on. Because then some of the mystery of it perhaps goes away, and maybe that helps the nerves."
About Open Mondays:
"I really enjoy our monthly open generals for Actors' Equity members, because I find that people who are new to town and really want to do theater find and come to these Mondays. I've been happy to see those people go on to be cast in productions eventually. It's a really great way to meet people. Sign-in starts at 9, ends at 9:30, and we see the first 25 people who show up. They're asked to do two contrasting pieces, and we usually prefer them to be from contemporary plays. It's just a chance to spend five to 10 minutes with somebody and get to know them. The actors who find us on those Mondays are very motivated and passionate about theater. In an industry town that's also about film and television, that's really terrific."
On Overpreparing:
"I think actors are usually surprised at the amount of material they're asked to prepare. We do a great many sides, and that's based on our creative team's desires. That kind of depth is not always present in other audition scenarios. I think actors have to slow down and listen and be able to respond, because a lot of it is about keeping your focus. It always amazes me how really wonderful actors perhaps don't listen enough and take the adjustment. They've prepared in such a way that they're not going to change it. That's where you lose the job."
—Jessica Gardner

When Acting Is Not Its Own Reward
L.A. theater awards and honors
One hears barbs directed at some Los Angeles theater awards, such as the long-defunct Drama-Logue Award marathons, for which the annual citations numbered in the hundreds, or the self-appointed one-man or one-woman committees, who nominate and bestow awards each year as solo endeavors. Yet in playbill bios at local productions, performers proudly list those citations as well as other awards—whether well-known prizes or those off the beaten path. To hard-working local actors, whose pay for their stage work ranges from zero to peanuts, these salutes clearly yield a viable reward of a different sort. In addition, awards provide valuable marketing tools for theater companies, raising the public's awareness of Los Angeles theater and its wealth of distinguished artists.
The Los Angeles Drama Critics Circle, founded in 1969, is the granddaddy among local awards groups. Its members are theater critics for periodicals, broadcast media, and websites, covering Los Angeles, Ventura, and Orange counties. The journalist members (currently numbering 19) volunteer to screen and recommend shows for award consideration to fellow members, view as many group-recommended shows as possible, then participate in annual nomination procedures and final voting, followed by a gala public ceremony. Among current members are two Back Stage staffers—Executive Editor Dany Margolies and writer-critic Les Spindle—plus several of our freelance reviewers (Neal Weaver, Amy Lyons, Hoyt Hilsman, Madeline Shaner, and Melinda Schupmann). More information is available at ladramacriticscircle.com.
The annual theater awards presented by the LA Weekly originated in 1979. They are produced by Steven Leigh Morris, who joined the paper as a writer in 1992, was the longtime theater editor, and nowadays serves there as critic at large. These awards, in myriad categories, are strictly limited to theaters of 99 seats or fewer, in keeping with the paper's overall stance as an alternative editorial voice. The awards are nominated and selected by Morris and the paper's freelance critics. The widely attended ceremony is usually driven by an iconoclastic, irreverent style. Morris admits the fun annual soiree is also a key goal of the awards. Send your press releases to Morris at LA Weekly, P.O. Box 4315, Los Angeles, CA 90078.
Since their inception in 1989, the Ovation Awards have served as the local peer-judged awards. Those eligible for the annual honors are Actors' Equity-approved L.A.-area theater companies and individual creative artists who are members of LA Stage Alliance. LA Stage is a nonprofit theater support organization, and the Ovations are one of its many functions, albeit a primary one. Its body of voters, composed of working members of the professional theater community, includes no critics. There are detailed qualification policies and procedures for shows seeking award consideration. For more information, go to www.lastagealliance.com or call (213) 614-0561.
In 1998, Rob Kendt, then-editor of Back Stage West (now folded into our national edition, Back Stage), devised the Garland Awards, which bestow annual honors to shows and artists deemed worthy of special recognition by our publication's staff critics and freelance critics. Under the supervision of Margolies since 2003, the Garlands continue. The first year, award recipients were announced in the paper; subsequently, they were accompanied by a gala award ceremony for a few years. In recent years, the awards have been announced in the paper, followed by a private party for recipients and other guests, sans ceremony. The recipients are selected following year-end submissions from the critics of their choices in various categories (production, performances in plays and musicals, design elements, and more). Those appearing on three or more critics' lists become recipients. All remaining shows or artists on the lists are honored on our website, www.backstage.com. Back Stage critics needn't have reviewed the nominated shows; they only need to have viewed them to vote for them. It's always wise to invite Back Stage to review your show—for the sake of being reviewed, and to court Garlands recognition—by submitting a press release to
[email protected]
at least two weeks prior to opening. Then cross your fingers that at least three Back Stage critics see—and love—your production.
Additional theater awards judged and bestowed in L.A. include the Gay and Lesbian Alliance Against Defamation (GLAAD) Theatre Awards. If you have a show with LGBT characters or themes that you feel is appropriate for GLAAD screening, email Jim Talbot, chairman of GLAAD's L.A. theater committee, at
[email protected]
Other local awards are given by the Valley Theatre League (www.1bc.com/vtl), and the NAACP Theatre Awards (www.myspace.com/naacptheatreawards).
—Les Spindle
Unique Critiques
How do you get a show reviewed in Back Stage?
What it really boils down to is your press release. Send it by email (makes it simple to forward to an assigned critic). Organize it intelligently, with important info easy to find, particularly the what, when, and where. Keep it pithy and to the point. Every show has a selling point that makes it distinctive. Be smart about identifying yours and make sure that info is prominent. Highlight the involvement of any talent with proven track records. Avoid overintellectualized and overwritten plot synopses. Don't throw grandiose but empty adjectives around ("Important!" "Thrilling!" "Groundbreaking!"); they make you sound either pompous or desperate. Modesty becomes you. Remember, you are asking Back Stage to send a critic to offer an opinion. Don't try to tell us in advance what that opinion should be. It makes you look unprofessional and leads to the suspicion that the work will be, as well.
There's nothing wrong with making a personal connection via a follow-up phone call, but if you don't succeed in reaching the assigning editor and end up leaving a message, don't bombard him or her until you connect. Less is more. That goes for follow-up emails as well. Only resend press releases if there's a reason to do so: a new actor, a change in the performance schedule, an announcement of the dates for critics' previews, etc.
Don't despair if you're brand new, completely under the radar, and acting as your own press agent. Back Stage ran more than 1,000 reviews of New York and Los Angeles offerings in 2009. We want to cast the widest net possible. If you don't succeed first time out of the gate, be persistent. And don't forget to remind us of your previous accomplishments, even if we didn't send a critic to them. It doesn't mean we didn't want to.
—Erik Haagensen, additional reporting by Dany Margolies