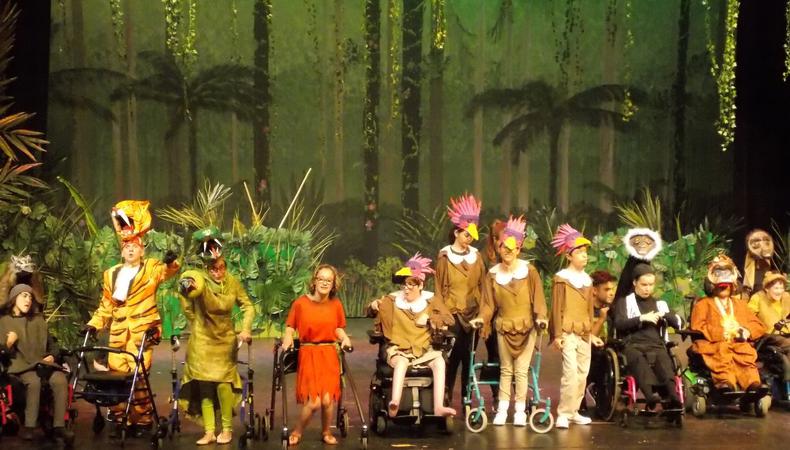 The goal of the Philadelphia-based Acting Without Boundaries is to give people with physical disabilities a chance to perform. But according to artistic director Neill Hartley, the nonprofit founded by Christine Rouse, who herself has cerebral palsy, accomplishes something else as well: "It's about changing perceptions about how people think about differences in the world, and maybe make them a little less frightened."
Why is a theater a good medium for changing perceptions?
Neill Hartley: Theater is creative in so many ways because there is a structure, but there's a tremendous amount of flexibility. If we have a dance, it doesn't have to happen in conventional terms. It's a venue that brings people together and allows you to see things in different kinds of ways. We want to share experiences together and theater is a wonderful medium for us.
Why is theater's fluidity an attractive quality?
NH: I will often completely revamp shows. Like in "The Sound of Music," the Captain and Maria have a beautiful moment together and we created a ballet with wheelchairs. There are certain times when certain roles have gender changes. We use whatever [an actor's] skill sets are to make these characters come to life.
Christine Rouse: We open up possibilities, we focus on abilities, not disabilities. You don't see the disability, you see the ability.
NH: It's about what you can do. We bring in choreographers and movement folks who work with some performers who can't move both their arms, so they'll move one arm. Or we'll have volunteers maneuver the performers. It's beautiful.
READ: "9 Theater Companies Celebrating Actors With Disabilities"
What are important qualities for volunteers to have?
NH: An ability to be flexible and creative. You need to say, "Move over there and do this," to folks who might not be able to do that. You need patience and creativity to [work with] something that's a problem and detriment but is really beautiful and wonderful. Last year, with "Singin' in the Rain," we did a whole umbrella dance, so we told the volunteers to do this cool twirling scene; a lot of volunteers didn't expect to be onstage but they said, I came here to work and create this wonderful picture on the stage. Folks who get involved are excited about what happens.
CR: It's important that [volunteers] have the ability to be inclusive.
What do you think volunteers get out of Acting Without Boundaries?
NH: We don't set out to preach and teach, but the experience opens people's minds. So when they encounter someone with a disability, they'll be receptive and open. Our performers and volunteers are part of a community and there are deep friendships there.
Inspired? Check out our theater audition listings!