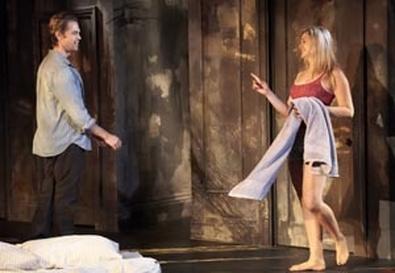 "In Hartford Connecticut, the Mayor is Puerto Rican. But in TheaterWorks production of my play in Hartford—the 2 lead Puerto Rican characters are played by white actors.… Nothing against the actors cast, but this is indefensible bullshit," posted "The Motherfucker With the Hat" playwright Stephen Adly Guirgis on Facebook toward the end of last year. The scribe was not alone in raising concern over the casting of non-Hispanic actors in the roles of Latino characters.
The Hispanic Organization of Latin Actors also chastised the casting of non-Latino actors Ben Cole and Clea Alsip in the Hispanic-specific roles of Jackie and Veronica in the TheaterWorks production. HOLA said in a written statement that it was "contacted by audience members for TheaterWorks' production who were outraged at the casting choices that resulted in the casting efforts made by the theater, the play's director and the production's casting agency, Pat McCorkle, C.S.A."
HOLA included words from Guirgis in its statement. He said, "I believe in casting the best actor for the role regardless of anything—including race. But it is my firm contention that this is not what happened here. Latino actors were willfully denied the opportunity to audition and play the roles that were explicitly written for them in my play."
Even though it is clear in the dialogue the romantic leads are Latino, Guirgis and HOLA specifically found it troubling that wording in the casting breakdown for those characters did not state their ethnicity. Guirgis said to The New York Times: "I know there are parts of the country where it's harder to find a lot of Latino actors. But this play was cast in New York City and in Hartford, and you can't tell me that there weren't qualified Latino actors to play characters who are Puerto Rican."
Back Stage released the casting notice in 2011; it read: "Seeking—Jackie: male, late 20s, recovering alcoholic, recently released from prison, volatile and puppy-dog vulnerable, tough-talking bravado, self-destructive; Cousin Julio: late 20s, Puerto Rican, fastidious, effeminate, health nut, has a great body, great sense of humor;…Veronica: late 20s, foul-mouthed and tender-hearted, short fuse, ballsy, feisty, complex, sexy; Ralph D: late 20s–early 30s, African-American, wisecracking, slick talking, calculatingly charming, cocky, straightforward, overly self-confident, fast-talking scamster. Theater's statement: 'We consider actors of all races and ethnicities.' "
The character of Cousin Julio is explicitly said in the breakdown to be Puerto Rican, and a Hispanic actor, Varin Ayala, was cast. Ralph D is stated to be an African-American character, and an African-American actor, Royce Johnson, was hired.
TheaterWorks executive director Steve Campo initially told The New York Times, "The actors that ended up being cast were, from the perspective of the director, the two best actors for the roles." He added that the choice to not specify the ethnicity of the actors to play Jackie and Veronica was made by Thompson and casting director Pat McCorkle. McCorkle, however, said to The Times, "I had nothing to do with the breakdowns, and the two lead roles were precast before I even got involved."
HOLA pointed out in its statement that the two actors cast as Jackie and Veronica are former students of the production's director, Tazewell Thompson, which could imply "that the casting efforts made by the director and the casting agency for this production may have been disingenuous at best and exclusionary of Latino acting professionals at worst." It should be noted, however, that Thompson, who is African-American, began a program at Arena Stage in Washington, D.C., to provide training to young minority actors.
Actors' Equity Association spokesperson Maria Somma commented on the controversy: "In all of our contracts we have language regarding equal opportunity and nontraditional casting." These contracts, including those at TheaterWorks, are agreed to by Equity and producers.
Under "Equal Employment Opportunity—Non-Traditional Casting," the Equity contract states: "Consistent with the foregoing, it is the intention of the parties that the casting of plays and the hiring of Stage Managers be conducted in such a manner as to provide equal employment opportunities to Actors of all ethnicities (including but not limited to African-American, Asian/Asian-Pacific American, Hispanic-American, Native American, multicultural), women, seniors, and Actors with disabilities."
Somma added that although Equity is committed to encouraging nondiscrimination and equal employment opportunity, "we also have to respect the artistic decisions of the theaters."
The casting of two non-Latinos in a Hartford production featuring multi-ethnic characters can be viewed as a missed opportunity for local audience members, given the city's significant Latino, and specifically Puerto Rican, population.
Guirgis attended a performance of the TheaterWorks show and said that the two actors were "talented and dedicated." He wrote, however, in a column for The Times, "Sometimes it is not possible to find exactly who you're looking for, and that's okay. But you cheat yourself and the audience and the experience if you fail to try."