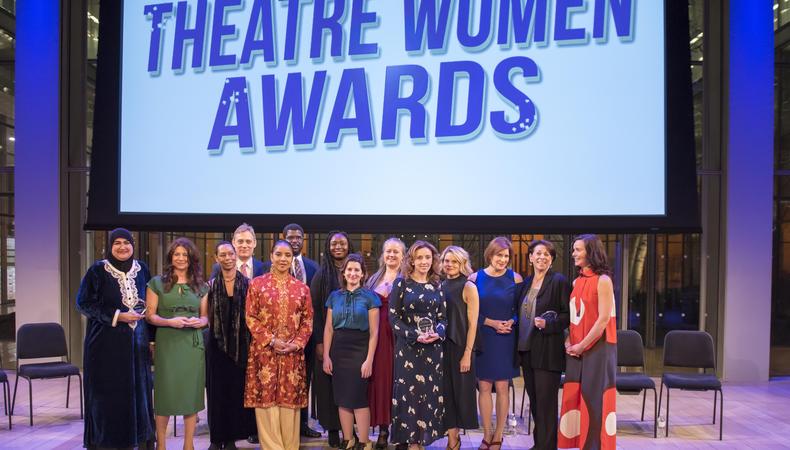 As the New York City theater community gears up for another Tony Awards season honoring Broadway's best, The League of Professional Theatre Women got a head start handing out accolades March 16. Their annual Theatre Women Awards, the only ceremony dedicated to promoting the visibility of female thespians across all disciplines, served as both an opportunity for well-deserved congratulations and a timely reminder of the power of gender parity in the arts.
Presented at The TimesCenter and hosted by multidisciplinary artist Florencia Lozano, the evening celebrated the achievements of some of the most exciting women working in theater today. Actor Phylicia Rashad was given the LPTW's prestigious Lifetime Achievement Award. "My entire career has been nurtured by women," said Rashad. "When women come together there is magic, especially when we come together in support and in recognition of one another."
The List and Beyond: Inside the Kilroys' Theater Revolution
The non-profit org's other honors speak to the variety of disciplines where women still face issues of inequality: playwright Rohina Malik received the Lee Reynolds Award; director Emily Joy Weiner the Josephine Abady Award; Colt Coeur artistic director Adrienne Campbell-Holt the LPTW Lucille Lortel Award; drama critic Linda Winer received the LPTW Special Award; and sound designer Cricket S. Myers the Ruth Morley Award.
This year's Theatre Women Awards also introduced a new social media-driven campaign: #OneMoreConversation. A call to action for theater artistic directors, businesses, boards, and other professionals to consider gender parity before a hiring decision, the #OneMoreConversation movement aims for a powerful, long-term impact.
Launched officially in 1986, the LPTW is now led by co-presidents Kelli Lynn Harrison and Lisa Rothe, and now includes nearly 500 female theater makers in its membership. For more information on the Theatre Women Awards and the org's other programs, visit www.theatrewomen.org.
Check out Backstage's New York City audition listings!