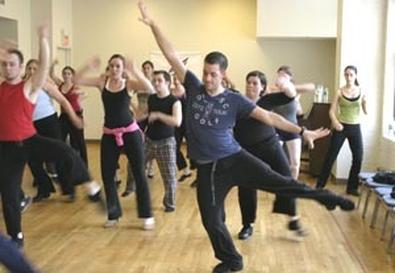 Randy Ellen Lutterman says the best advice she ever received is: "If you have the luxury, choose the next best adventure for yourself." Given that she has acted, directed, written, and produced, Lutterman has clearly followed these words throughout her career. She now helps aspiring theater artists choose their next adventure.
As founder and director of the American Theatre Wing's SpringboardNYC, Lutterman runs a two-week training course every June for 35 college juniors and seniors. Through workshops, master classes, field trips, and urban survival sessions, young actors learn how to transition from an academic environment to the professional theater world. They also converse with working actors such as Neil Patrick Harris and Liev Schreiber. SpringboardNYC helps prepare the next generation of theater professionals to prosper in New York and, as Lutterman says, to "imagine and plan a life in theater."
Last year, the program introduced an online application to expedite the submission process and reach as many prospective students as possible, especially non–New Yorkers. "We want to create a class that reflects America's diversity, with a wide range of experiences, training, and economics," Lutterman says. "It's a priority to have many students come from across the country. We accept New York kids too, though. We want to demystify the process of the business and the city for everyone."
One of the ways that Lutterman includes a variety of students is through need-based scholarships. "I felt very strongly that the program not only be available to kids with families who have the economic means to pay for undergraduate tuition and sponsor this experience," she says. "On average, over 75 percent of our class is receiving some form of scholarship."
Lutterman believes that the program's survival sessions make it unique. "We put a business plan together and break it down into achievable steps," she says, "so that students understand how to make this happen and know what to expect during their first three months, six months, etc." With regard to the current economic climate, Lutterman continues, "I think specifically when the country and city are suffering, these resources give kids a different way of thinking about starting their lives here."
Lutterman wants her students to be "the best version of themselves at an audition or rehearsal" and to remember, "You're not alone; use your head, use your art, and make a life." As part of the program, students listen to industry professionals who exemplify those words, such as actor Jennifer Van Dyck, who currently stars Off-Broadway in the Charles Busch show "The Divine Sister" and has mentored at SpringboardNYC since its beginning.
Van Dyck advises her students that "your fellow classmates are the people you are beginning your career with and may work together with for years to come." She enjoys hearing the students' hopes and aspirations because it reminds her of the start of her own career, she says. "It was encouraging to realize that I had learned a few things along the way that I was happy to pass on to a very attentive audience."
Living the Lessons
When Lutterman spoke at Tufts University last year, Newtown, Mass., native Becky Baumwoll attended. "I had a few friends who had done the program and raved about it," says the former international relations and studio arts major. Soon after, Baumwoll applied and was accepted.
"Studying theater and doing it professionally are completely different things. Springboard gave me a map of how the business worked in New York," Baumwoll says. "After the program, I felt more secure."
She adds, "When you come into the city for the first time, you're working all different angles for your career." Lutterman "told us if you have the time, make your own work to feel productive." Since moving to Brooklyn last September, Baumwoll has begun forming a mime troupe—an art she practiced at Tufts—so she can continue performing while she looks for acting jobs.
SpringboardNYC taught her that "making money is the challenge of the day, but you can still pursue your craft," Baumwoll says. Though she works in a restaurant, at an afterschool program, and as a nanny, she still finds time to go on auditions.
"When I walk into an audition now," she says, "I know the perspective of the people behind the table, so I know what I can offer them at that stage in the process. Hearing from the professionals at Springboard contextualized my role." She adds, "I also learned it's important to be polite, because you want to be someone people want to work with."
Baumwoll is currently featured in the Actors Company Theatre's production of "Three Men on a Horse," which is her Off-Broadway debut and her first professional acting job. When auditioning for the role, her SpringboardNYC experience proved useful, she says. Before the audition, she contacted Lutterman, who "said she knew a Springboard alumnus working at TACT. She spoke to him and said I was a great person." Baumwoll continues, "Even though it was my work in the room that got me the part, it was comforting knowing a Springboard alumnus was on the other side of the table."
Timeless Advice
Charles Swan was a senior at Sam Houston State University when he spotted a SpringboardNYC advertisement on a callboard. Swan's credits include a directing fellowship at Lincoln Center Theater's Directors Lab and a recent featured role in the "Saturday Night Live" digital short "The Creep." He says the program was appealing because it was "not so much about doing your monologue, but more about the workings of the day-to-day, which is not really discussed in other programs."
Before SpringboardNYC, Swan had attended a summer acting institute. "It was so easy to get lost in the shuffle," he recalls. "You just end up being a number. But at Springboard, the feedback you received was very personal." Swan has been dancing since high school, and it meant a lot to him to hear the opinions of professional choreographers and casting directors. "They told me what was really great about my audition and what could've made me stand out. If I'm going to an audition for a casting director that spoke at Springboard, I can look back at my notes and know exactly what that person is looking for."
Swan likes to describe SpringboardNYC as "a really cool fraternity of artists" who stay connected beyond the summer. He enjoys seeing where people end up, because "there's a wide variety of options. People find what fits best for them."
Unlike Baumwoll, Swan did not move to New York immediately after the program. He returned to Texas, where he acted and taught high school theater for a few years. But eventually, he says, "I felt the need to go back to New York. Even after three years, the knowledge and resources I gained were still applicable. Whenever you decide to start, you can always use Springboard's lessons."
The application deadline for SpringboardNYC is April 1. The 2011 program runs June 6–17. For more information, go to www.americantheatrewing.org/springboardnyc.