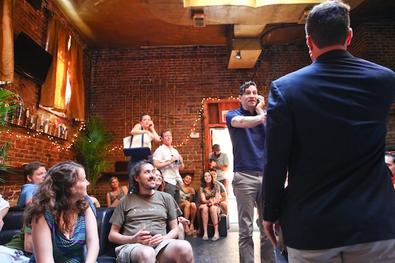 There's something dangerous and exhilarating about being in a crowd. Now I don't mean dangerous like getting trampled by a rogue mob after a sporting event. I'm talking about the kind of crowd that feels a communal sense of excitement and the electricity of human interaction. We've all felt it at some point. It's the screaming fans watching the Super Bowl at a bar. It's the shared laughter and smiling glances with the other riders as you exit a roller coaster. And, in many instances, it's the audience of a theatrical performance.
But, not every play lends itself to this kind of "theatrical danger." Many shows inspire a contemplative and deeply personal response. Throughout recorded history, though, there are instances of crowd-based performance that seem to have brought their audiences to a vibrating tremor of theatrical jubilation. I believe that the groundlings at Shakespeare's Globe are one such example. The groundlings were rowdy and rambunctious, and no doubt, their energy often reached a fevered pitch during a particularly charged performance. They shouted, they stomped their little feet, they threw things, and they had a damn good time.
When I first presented ShakesBEER, NYC's Original Shakespearean Pub Crawl three years ago, it was the groundling experience I set out to emulate. I wanted to bring Shakespeare to the places audiences associate with festivity, where they let themselves get crazy. And it worked. It worked so well, in fact, that we now offer 10 crawls a year and have devoted followers who come to feel that danger and excitement every time we visit a new neighborhood.
But this kind of public work is differently rigorous for actors and directors. Performing in and amongst a crowd of rowdy drunkards (albeit intellectual Shakespeare-nerd drunkards) requires an inspired sense of focus, improvisational flexibility, and, more often than not, a commitment to as many spit-takes as you can muster. For any company seeking to bring danger to their audiences, I offer the following advice
1. "Speak [Shout] the speech as I pronounced it to you…" Seriously. You have to be really freaking loud. Crowds make a ton of noise, and if you are inviting them to boo, hiss, and catcall, then you damn well better be able to out-shout them. So make like Patti and belt it out. (Patti – if you'd like to be in a pub crawl, please contact me directly.
2. Git up on it! It's hard to be seen if you are acting in the middle of a horde. So, you have to climb on everything you can think of. We've never met a bar top we don't want to walk on, and we've even been known to climb on the backs of our audiences. And really, wouldn't you feel a particular kind of danger if Falstaff were standing in the middle of your table? For God's sake, he might kick over your beer!
3. Go cheap, or go home! What brings out a drunken crowd more than a fart joke followed by a spit-take leading to a face-first prat fall into Sir Toby's crotch? Laughter brings us together, so mine the script for every sophomoric comedic opportunity and play it to the hilt. NOTE: Cheap jokes only work if they are grounded in honesty.
4. Party like it's 1599. There was no fourth wall at The Globe, and there's not one at your local Irish pub either. Crowds (especially if they've been drinking) want to feel like they are part of the action. Thankfully, Shakespeare wrote his plays to be shared with the audience. In addition to the noted "asides" in his scripts, there are thousands of lines that can include some level of direct address. Might I suggest a rehearsal exercise? After every line add "Amiright?" and address it to someone in the room. "To be, or not to be, that is the question. Amiright?"
Loud, brave, cheap. Follow these guidelines and in no time you'll be heckled and hollered at with the best of them. And who knows you may even win some new audiences. Just last weekend at ShakesBEER, we encountered a table of locals who had no idea that there was a Shakespearean pub crawl heading to their lunch spot. After a rollicking scene from "Taming of the Shrew," their 4- and 6-year-old kids were laughing their heads off and smiling ear-to-ear. Maybe, just maybe, we inspired those kids to become avid theatergoers (or even actors) when they grow up. At the very least they'll be able to recreate a fart joke or two and inspire their own theatrical danger the next time they're in a crowd.
Ross Williams founded New York Shakespeare Exchange in 2009 as a vehicle for engaging new audiences with classical theater. He is a director, teacher and performer committed to the development of highly theatrical work. For information about the ShakesBEER pub crawls, visit www.ShakespeareExchange.org. Ross is also the creator and producer of The Sonnet Project, which is bringing Shakespeare to thousands of people across the globe through the lens of independent film and mobile technology. www.SonnetProjectNYC.com.