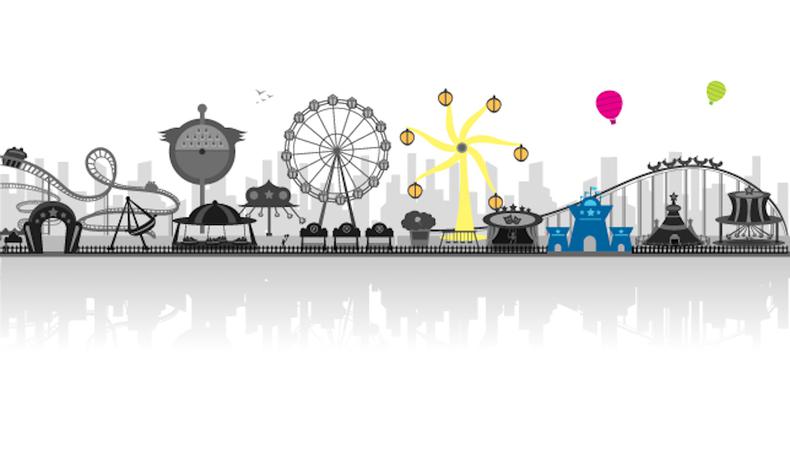 A paid gig and a getaway go hand in hand for actors performing in theme parks. There are plenty of fun opportunities all around the country for singers, actors, and dancers looking to try something new. Below are seven amazing theme parks where performers can not only showcase talent but also have a ball every day!
Waldameer Water World (Erie, Pennsylvania)
Speedy roller coasters, splashy water slides, and thrilling live entertainment: Waldameer Water World has it all! Located in northwestern Pennsylvania, this theme park has performance opportunities for costumed characters as well as singers and dancers. Showtime Theater stages live shows right in the park twice a day. This season, there will be an interactive dance performance plus two cabarets: "Let Freedom Ring," which will showcase patriotic tunes of several genres, and "Country Crossroads," featuring songs of the Heartland. RWS & Associates will be casting performers May 11 and June 14 in Long Island City, New York, for fall contracts.
Morgan's Wonderland (San Antonio)
Theme parks can be especially difficult to navigate as a person with a disability. That's why Morgan Hartman's parents decided to make a change. In 2010, Morgan's Wonderland opened in San Antonio after Hartman's father observed how her cognitive and physical disabilities affected her interactions with new people on family vacations. The theme park hosts guests with disabilities and their families from all over the country. According to its website, it is always searching for new talent to portray its character mascot Joy the Butterfly and the members of the Wonder Squad, a musical ensemble of superheroes who make appearances throughout the park.
Silverwood Theme Park (Athol, Idaho)
Silverwood Theme Park has something for everyone, whether you enjoy death-defying drops or if you'd just prefer to kick back and watch a show. Located in western Idaho, Silverwood is the largest theme park in the Northwest. During August and September, actors are cast for the Halloween event Scarywood, but the park is on the lookout for new talent all year round! According to the website, "gifted actors, singers, dancers, magicians, specialty acts, and performers of all types" can apply at any time.
California's Great America (Santa Clara, California)
Hoping to work with Snoopy and Charlie Brown? This could be the gig for you! At California's Great America in Santa Clara, numerous performances are staged right in the park. The spot's main attraction: Charles Schulz's beloved Peanuts cartoons coming to life onstage. Although open calls have passed, performers can still schedule private auditions by sending a headshot and résumé to audition@cagreatamerica.com.
Canobie Lake Park (Salem, New Hampshire)
This season's grand opening of Canobie Lake Park in scenic New England is quickly approaching. The theme park will host a job fair on May 10, and numerous performance opportunities are available. For instance, FunSquad, an on-site street team, gets to start impromptu dance parties throughout the park with guests! Actors can also be considered for Screeemfest, which is the theme park's spooky Halloween attraction.
Dorney Park & Wildwater Kingdom (Allentown, Pennsylvania)
In addition to its yearly Halloween attractions, Dorney Park offers actors opportunities to perform at the Good Time Theater or as costumed characters from the Peanuts gang. Performers will certainly interact with lots of young children, especially at the area of the park known as Planet Snoopy. The 2016 live performance lineup will be announced soon on its website.
Tweetsie Railroad (Blowing Rock, North Carolina)
Calling all cloggers, magicians, and equestrians! Tweetsie Railroad Wild West theme park has some intriguing opportunities for specialty acts of all kinds; unusual talents like these are highlighted. According to its website, if you have a "musical, comedic, variety, or other specialty act that we do not currently showcase, we may yet create a venue for such an act." Video auditions are being accepted now. The park will also host auditions in August for its Ghost Train Halloween Festival.
Inspired by this post? Check out our audition listings!