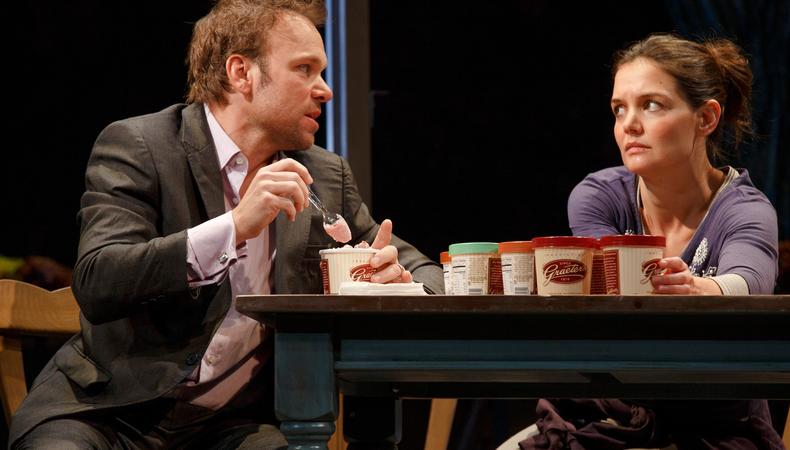 Prolific playwright Theresa Rebeck is on a downward spiral with her Broadway offerings. The problematic but interesting "Mauritius" was followed by the flashy but empty "Seminar," and now there's "Dead Accounts," the lazy and predictable comedy at the Music Box Theatre that wouldn't even pass muster as a Lifetime movie. Indeed, its presence on the Great White Way would be inexplicable without film star Katie Holmes in the cast, in an undemanding role that any number of actors could have played. Having made a credible Main Stem debut four years ago in Simon McBurney's controversial revival of Arthur Miller's "All My Sons," Holmes definitely takes a step backward here.
The nominal plot involves 40-something Jack, a Manhattan financial wizard, returning to his family home in southern Ohio full of caffeinated protestations of devotion to the birthplace he happily abandoned years before for marriage to Jenny, a wealthy, socially prominent East Coast girl. Of course, he's not just there for a nostalgia fix, and Rebeck laboriously reveals his reasons in heavy-handed dollops amid Jack's rambling purple paeans to life in the Midwest. (Hint: They involve the title.) Also present is his younger sister, Lorna, back living at home after a divorce and helping her devoutly Catholic mother, Barbara, to take care of her ailing, offstage father. Rounding out the dramatis personae is Phil, Jack's former best friend, who is still nursing an unrequited teenage crush on Lorna.
The clichés fly thick and fast as Rebeck pits the values of big-city life against those of the heartland. Cheap shots abound—the evening's biggest laugh involves a box of wine—as the characters strain to develop dimension. Under Jack O'Brien's just-go-for-it direction, Norbert Leo Butz works feverishly to make something out of Jack, employing his spectacular gift for physical comedy while infusing Jack's rants with musicality and as much conviction as he can summon. Unfortunately, there's no there there, and this talented actor's work is reduced to a bag of tricks. Holmes can't give the passive, colorless Lorna distinction and contributes a whininess that's at odds with the character's essentially sympathetic nature. Jane Houdyshell, as Barbara, more or less reprises her Mae Petersen in Roundabout's misguided "Bye Bye Birdie" a few years back, and it doesn't click now any better than it did then. Josh Hamilton delivers yet another uninteresting variant on his patented sweet-natured man-boy as Phil, while Judy Greer projects a stiff unease that seems to belong more to her than to her character as the icy Jenny.
Scenic designer David Rockwell and costume designer Catherine Zuber have done their research on contemporary suburban middle-class Ohio living, though their work emulates the blandness of the writing. Rockwell also dutifully executes the reveal called for by Rebeck's hapless, unplayable climax, which takes cynical sentimentality to new depths. Rebeck was once a promising, obviously talented writer. In her quest for Broadway success, I fear that she may have locked her soul away in its own dead account.
Presented by Jeffrey Finn, John N. Hart Jr., David Mirvish, Amy Nauiokas, Ergo Entertainment, Harriet Newman Leve, Double Gemini Productions, 3toGo Entertainment, and the Shubert Organization at the Music Box Theatre, 239 W. 45th St., NYC. Nov. 29–Feb. 24. (212) 239-6200, (800) 432-7250, or www.telecharge.com. Casting by Caparelliotis Casting.
Critic's Score: F