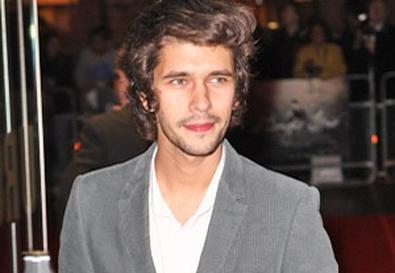 A favorite buzzword of actors is "simplicity." But to see its paragon, observe Ben Whishaw in his current project, Jane Campion's "Bright Star." In it he plays 19th-century poet John Keats. Or rather, he is Keats. Whishaw has not a moment onscreen that looks actorly. And aside from the utter seriousness that seems to mark his roles to date, each is crisply distinct—whether he is playing the bizarrely talented title role of Jean-Baptiste Grenouille in "Perfume: The Story of a Murderer," rocker Keith Richards in "Stoned," the tortured Sebastian in "Brideshead Revisited," or one of the Bob Dylans in "I'm Not There." Whishaw seems a likely, and much-needed, heir to Daniel Day-Lewis.
How does he do it? "I read a lot," says Whishaw. He also started early, in a youth theater near London, U.K. "We were a very ambitious little troupe and did some amazing plays," says Whishaw. "And that was an inspiration to me at the time, and it remains a big inspiration to me. That kind of group endeavor is something I really love." He won a spot at the Royal Academy of Dramatic Art with his attempt at an audition speech from "Troilus and Cressida" plus a more "comfortable" modern character—from "I Licked a Slag's Deodorant." But not all was smooth sailing at school. "I remember feeling very inadequate, actually, because we had a lot of very strapping men in my year," says the slender actor. "I remember just feeling like I'm skinny and a bit odd, and I got cast in lots of character parts, which I was totally happy doing. They were great. But I certainly didn't think I was going to be a leading man."
But here he is, doing leads, not least of which was in Trevor Nunn's 2004 "Hamlet." And he's doing them brilliantly, evidencing a deep immersion into his characters. To richly create the sensitive Keats, he says, he of course read all of the poet's letters. "He's just there in them, so fully fleshed out and so human," says the actor. "And then I had a sense that it was going to be one of those parts that would make me better as a human being, in a way. I think he was a truly great man, a great human being. I wanted to do some of the things that he did, so I spent quite a lot of time walking around Hampstead Heath. I started to tune into nature more."
Whishaw says he usually breaks down scripts, as he was taught to do at RADA. But here, he says, he let all that go, "to be with Jane and follow her process and really be open to that process." He says Campion has an ability to see inside people, a mystical ability to pull things out of her actors. "And I knew that I would be stupid to try and resist that with my process of my own," he says. He will admit of his process that he will hone in on a detail to bring himself into character before the camera.
And as much as he seems to us to be the characters he plays and not merely a version of himself, he says, "I think about this a lot, and I've come to the conclusion that it's only ever you. It can't be anyone else, 'cause you can only ever be you. But I think we are more limitless and infinite than we often think we are. Like Jane told me, you have everything inside of you. There's nothing you can't get in touch with, that you can't understand, that you can't portray. So I think it's a kind of giving expression to something or revealing something of your own." And then Whishaw pauses and says, "I feel very inadequate talking about these things." That's astonishing, considering how poetically he has put them. Apparently he has absorbed quite a bit of Keats.
When He Had Fears
For Whishaw, the best part about acting is the work: going into rehearsals, stepping in front of the camera, or being on the stage. "That is the only reason I do it," he says. "Everything else is in some way, to me, a bit stressful and sometimes painful, having to do lots of press—I know it's part of the job, and I wouldn't want to complain about it, but sometimes I find it hard. And auditioning is a hard thing."
Yes, he auditions, and he did so for "Bright Star." As he tells it, Campion had sent him a note: She had seen photographs of him and heard he had played Hamlet, and she was inviting him to read her script. The actor emailed back, expressing his curiosity about Keats. Campion gave him scenes to prepare, then met with him for an audition. But when he found himself reading opposite a woman who was auditioning for the role of Keats' love, Fanny Brawne (the role went to Abbie Cornish), he recalls, "I suddenly had this realization that the audition was for her, and I was just there to deliver the lines off screen. And it was this slightly crushing sense of my hopes being dashed. And [later] I was telling Jane about this, and she was like, 'Whaaat?' This just goes to show how our perceptions can be so wrong sometimes, because that was not what was going on in her mind. But, for me, it was a failure, and I left thinking, 'Oh, fuck that.' Sometimes, when you stop trying too hard, you do your best work, and maybe that was the key to it—because I resigned myself to the fact that I hadn't got it."
Written on a Blank Space
By the end of filming on "Bright Star," the actor says, he wanted to better understand how to offer very differing takes to his directors. He observed that his co-stars, Cornish as Fanny and Paul Schneider who plays Keats' friend, were good at it. But, says Whishaw, perhaps because he has a theater background, he was finding himself stuck in a groove. "I felt that with Dustin Hoffman when I worked with him [in "Perfume"]—film actors are very inventive, and they do lots and lots and lots of different things. And some of them will be better than others, and that's okay. But, in theater, you feel like you've got to get every take right, and that's not essential [in film]. Some of them can be bad, and sometimes you've got to go through the bad ones to get to the good. As long as you have a director who knows the difference, that's a useful process."
Whishaw says Campion allowed improvisation on the set, even filming a few improvised scenes without making the actors aware she was filming. And Whishaw also noticed the freedom of the child actors on the set: Edie Martin and Thomas Sangster, who play Fanny's young siblings. "They're just wonderful because they're so honest, and they can't fake anything," says Whishaw. "So if Edie's blushing, it's got to be for real. And that's a really inspiring thing to see. And Jane's very beautiful, the way she deals with children, very gentle. But I think she wanted all us actors to have Edie's kind of honesty and purity, which she was pushing us for."
And which she got. Although not for those who like a jolt of adrenaline with their popcorn, this film and in particular Whishaw's work amply satisfy the poets and near-poets in its audience.