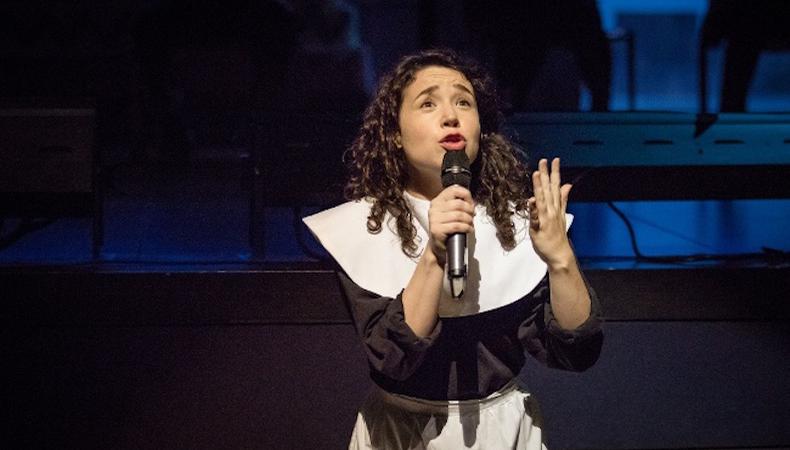 Sarah Steele of "The Humans" and "The Good Fight" fame bids adieu to the teen roles that were once her calling card with her turn in "Speech & Debate," the feature film adaptation of Stephen Karam's hit 2007 Off-Broadway show in which she also starred. She swung by Backstage's office April 10 for a candid chat on growing up, managing her time, and working with Emmy winner Christine Baranski.
She's now committed to playing her age.
"Really, 2016 was the first year that I played my own age in a play ['The Humans'] and I started playing my own age in 'The Good Fight,' which feels very good. It's time. I don't think I could go back at this point. My good friend [and theater director] Anne Kauffman told me when we were doing 'Slowgirl'—which is another play where I played a teenager—'You know what? There's going to be a day when you say, "I'm not going to do this anymore," and all of us in the theater are going to be like, "Dammit!" ' [And] that's really what I did. I just got to a point where it's like, I've been on this earth for too many years to carry around a backpack and talk about my algebra homework."
READ: Stephen Karam on Infusing 'The Humans' With Dread
Sia kept her sane while she performed simultaneously on 'Good Fight' and in 'Humans.'
"I listened all the time to Sia's latest album ['This Is Acting'], which is really like a pep talk of, 'You're strong! You can do it!' I honestly don't know that I could have gotten through without that album. Every day on the subway going to work or just making it from set to the show, I would sometimes be running in the subway station to make my [call time, and] I would just listen to her."
Working out regularly keeps her grounded onstage.
"I surprised myself this year because I have never been a very athletic person. I've never been someone who works out every day. But I was playing a character [in 'The Humans'] who I think does in order to feel good and sort of combat the fact that she doesn't have a lot of control over her life. So while I was doing 'The Humans,' I started doing that and it was a huge help. It made me more confident when I would walk out onstage and it sort of quiets the demons that are in your head sometimes when you're onstage. I think now that'll be a part of my life."
Sarah Steele Talks Auditioning for Steve Martin
Sharing the screen with Baranski is a mentor-mentee moment.
"She's hilarious, first of all. She's just such a funny woman, which really helps. But also, I was a little starstruck because always on 'The Good Wife,' she was the person whose career I admired the most. And she was sort of the actress that I looked to as, you know, hopefully I'll have a career like hers. So it's been super exciting to get to work with her. And she is what I aspire to be in that she's very funny, but she's an incredible dramatic actress, as well, and really knows what she's doing in front of a camera. She can tell a story with the tiniest of glances."
Want to star in a New York–set series or play? Check out our New York City audition listings!