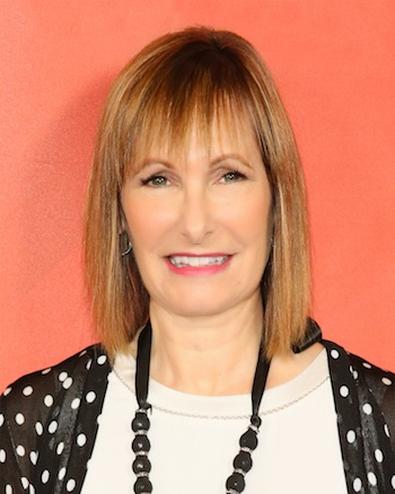 Over her nearly 40-year career, producer Gale Anne Hurd has built a résumé of genre-defining film and television projects, including "Aliens," "Terminator 2," and "The Walking Dead." She's now back as executive producer for USA's "Falling Water," a series based as much in the dream world as our own that explores how one can infect the other—for better or worse. After Season 2's return on Saturday, Jan. 6, Hurd tells us about her longstanding fascination with dreams, casting for diversity, and her favorite thing about being on the job.
Why did you want to produce "Falling Water" in the first place?
I'm fascinated with the power of dreams. I think they can influence us significantly, not only in our dream world, but in our waking state. The show provides an opportunity to see the positive side to what dreaming can achieve, as well as the chilling evil to which that kind of power can be put to use.
What does your day-to-day look like as executive producer?
From the very beginning, it meant that I was involved creatively in determining the direction of the show, pitching it to Universal Cable Productions, getting them on board, setting it up with USA Network. I am very, very involved in casting, so I'm working with the casting directors and making sure the cast has all the tools they need to create the best possible performance for the show. That means making sure that they're well taken care of and they feel like they have a safe place in which to do their work, that we have a fantastic and supportive crew around them, and we give them the best possible scripts.
READ: How to Become a Producer
What is one habit that you see in your favorite actors?
I think that the most important thing when I see an audition is the understanding that these are not only going to be talented actors, but great people to work with. Some people come in and they're nasty to people reading with them or insult the casting directors, and I'm not sure that they're aware that we see all of that. They think that maybe we just get the bits when they're performing. I don't care how good someone is—if they have an attitude, they're not going to work on my shows.
READ: 3 Things 'The Walking Dead' Cinematographers Need From Actors
I'm sure you can get a good sense of someone just from those few minutes.
Yes. The great thing is that on the shows I've done, the cast says it's the best experience that they've ever had because of the camaraderie that develops among the cast members. They're really there for each other. That means we don't have script supervisors reading off-camera dialogue. If it's something that is being delivered by another actor, even if they're not necessarily on call that day, they come in and do that. I think that's essential. We need everyone—actor, director, writer, producer—we all need the best possible tools, and one of those tools is supporting each other. When it comes to close-ups, there's going to be a very big difference between lines delivered by a professional actor offscreen and something read in a monotone by someone who's not an actor on set. That's often overlooked.
The "Falling Water" cast is very diverse. Is that something you consciously cast for?
I think it's important to reflect the world that we live in, and the world that we live in is multihued. Everyone in our cast, including the new actors we've brought in for Season 2, all gave the best possible reads. And then you obviously look for chemistry between the actors on the show. That's something else that we try to make sure that we get right.
What is your favorite thing about your job as a producer?
My favorite aspect of the job is having the opportunity to work with talent in front of and behind the camera—especially on set, which is where the magic happens. I was just up in Toronto, where we're finishing, and I always like to thank everyone in person for a great season. It's not the same if you send an email!
What advice do you have for those who are interested in producing?
People often have a misperception about what producing is. Producing is not something that you do a few hours a day between everything else. It is an all-consuming job with the longest hours. It can't be 9-to-5. You're getting all of the scripts, the outlines—and this is speaking as a non-writing producer. [You're] looking at director's cuts, reading samples of writers, being on set, traveling to location. If you don't love it, there are plenty of other ways to make a living. It's one of the most demanding jobs, and at the same time, the most fulfilling.
Want to act on the small screen? Check out Backstage's TV audition listings!