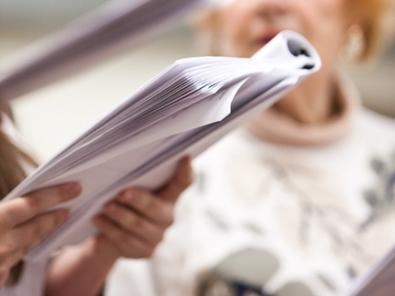 Imagine my delight when, out of the blue, I received a call from one of the most reputable casting directors in the city. "Would you be interested in reading for us?" he asked. My 20-something self, fresh out of drama school and ready to take Broadway by storm, couldn't imagine a more preposterous question.
Then, just as I was polishing the last few lines of my Tony Award acceptance speech, the same voice clarified the proposition. "As a casting reader." What is that? I thought to myself.
At first, the offer felt like a consolation prize, an honorable mention at best. I'd just graduated from a great drama school and was chomping at the bit for a chance to grace the stages of the Barrymore and Shubert. The idea of playing second fiddle as a casting reader felt like being on the practice squad, priming the real players for a big game.
But just moments into my new gig, I realized I'd stumbled upon more than a part-time job; this was a Master Class. My five years as a casting reader for Broadway offered me invaluable lessons on the art of auditioning, etiquette, and insight into the minds of casting directors. Here are some of the lessons from the "other side."
1. Be prepared.
Casting directors see droves of actors vying for the same part. They're not necessarily looking for the next Brando or Cate Blanchett—they want someone who understands how to tell the story on the page. Sounds simple, but over the years I saw dozens of actors read the way they perceived the casting director wanted the role to be played. It was the actors who came in with bold choices and a point of view that really stood out.
READ: 23 Must-Know Musical Theater Audition Terms
2. Everybody gets the jitters.
I had the great fortune of reading opposite A-list gods of the silver screen and Tony-Award Winning actors. What I discovered was that no matter how famous or successful the actor, everybody still gets nervous before the words, "Whenever you're ready." Challenges are an integral part of this industry. The only difference is the higher you rise, the more unique your issues become. You simply trade your old problems for a set of new ones.
3. Be kind, but not deferential.
The meek may inherit the earth, but probably not the part. Many actors were so awestruck over being called in they let their timidity overshadow the quality of their work. The veterans, on the other, hand knew they'd been asked to read for a reason and mastered the ability to be kind while also claiming their space. They weren't shy about taking the time and real estate they needed to deliver a terrific audition.
4. They're on your side.
Ever go to a show and say to yourself, "I hope everyone is awful and wastes my time?" Didn't think so. So why do we all think casting directors think differently? I can't tell you the number of times I sat beside a wearied casting director who'd practically perform a séance in hopes the next person through the door would be the answer to her problems. Remember, casting directors are on your side! They want you to be great so they can cast the show. Think of them as allies.
5. Live a life and not just a career.
I could tell instantly which actors led meaningful lives off-stage. Those who pursued interests outside of acting and had rich personal relationships were able to put auditioning into perspective. They realized there was more to life than agonizing over a callback. The seasoned pros taught me to give the best audition possible, leave it at the door, and go about your day. I discovered you could want something without needing it—certainly an attractive quality to a CD.
*This post was originally published on June 2, 2017. It has since been updated.
Nick Maccarone is an actor, author, and speaker. He has appeared on "Scandal," "Law and Order: SVU," "Elementary," and "Unforgettable." Since releasing his book "To The Prospective Artist: Lessons From An Unknown Actor," Nick has been invited to speak at universities, conferences, and workshops all across the country. His message revolves around "The 6 Principles" that empower artists and actors to live a life and not just a career. In the future, Nick plans on growing his "To The Prospective Artist" brand to revolutionize how artists live their lives.
Check out Backstage's Broadway audition listings!
The views expressed in this article are solely that of the individual(s) providing them,
and do not necessarily reflect the opinions of Backstage or its staff.