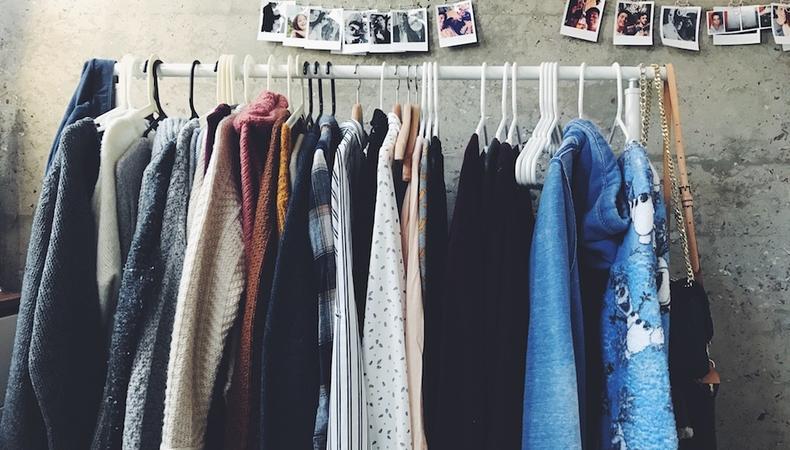 Auditioning is a time to show casting directors who you are as an actor, and while the work you do should be the ultimate focus, the wrong outfit can be a distraction. Pilot season is hectic enough; take some time ahead of an audition to make educated decisions about what you choose to wear so you're not worrying about clothes day-of.
Here are five things in your closet you should ditch this pilot season, and one style tip to keep in your back pocket!
1. Crazy patterns
When you're in front of a camera, distracting patterns can interfere with your performance. According to Marci Phillips, executive director of ABC Casting, "thin stripes that are close together [create] a distracting hypnotic pattern on screen!"
Muted designs are the way to go. And for guys, don't default to flannel. When in doubt, go for a denim shirt instead.
2. Ratty shoes
Remember that even though your actual audition will be cropped on camera, casting directors will be seeing your full look. Your entire body might also be on camera when you slate, and dirty shoes can be a distraction.
Keep your footwear clean and classy, and ditch anything you can't walk comfortably or naturally in (too-high heels!). And New Yorkers, we know it's bad out there weather-wise, but please don't wear snow boots in the audition room.
READ: 5 Fashion Don'ts for Your Next Audition
3. The wrong makeup
Because you may have multiple auditions a day during pilot season, figuring out your makeup routine and game plan will be key. The safest bet is a look that's simple and natural—starting out with a simple base will let you add a darker eyeshadow or bolder lip if you feel like your character needs it. Be deliberate about your makeup choices. And most importantly, make sure you foundation and concealer perfectly match your skin tone.
4. Unflattering jeans
Finding the perfect fit for your jeans is key. The ideal pair is form-fitting without being uncomfortably tight, and we've found a darker wash to be most flattering, especially on camera. Steer clear of any pairs that have too many rips or holes.
5. Costumes
"Don't be too literal with your audition outfit by wearing a costume," says Scotty Anderson of Avy Kaufman Casting. Yes, certain pilots may be set in a different time period or based on real people, but be careful about coming into an audition wearing a full costume. Presenting the vibe and energy of a character is important, but allude to the character without being literal.
One useful tip for pilot season: Educate yourself about what colors look best! "Any color is fair game as long as it looks good on you," says Phillips. Take the time to really figure out what colors work for you on camera. If you're not sure, test it out with a self-tape.
Still have questions? We're here to help! Email us for a discounted pilot season consultation!
*This post was originally published on Feb. 20, 2017. It has since been updated.
Tristyle is a New York City-based styling company. Co-founders, Kayla and Elizabeth, have built relationships with a wide-range of industry professionals and have experienced major success with their clients. Their mission is to bring actors affordable styling that highlights personal style and inspires confidence in an audition room. Follow them on Instagram: @tristylenyc
Now check out our TV audition listings!
The views expressed in this article are solely that of the individual(s) providing them,
and do not necessarily reflect the opinions of Backstage or its staff.