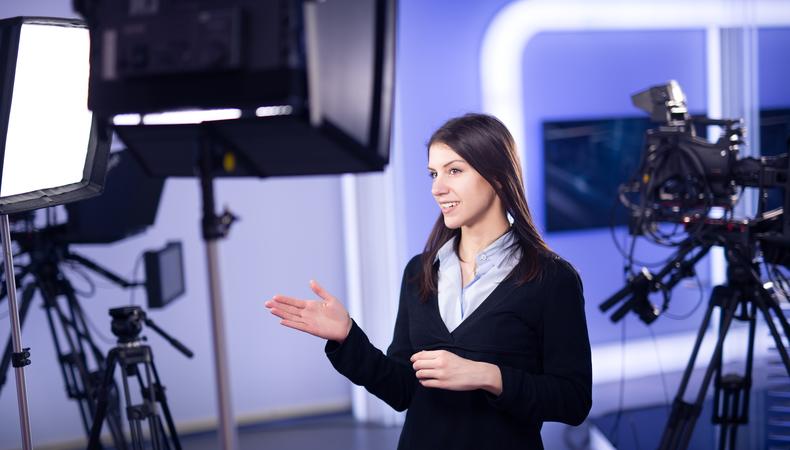 As an actor, host, or anchor, a demo reel is crucial to catching the eye of a casting or talent agent. You need a solid reel to be considered for an on-air job, but you also need to have actual work on your reel—a bit of a catch-22, right? Luckily, there is a way around this frustrating scenario.
Casting sites recommend video clips and demo reels to boost your chance of getting noticed by CDs and this video may be crucial to getting you in the door of an audition. Without navigating these channels, booking work will seem impossible. So just like you invest in headshots, classes, workshops, and personal coaching, investing in a demo reel is equally important. It's all part of the package that shows you are the right person for the job. When a casting agent scrolls through hundreds of pretty faces and long resumes, your video will reassure them that you're a pro who can handle the audition.
So what makes a demo reel stand out? And how can you make sure yours does?
High-Quality Footage
I know you're probably on a tight budget and it's tempting to just grab your phone and start shooting clips in your basement. Please don't. This looks unprofessional and will not impress agents. You want the quality of the footage to look as professional as you do, so think about investing in a reasonably-priced production crew to help you (though be wary of companies trying to rip you off. Depending on the length of the reel, how many clips you prefer, how many locations you want to shoot, whether you want a coach on set, edit time, etc., the price will vary. You can expect to spend roughly $1,000-2,000 depending on these factors. But if you're getting a quote hovering around the $5,000 or above mark, best to keep looking.
Diversity
In the case of TV hosting, reporting, and acting, it is so important to show your range and a demo reel is a perfect way to show your stuff in five minutes or less! Think about what jobs or roles you truly see yourself in and customize your clips to showcase those talents. For example, when it comes to a hosting reel, show your audience you can deliver to camera, read a teleprompter, perform a solid stand-up, interview folks on the street with ease, talk with confidence about a particular topic and hold your own on a talk show segment.
READ: An Editor Shares 5 Tips for a Reel That Books Work
Personality
This is truly the most important when it comes to TV hosting. Many talent agents say they look for a strong personality more than anything. They ask themselves, "Is this person likable and relatable? Do I want to follow them on their journey?" Remember, a demo reel is supposed to catch the attention of the gatekeepers to future auditions and jobs. Make your clips different and creative. If you need help putting your thoughts together, seek the advice of a personal coach in your genre. They are there to guide and give you insight into the industry.
Confidence
This is a lot easier said than done. Confidence comes from within and a whole lot of practice on camera. It also comes from your comfort performing your craft. For hosts and reporters, one way to exude confidence is to stand tall, radiate from your chest, and talk naturally with your hands; no one can relate to a statue delivering a story. Be conversational, natural and relatable. Understand the content you're delivering and speak with feeling on the topic.
Eye-Catching Clips
Hosting, reporting and anchor demo reel clips should be brief, roughly :10-:30 seconds in length. If it's an analyst or expert segment, you may go a little longer to showcase your knowledge on the topic. Agents want to be grabbed right off the bat when looking at your reel, so start off with your strongest clip. Perhaps it's a creative stand-up or demonstration, a clip where you look and sound your best, are doing a fun stunt or interacting with a celebrity on the red carpet. If you don't have many clips to choose from, shoot some! This is where your investment comes in.
Some talent agents say it's OK to weave older clips in with fresh ones as long as you look the same and the clips really showcase your talents. If you need some guidance and advice on whether your clips are strong enough or if you want to shoot fresh material, reach out to a professional coach and crew and get shooting!
Nicole Sellars is a media coach and founder of TV Hosting Academy, LLC in Atlanta. TV Hosting Academy produces demo reels for reporters, anchors, and TV hosts. Their clients have gone on to work for national news networks, host their own show and launch their career as an on-air expert. Their mission is to showcase performers at their best. Sellars helps navigate the complex world of TV news and hosting for each performer to maximize their chances of success.
Check out our Los Angeles audition listings!
The views expressed in this article are solely that of the individual(s) providing them,
and do not necessarily reflect the opinions of Backstage or its staff.