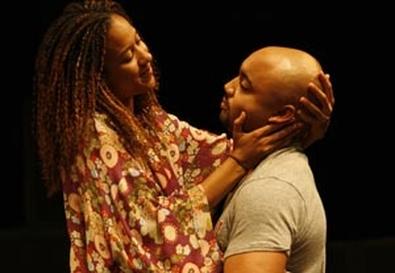 An absent mother, a distant father firmly in the past, and a bitter rivalry between sisters stemming from one chronicling their childhood in a best-selling memoir—this is the backstory of Zakiyyah Alexander's
10 Things to Do Before I Die
. The play has serious faults, from an over-reliance on episodic structuring to odd fantasy interludes to muddled staging decisions by director Jackson Gay. Yet the production also has Natalie Venetia Belcon's sharp, wise, and moving performance as the sister who didn't need to pen a scalding memoir to emerge whole, if not wholly unscathed, from a disappointing youth. Her acting delivers the audience from the danger of ambivalence.
Belcon is Vida, a high school drama teacher—they still exist?—who seems to have it all together, but for her affair with married man Andrew (Dion Graham). Vida also hasn't spoken to her sister Nina (Tracie Thoms) since the latter's book came out. Nina, meanwhile, doesn't know what pain she inflicted. She's too busy battling writer's block, and wallowing in immaturity, sexual compulsion, and unchecked narcissism. Why Jason (Francois Battiste), party boy–turned–corporate drone, endures her is unclear. Is he in love with her talent? Maybe. As long as Nina avoids reverting to her pill-popping ways, he'll stick around.
The sisters' rapprochement is triggered by the arrival of boxes from their estranged father's estate. A lot of venom is soon predictably spewed. In between, we observe the sisters in their daily lives—Vida playing mentor to precocious Jose (Kyle Beltran), too enamored with
A Streetcar Named Desire
for his own good, and Nina, well, pill-popping right on cue. Each sister suffers from frequent anxiety attacks—as if the agonies of their childhood and their long-suppressed resentments are finally rising to the surface.
And that, alas, makes the play one part
How Two Sisters Get Their Groove Back
and one part soap opera. For example, when Jason proposes to Nina, she freaks. While Andrew loves Vida, he won't leave his wife. Jose puts the moves on Vida. There's even a scene in which Vida discovers Jose hiding out in her apartment, but no "How did you break in, Jose?" confrontation follows. Andrew arrives a moment later. Vida, at wit's end over the emotional wounds the contents of the boxes have ripped open, leaves. Nothing to do but wait for her to return, the men enjoy a verbal throwdown using quotes from Williams and Shakespeare, like the denouement of Aristophanes'
The Frogs
.
Trouble is, Alexander's play isn't about folks living in the Styx. When it focuses on the sisters, Thoms—who shows more onstage energy than a nuclear power plant—joins Belcon in beautifully rendered moments. It's not that the male actors aren't strong—quite the opposite, actually, as Alexander attempts to endow the masculine characters with dimension. However, in the end,
10 Things
… is really about only two.
Presented by Second Stage Theatre Uptownat the McGinn/Cazale Theater, 2162 Broadway, NYC
.
May 28
–
June 14. Tue
.–
Sat
.,
7:30 p.m
.;
Wed. and Sat
.,
2 p.m
.;
Sun
.,
3 p.m
.
(
212
)
246-4422 or www.2st.com
.
Casting by MelCap Casting
.