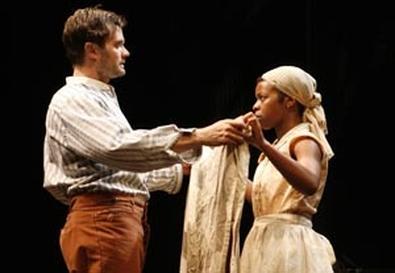 In her determination to write a complex, poetic, political drama about neglected subject matter, Naomi Wallace takes a potentially fascinating situation, story, and characters and, sadly, drains the life out of them.
Things of Dry Hours
is studied, manipulated, opaque, and, well, dry.
In Birmingham, Ala., in 1932, laid-off African-American steelworker Tice Hogan shares his small home with his 29-year-old widowed daughter, Cali, who supports them both by taking in laundry. Tice, himself a widower, spends his days teaching Sunday school and singing in the church choir. He's also a unit leader of the Communist Party, something Cali wants nothing to do with. Though father and daughter are constantly sparring, they seem to care for each other. But Cali is emotionally shut down (she refers to herself as a stone). Her negative experience with marriage has left her uninterested in trying again. Tice is also uninterested in romance, but his passionate belief in two books—the Bible and
The Communist Manifesto
—fuels his conviction that man can be changed for the better. That belief is tested when Corbin Teel, a white laborer from Iowa in his mid-30s, shows up on the Hogans' doorstep. Teel claims to be on the run after striking a foreman at the local steel mill with an iron pipe. He insists that a party member said Tice would shelter him. When Tice refuses, Teel blackmails his way in by threatening to finger Tice as the Communist who put him up to the violence.
Tice, making the best of a bad situation, decides to try to convert Teel to communism. Teel goes along with it but seems more interested in pursuing Cali, who staunchly resists. Is Teel who he says he is? Can Tice convert him? And is such an interracial romance even possible under these circumstances? Answering these questions constitutes the action of the play.
Unfortunately, Wallace is more interested in poetry and symbolism than action or character. Her attempts to lift the play out of realism through poetic language only succeed in making it difficult to understand what her characters mean. She's also too willing to force them to behave in ways she wants in order to make her points. Tice, Cali, and Teel never take on lives of their own. And wrapping it all in a sort of faux magical realism—Tice comes back from the dead to narrate the story, and Cali has a dream about floating sheets—only seems pretentious, not organic.
Ruben Santiago-Hudson stages the proceedings simply on Richard Hoover's appropriately spare set, atmospherically lit by Marcus Doshi, but Santiago-Hudson never succeeds in bringing clarity to the script. Delroy Lindo, in his first New York stage appearance since his towering performance in the original Broadway production of
Joe Turner's Come and Gone
, is never less than resourceful as Tice, but the character stubbornly refuses to coalesce. Roslyn Ruff fares better as Cali, creating an intriguing woman out of concentrated stillness, though that same quality often deprives us of Cali's subtext. As Teel, Garret Dillahunt is charmingly manipulative and believably hardscrabble, but his pursuit of Cali is never entirely convincing.
Wallace has said in interviews that she admires the kind of political theater Tony Kushner creates, and she is right when she says there is too little of it being done today in America. She has chosen to write plays about things outside her own personal experience and does extensive research to do so. She is committed to poetic expression and eschews strictly naturalistic writing. All of that is great. But she diminishes the importance of character and story at her peril.
Presented by and at New York Theatre Workshop
,
79 E. Fourth St
.,
NYC
.
June 8
–
28. Tue
.,
7 p.m
.;
Wed
.–
Fri
.,
8 p.m
.;
Sat
.,
3 and 8 p.m
.;
Sun
.,
2 p.m
. (
No performance Tue
.,
June 9
.)(
212
)
239-6200
, (
800
)
432-7250, or www.telecharge.com
.
Casting by Jack Doulin
.