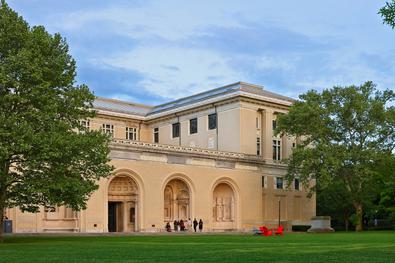 Applying for college is a stressful, time-consuming process—especially since there's no standardized application. Add in the requirements for a performing arts program, and aspiring scholars can end up wondering if it's even worth it. To give you a head start before early admissions deadlines this fall, Backstage spoke to several admissions directors from well-known programs for an inside look at what they expect from their applicants, both on paper and in the audition room. Even if you're not considering applying to one of these colleges, with minor tweaks their advice is applicable across the board.
The first step to choosing a program is self-reflection. Are you ready to be trained in an environment that breeds professionalism and career advancement? Which monologue are you going to perform? These are some of the questions you'll have to answer for yourself and in the audition room, especially with Carnegie Mellon University's Barbara MacKenzie-Wood.
"We require our students to do two monologues, a classic monologue and a contemporary monologue in their age range, about a minute and a half each," explains MacKenzie-Wood, who's been at CMU for 28 years and has—alongside a team of faculty members—headed up the acting and musical theater programs for 13 of them. "We only have about 10 minutes to look at their work and also to talk to them, but then it's really important to me to see what other qualities they may not be showing. It would not be unusual for me to tell them to do [their monologue] as a comic monologue even though it's a straight play…do it in a French accent, in a New York accent… If they look terrified by that, it gives you information about how flexible they are."
In addition to seeing how "willing the student is to play," she says asking applicants to switch up their performances is a way to level the playing field between heavily trained young actors and the ones who have no training but possess raw acting talent. According to Leigh Edleman, CMU's associate director of admission, audition or portfolio review counts for about 80 percent of the admission decision.
This year, CMU will accept self-taped auditions for the musical theater program. "You can look at them singingwise and see if they're just not going to make the cut," says MacKenzie-Wood, although for acting auditions she'll only accept in-person interviews; it's her chance to mine talent that may be lurking below the surface.
For a school like the University of North Carolina School of the Arts—named seventh-best drama school in the world by the Hollywood Reporter—auditions have similar weight in deciding admission, and you'll be asked to give more material in the room. Drama program applicants are also required to supply a headshot and a résumé detailing their "artistic experience and educational objectives," as well as be interviewed in person. Additionally, they must prepare three monologues—one classical (preferably Shakespeare) and "two contrasting monologues from modern plays."
What are the biggest mistakes students make when choosing monologues? According to Steven Hong, director of admissions at the American Academy of Dramatic Arts, it's "selecting monologues that are not from published plays and not having read the play in its entirety." Why does he feel these are mistakes? "[Applicants] don't understand the origin of the emotions they should be conveying; at times they use a monologue book to cut corners." While Hong sees this error at AADA, it's one all students should avoid if they want to embody their character. According to Hong, the entire audition, interview included, should take between 20 and 30 minutes. In terms of materials to submit, the school requires a completed application, high school and/or college transcripts, and two reference letters—one focused on dramatic ability and one personal.
Despite their varying requirements, drama programs are all looking for the same thing, and Hong summarized it well: "An individual with the motivation to learn and be coached."
Need more advice? Check out tips from our Backstage Experts!