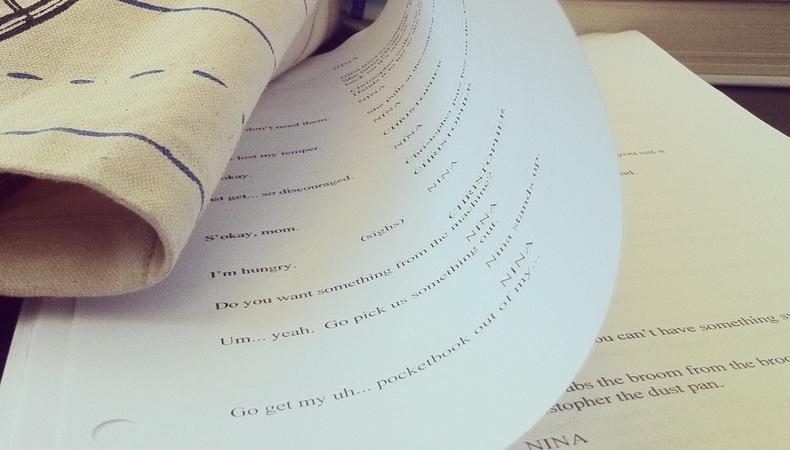 Yesterday, I introduced you to the first three things you need to know about analyzing a script before your next audition. Today, I bring you four tidbits to add to your script analyzing arsenal.
1. Pack the nouns.
A noun is a person, place or thing and a significant noun is just that: it's significant to your character. These words can't be blown over—they contain a deeper meaning related to your character. Through character work, analysis, and construction of your character's backstory, work to identify them as important and give them significance. You must pack all the significant nouns your character encounters with information that's personal to you (as the character). In other words, you must pack the significant nouns in the lines that you speak, as well as the lines that are spoken to you; your delivery and responses depend on it.
Once you've identified the significant nouns, you must decide how they make you feel. Ask yourself how does the noun applies to your character and the story. Always connect an emotion to your noun and dedicate yourself to truly connecting to that emotion.
After you've "packed" the noun with personal, heightened emotional value, you should find that your delivery of the line containing the noun is explosive. This should happen naturally without fabricating or forcing your emotional point of view. It should come out of you, the actor, experiencing the new emotional weight and value this noun now has due to the process of analyzing the script.
2. Figure out the story and genre.
This may sound like a no-brainer. After all, it's pretty obvious that you would attack comedy differently than drama. However, any information you can glean regarding, story and genre will help you better determine what the director is looking for. Some say not to worry about what casting is looking for and I understand the sentiment: you shouldn't play a guessing game and allow a preconceived notion of what you think they're looking for weigh down your performance.
However, you need to use every bit of information you can to win. You better believe that if you're going into an audition for a recurring character on an established, long-running TV show, you should understand the genre. The dynamics of the rhythm of the dialogue, the pacing, the beats, the moments...they will all play out differently in a procedural drama as opposed to a multi-cam sitcom, for example.
This is where taking a second look at the commas, periods, and ellipses help you find valuable nuggets. A lot of information can also be mined from the casting call, plot synopsis, breakdown, and director. Do your research on the past content that the director and writer have created. You may be surprised once you revisit your sides just how much new insight you have.
3. Determine the moment before.
One way to ensure a powerful impact is by creating a moment before you deliver your first line. Too many actors jump straight into the script they have when the CD says, "Okay, when you're ready." Don't do that. That's novice work. Take a moment, take your space, have your first acting moment be in the reader's eyes if you can and the script calls for it. You can elevate yourself above the wannabes by clarifying what the "moment before" is: What takes place in the story right before you start the scene?
Sometimes there's crossed out dialogue, stage direction, or pages attached you won't be performing. Read them anyway. All information is useful. If it's not provided, think about what it could be based on the emotion, content, and dialogue of your current scene. Make strong choices that help set you up to deliver the scene in your head. Allow your moment before to fuel and feed your opening lines.
4. Imagine your scene partner.
You cannot allow a dull reader to be the variable that dictates your performance. You must do yourself the favor of analyzing the script and really digging deep into the "who" of the scene. Remember, it's important that you not only define who you are but also who your scene partner(s) is/are. If you build them from the ground up, you'll be able to place a clear image of your scene partner onto any reader. You'll have interesting stimulus and responses prepared that will make you shine even if the reader is cold and giving you nothing to play with.
Do the work. What does the character look like? How do they make you feel? How do you feel about them? What's your relationship? Remember that a lot of this information can be found in the script or breakdown/plot synopsis. If it's not, you still need to make a clear choice. You have the freedom to choose whatever you want as long as it doesn't contradict the writer's intent. This is where script analysis meets the art of acting: feel free to make strong choices that elicit a response or setup interesting obstacles that will make your performance more interesting. But remember that you can't venture out too far into left field to the point that the casting director is caught off guard by something that makes it appear you do not understand the story.
When it comes to script analysis, it's not the job of the actor to change the blueprint—even if you think you've come up with something better. You must first understand what's actually on the page before you can nuance it.
Browse thousands of casting notices on Backstage right now!
The views expressed in this article are solely that of the individual(s) providing them,
and do not necessarily reflect the opinions of Backstage or its staff.