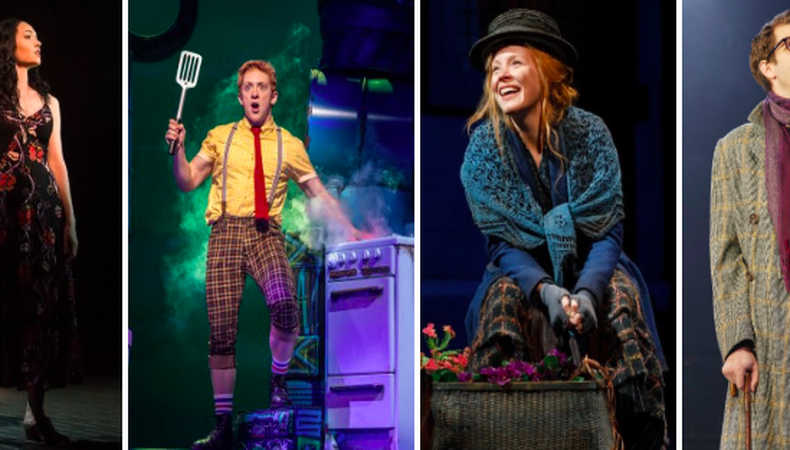 The 2017–18 Broadway season culminates on June 10 when the whole of the community convenes at Radio City Music Hall for the 72nd annual Tony Awards. It was a distinguished season on the Great White Way, and Tony (whose full name is Antoinette Perry) will likely reflect that. To impress your Tonys viewing party—or to simply enrich your all-important niche theater knowledge—we've compiled 2018 Tonys trivia facts from records broken to cosmic inter-category connections. Curtain up!
Two Ti Mounes are better than one.
The leading actress in a musical category is especially stacked this year, expanded to six nominees from the usual five, and two of them have a particularly special connection. Newcomer Hailey Kilgore received a nod for her Broadway debut as island-dwelling Ti Moune in the first revival of "Once on This Island." In an ironic twist, Kilgore's competitor LaChanze, recognized for her work in "Summer: The Donna Summer Musical," also received her first nomination for the very same Ti Moune role, in the musical's original 1991 production.
Eliza Doolittle has not a Tony to her name.
Speaking of the leading actress in a musical category, one of the season's most rapturously praised performances has been delivered by Lauren Ambrose, taking on the oft-performed and iconic role of Eliza Doolittle in "My Fair Lady." Made famous by Julie Andrews and then made even more famous on film by Audrey Hepburn, Eliza has opened an astounding five Broadway productions of the musical—which makes it all the more shocking that one of the most celebrated and classic characters in American theater has never won a Tony Award. Could Ambrose in this Lincoln Center Theatre staging break the curse and become the first?
Leading lady originations face an uphill battle.
While Ambrose does have a shot at Tony gold, the frontrunner in that competitive category is Katrina Lenk for her origination of Dina in critical darling—and brand new musical—"The Band's Visit." If Lenk does walk away with the statue on June 10, it will be a certifiable anomaly: Since 2008, just two actors have won the award in the leading actress in a musical category for originating roles; the others have all gone to actors in revivals. It's also worth noting that one of the aforementioned two, Jessie Mueller, won for her portrayal of Carole King in "Beautiful," which renders a differentiation from an entirely unfounded character such as Diana in "Next to Normal," which won in 2009.
Two Motels find their home in Bet Hatikva.
"The Band's Visit" also possesses another full-circle moment that only Broadway could conjure. Two of the Tony-nominated best musical's featured actors, John Cariani and Adam Kantor, both played the role of Motel in separate revivals of "Fiddler on the Roof." Cariani, who plays sad-sack Itzik in the musical, received a Tony nomination for his part in the 2004 revival (which was also his Broadway debut). Kantor, currently playing the nameless Telephone Guy, brought the part back to life in the most recent revival in 2016. They both now reside in the fictional desert town of Bet Hatikva—perhaps swapping stories of their time in Anatevka now and again.
READ: The 2018 Tony Award Nominees on How to Handle Rejection
This "SpongeBob" dream team has come a long ways.
"The Band's Visit" isn't the only of this season's musicals whose cast members have strong pre-existing connections. In fact, two of the leads in Broadway's "SpongeBob SquarePants" go way, way back. Ethan Slater, who plays the titular porous one, and Lilli Cooper, portraying Sandy Cheeks, actually went to college together, graduating from Vassar a couple years apart. But they didn't just reconvene for the deep-sea musical. Actually, the duo starred alongside one another at the New York International Fringe Festival back in 2012, too, which was Slater's New York stage debut. Sweetening the story, "SpongeBob" also marks Slater's Broadway debut, so perhaps it's Cooper whom he should credit as his milestone good luck charm.
Age is just a number to Tony.
While Slater is giving a spectacular-beyond-his-years turn in "SpongeBob," another of the season's most vibrant performances is currently delivered nightly by Glenda Jackson in the revival of Edward Albee's "Three Tall Women." If Jackson wins the statue on June 10 (as is roundly predicted) at the age of 82, she will become the third oldest person to ever receive an acting award. She'll be outdone only by Cicely Tyson, who won for "The Trip to Bountiful" at age 88 in 2013, and Angela Lansbury, who took home the honor at age 83 for her 2009 role in "Blithe Spirit."
Here's to the "Angels."
The Marianne Elliott-directed revival of Tony Kushner's "Angels in America" made history when nominations were announced on May 1: Notching 11, Tony Kushner's two-part epic became the most nominated straight play in Tony Awards history. Led by Andrew Garfield, Nathan Lane, and Denise Gough, the drama is expected to pick up a number of those statues for which it is eligible come Tonys night.
The "SpongeBob" score is a family affair.
"SpongeBob SquarePants" has a credited 17 (!) people/groups for its ecclectic score, including the likes of Sara Bareilles, Steven Tyler, John Legend, Cyndi Lauper, and others. Though it doesn't hold the record for most artists on a single cast album (that would be 2003's "Urban Cowboy"), it is still a stunning feat. (And to answer the looming question, yes, if the score does go on to win the Tony, all 17 artists will share the honor.)
A Tonys fact that's not so fun.
While the theater is often regarded as a place that's kinder to women of all types and ages onstage, the same cannot be said for those behind-the-scenes. In fact, just 17 percent of off-stage talent during the 2017–18 Broadway season was female. One of the 12 nominations "SpongeBob" received was for its director, the illustrious Tina Landau. She, along with Marianne Elliott for "Angels in America," are the only two female directors to receive nods this year. That number is, sadly, not out of the ordinary; since the year 2000, Landau is just the seventeenth woman to receive a nom for directing a musical (contrast that with the 62 received by men). As bleak, Elliott's is the fifteenth nomination a woman has received for directing a play since 2000, compared to the 66 received by men. The writing front is also discouraging. This year, two of the nominated new plays were written by women: "The Children" by Lucy Kirkwood and "Farinelli and the King" by Claire van Kampen. They are the tenth and eleventh female playwrights to receive nominations since 2000; male playwrights have received 69.
Newbies only in the book writers' club.
Whoever ends up winning the Tony Award for book of a musical will be a first-time winner—because it will be for their Broadway debut. All four nominees are represented on the mainstem for the first time this season: Tina Fey, for the adaptation of her film "Mean Girls," Itamar Moses for "The Band's Visit," Jennifer Lee for "Frozen," and Kyle Jarrow for "SpongeBob SquarePants." All four writers did have the perhaps arguable advantage of adapting pre-existing source material; "SpongeBob," of course, is based on the television series while the other three were adapted from film.
Do you dream of Tony? Check out Backstage's theater audition listings!