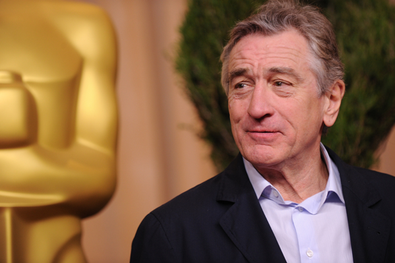 Robert De Niro landed his seventh Oscar nomination for "Silver Linings Playbook," his first nod since 1991's "Cape Fear." De Niro is earning some of his best reviews in recent years for playing Pat Solitano Sr., the sports-obsessed father of bipolar Pat Jr. (Bradley Cooper) in the latest film from "The Fighter" director David O. Russell. Here are five things you might not know about the living legend.
He and Russell first met in the most unlikely of places.
De Niro and his director didn't dine at a hot spot or meet in a high-powered agent's office. "David and I met years ago at a Starbucks," De Niro says. It was at the urging of Jane Rosenthal, De Niro's longtime producing partner. "We'd run into each other over the years. Then I saw 'The Fighter,' and I thought it was great." The two wanted to work together, and Russell thought of De Niro for "Silver Linings." However, in the book, Pat Sr. is a very different character; he goes a long stretch of the novel without even speaking to his son. The role was rewritten considerably for De Niro, who committed before seeing a final script. "I knew whatever he was going to do it would be terrific, so I didn't worry about it."
The most difficult part of playing Pat Sr. was pretending to be a sports fan.
"It came to me naturally in many ways," De Niro says of the role—with one exception. "I'm not a big football person at all." As a result, he says the toughest scene was the "parlay" scene, in which he and Jennifer Lawrence speak rapidly in sporting terms. "I was just trying to make sense of it all."
Another difficult scene ended up surprising even the actor.
In one scene between father and son, De Niro surprised everyone by tearing up and crying, which wasn't in the script. "It wasn't planned, but if it happens, it happens," he says of his unexpected emotion, adding that it occurred because he felt so comfortable on set. "It's all about trust; it's all about feeling that as an actor you can do anything and try anything. Because if you shut that down, you get nothing. You have to feel like whatever you do is not wrong. A director will make a choice later in editing what he feels is best, but he'll never make you feel like you did something wrong.
He wants to direct a sequel to his 2006 film "The Good Shepherd."
De Niro followed up his 1993 directorial debut, "A Bronx Tale," with 2006's "The Good Shepherd," starring Matt Damon as a CIA agent. Asked if he would like to direct again, he hesitates. "I don't know. I always wanted to do a sequel to 'The Good Shepherd,' but it's so hard," he says. "I have a great idea for that story, but it's so difficult. It's an uphill battle. I have so much respect for directors. It's a tremendous amount of pressure; you have to keep steadfast and keep what you know is right. At the same time, you have to listen to everybody and make compromises. It's good to get good ideas, but at the end of the day you have to make your own decision in order to make it be something special and specific. It's stressful."
He thinks his co-stars aren't intimidated by him.
De Niro had worked with Cooper on the 2011 thriller "Limitless" and says it was easy for them to play father and son. "Bradley and I have become friends, so we have a built-in relationship that we could of course take advantage of." Is he aware that other actors might be anxious about the idea of working with a living legend? "I certainly didn't feel that from Jennifer Lawrence!" De Niro jokes before adding, "That goes away soon enough, because you have to get to work."