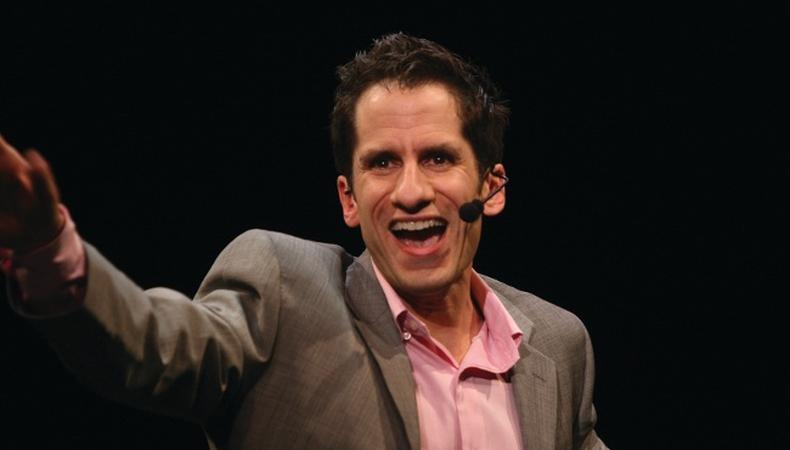 Seth Rudetsky is an actor, musician, producer, and radio personality. He is the host of SiriusXM satellite radio's "On Broadway" and his weekly talk show "Seth's Broadway Chatterbox."
What can we expect from your forthcoming book?
I have two coming out: One is a compilation of my Playbill columns, called "Seth's Broadway Diary." [It's] my first year and a half of columns, me interviewing Chita Rivera, Jonathan Groff, Kelli O'Hara... And then I have a book that came out last year called "My Awesome/Awful Popularity Plan," and I have a sequel to that called "The Rise and Fall of a Theater Geek." It's a continuation of the characters in the first book. For the audio book version, it was me, Jesse Tyler Ferguson, Josh Gad, and Megan Hilty. Hopefully they're going to do the audio book again for the sequel. It was fun.
Where do you get your Broadway news and gossip?
I don't go to message boards because they're so mind-bogglingly mean-spirited. If anything, I go to Playbill. I don't really need to keep up on it because I'm kind of in it. I'm usually talking to people and I'm getting the scoop because I interview so many people a week. I do definitely enjoy reading the front page of Playbill. Now that celebrities have their own Facebook and Twitter pages, if you friend all the people you're interested in you can get a lot of gossip and news that way.... Social media has changed everything. If I had known I could communicate with a Broadway star as a kid I would've passed out.
What's the most common audition room mistake?
The wrong cut of a song. It makes my fucking head come off. People pick an audition song they like and then they pick 16 random bars thinking, It's a great song, certainly these random 16 bars are good. But it's actually not—it ends in the middle of a phrase, it's completely unsatisfying for the listener, there's no awareness. Your 16 bars have to sound like an actual song; it has to have a beginning, middle, and ending. People on the table are not going to have the energy to say, 'Well, that was a boring ending, but I'm sure the whole song is amazing.' Now your audition is boring. That's probably the biggest mistake I see.
What else?
On top of that, the unbelievable laziness I see from actors. It's like, "I'm going to do 'Gimme Gimme.' " I guess there's only one song written in the last 20 years. It's so lazy and it actually infuriates me. When I was a kid growing up in the '70s and '80s, I went to the library and I checked out all these scores and I looked up songs and I tried to find good audition songs for myself. Now it's like there's another 30 years you can look through, but it's like, 'Nope, I only know Sutton Foster material—there's nothing else that's been sung on Broadway.' Find a really great audition song specifically for you, not the person you want to be. I know you want to be Sutton Foster one day. With the Internet, it's so unbelievably easy to find songs. Go to YouTube and watch a million people and pick a great song!
Who's your favorite actor?
My two idols growing up were Patti LuPone and Betty Buckley—completely obsessed with them both. There's this whole rumor that if you have a bad voice it means you're a good actor. It's like, no, sometimes it means you have a bad voice. You can have an amazing voice and be an amazing actor at the same time. I don't know why we keep excusing, like, 'She sounded horrible but oh my God, she acted so well.' Guess what? It's Broadway. Can't we get someone who's at the top of their game?
Is there anything coming up on Broadway you're excited about?
"On The Town." The fact that they have a 28-piece orchestra, it's like, Thank you for acknowledging that a musical needs a full orchestra. Every time they revive a show they cut the orchestra down, and half the time it's under a guise of, 'We've rethought it, it takes place in a small room.' No, you're actually trying to save money. So I'm excited about seeing that show.
Do you have any advice for actors starting out?
You 100 percent have to create your own career. And I mean 100 percent create it. Whether you're a Tony-winning star or not, you are still at the mercy of other people creating a role for you. I would still be playing in the pit—by the way, I love playing the pit—but that would've been it, if I hadn't started doing standup on the side, running my own sketch comedy, interviewing people in the Chatterbox. All of that created my career.... Create your own projects or else you're just one of the many people showing up at open calls.
Like this post? Check out more of our Inside Jobs!