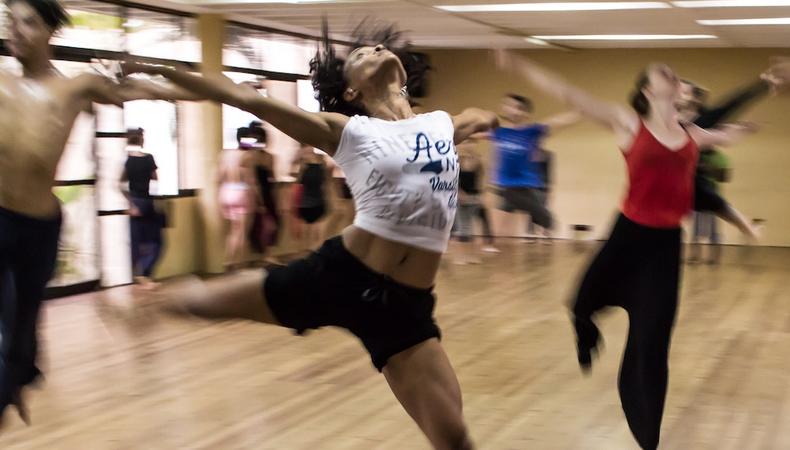 We're all human, which means mistakes are a regular part of our lives—even for professional dancers. So if you're gearing up to take your first professional dance class in New York City, I'm here to offer a few tips on what not to do.
Some of you may have been stars in your own community and feel there's nothing stopping you. That confidence is fantastic and I don't want to squash it in the least. What I do want is for you to become an awesome student and class participant in the big leagues. Many of the top dance teachers in New York are also well-established choreographers or supply the best dancers to other choreographers. They know everyone and they can have influence over your career.
I asked a few friends who are top dance teachers in New York and around the world what their pet peeves are, and based on the things that make them see red, I've compiled this list of seven things you should never do in a professional dance class. If you follow these simple rules, you'll be a welcomed member of the city's thriving dance scene.
1. Don't be oblivious to the teacher's background.
Do your research. Know what shows they've done, the styles they teach, who they've worked for, etc. It gives you insight into what their class may entail in terms of style and what they expect from dancers. Are they very athletic or more style oriented? Do they go to the floor? Do they expect you to wear particular shoes for their class? What is their dress code? Hair back? Be prepared and dress accordingly.
2. Be aware of your skill level.
Don't go to a class that's too advanced for you. Yes, you may have been an advanced student in your hometown or at school, but know that you're most likely a few levels lower than what you're used to in New York City. There are many different aspects to a top New York class that include more than just level of technique: style, speed, teacher dynamic, other students, etc.
If you must go to a higher level, go to the back and don't advance to the front until the teacher indicates for you to do so. Learn from the regulars who will or should be in the front line. Not only does this show respect for the teacher and their regulars (who are most likely professional and could be your soon-to-be-co-workers,) but the teacher also sees you're aware of what you don't know. That is a wonderful quality in a dancer.
READ: 5 Styles of Dance Every Performer Should Know!
3. Have spacial awareness in class.
Not being aware of the people around you is Andrew Nemr's, artistic director at DPD PLUS and co-founder at Tap Legacy Foundation Inc,, biggest pet peeve. Your old studio had lots of room and no poles? This is New York: space is at a premium and the number of other students in a class is likely much larger than you're used to. The subway at rush hour is a good indication of what an NYC dance class may feel like.
I have seen many an accident in class because someone wasn't paying attention. If you're the reason a professional dancer gets hurt in class and can't perform that night, not only will you feel terrible but they'll remember it. Every good student is able to hold their space and move with the class. This is also indicative of how you're going to work in an ensemble.
4. Don't be on your phone.
Yes, phones are an extension of our arms now, but for the love of dance please don't be on your phone during class. I guarantee you the teacher will call you out immediately. If there's a break in class and you're given time to put on shoes or for some reason the teacher gives you a five-minute break, maybe then and only if it's an emergency can you check your phone. The class will be over in 90 minutes—stay off your phone.
I also shouldn't have to tell you to turn the ringer off and to please note record yourself doing the combo without permission from the teacher.
5. Don't be late and leave early.
Nothing annoys AC Ciulla from "So You Think You Can Dance" and "Dance Moms" more than someone coming into class late or leaving early. We're all busy and are running around between jobs and auditions, so once in a while, it's understandable. Just don't make it a habit. If you're a regular, tell the teacher ahead of time that will be late or have to leave for an audition. If it's your first class, make sure you schedule well and concentrate only on the class.
6. Don't ignore a correction.
New York teacher and choreographer Debbie Roshe gives corrections. She has an exquisite eye for detail and when she gives a correction, apply it immediately. If a teacher sees that you can't or won't adjust to what they want, they won't want to work with you in a professional setting. The top choreographers who teach will notice how fast you pick up their style, apply corrections, and how clean your dancing is. Dancers who come to class and continue to make the same mistakes don't work.
7. Don't yawn.
This was overwhelmingly the biggest no-no: We all see red when someone yawns in class. When I'm teaching and a student yawns, I stop class and talk for 10 minutes about why not to do it. We don't care that you've been up late—everyone else is working hard, too. Cover your mouth, disguise it as a cough, fling yourself into a hamstring stretch...just make sure we can't see you yawning.
If you follow these points, get ready for a long and happy career in the professional dance world.
*This post was originally published on Dec. 19, 2017. It has since been updated.
The views expressed in this article are solely that of the individual(s) providing them,
and do not necessarily reflect the opinions of Backstage or its staff.