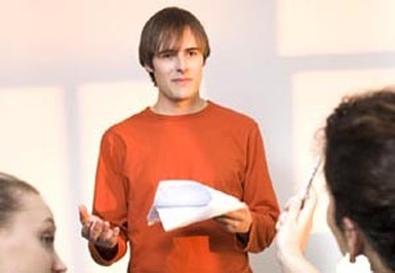 Barbara McNamara, who has headed her own company in New York, Barbara McNamara Casting, for four years, casts films, TV shows, commercials, voiceovers, and industrials. Among her many credits are "The Devil Wears Prada," "30 Rock," "Duplicity," and an ad for Dolce & Gabbana.
Looking for the Look
My background is in fashion. I majored in fashion business at the Fashion Institute of Technology, worked for Ralph Lauren, and had my own bridal TV show. I wasn't sure if I'd work in fashion or TV. I started as an assistant to the casting director for "Sex and the City" and then worked for other casting directors. When I opened my own business, the first movie I got was "The Devil Wears Prada." Moving from fashion to casting is a switch, yet there is a connection. In casting, you're always searching for the right look.
For film and television, there are no trends in the kinds of looks directors want. It varies from project to project. But for commercials, they generally want actors who look "real," not too polished or stagy. They like actors who can improvise, and reacting is very important—moment-to-moment acting.
Through the Door
I do look at cold submissions. A cover note listing several of the most important things you've done is fine, but keep it short. I don't want to read five pages. The actor doesn't have to know what I'm casting at the moment, but I'm turned off if the actor talks about a project I'm not doing.
Headshots should look real and like the actor. They also need to be good-quality shots. If you're going to invest in a headshot, do the research and make sure the photographer takes quality shots. Some shots are tacky. I'm not a fan of over-the-top poses. And make sure the headshot you send is current.
On résumés, I like to see that the actor has trained and has a well-rounded background, has worked on stage as well as in front of a camera. I like an actor who has worked in the three mediums—stage, film, and TV—and is familiar with different techniques. If an actor has done background work, that's fine, and listing those credits on a résumé is not a turnoff to me. I know it's a stigma with some agents, but I've cast actors in principal roles who started their careers doing background work. Background work shows that you're familiar with a film set.
I prefer to be the one soliciting a reel, but if someone sends one to me, I won't send it back. Either I'll look at it or someone in my office will. Rarely will it fall through the cracks. It shouldn't be more than three minutes. Professional work on the reel is better, but if you don't have any, I will look at an actor doing monologues. I love to discover new talent.
I'll look at websites, but I don't spend much time on them unless I'm intrigued by the actor, and that's rare. If I look at a website, I don't want to see too much wording or too much showiness. It should be professional and clean and to the point: who you are, what you've done, and where you want to be. It should catch my attention, but not too much.
If I'm interested in someone, I'll call that person in. It's always for a specific role, and the actor will read from sides. However, if you don't hear from us, you can certainly resubmit, but not on a weekly basis—have something new to tell me.
Standing Out
I like it when an actor is prepared. If you're there to read for "30 Rock," be familiar with the show. I understand that actors are nervous, but they should take a deep breath and own the character, even if it's not the right fit. Make the wrong choice, but make a choice. I also look for an actor who can take direction.
It's not necessary to come dressed for the part, but I'm not bothered by it. Maybe that's because of my fashion background. I think it's appropriate to suggest the character. If you're playing a blue-collar role, don't come in a suit. And I don't recommend that anyone come in tight jeans and a tank top unless it's right for the part. There should be thought and respect in the way actors dress.
At an audition, I'm turned off by actors who name-drop about people working in the project: "I worked with that producer or that director and he just loves me." I always feel, so why are you here with me? Why don't you contact them? I don't mind if an actor mentions that he's worked with someone in the project, but there's an appropriate and tactful way to do it.
Actors should understand they're given a certain amount of time to show me what they can deliver. I don't mind if an actor asks to read again. It doesn't mean I'll have time, but the actor can certainly ask. Sometimes I'll call someone back simply because I sense the actor's drive. For that reason, I may want to give that actor another shot, especially if I felt he was nervous.
Actors don't have to send thank-you notes following an audition, but I'm fine if I get one and I'll read it. A thank-you note should be short and sweet; we don't need to relive the audition. Thank-you notes won't make me cast you if I haven't, but they may make me remember you for something else. It's a full-time job to land a role, and there are lots of interpersonal skills involved. Not that everyone has to do X, Y, and Z. But those actors who think outside the box and are their own people become a little more special.

You can mail your headshot and résumé to Barbara McNamara Casting, 249 W. 34th St., Suite 500, New York, NY 10001 or upload them through her website, www.barbmcasting.com.