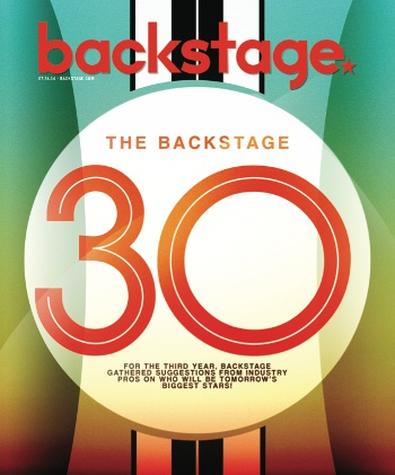 Once again, Backstage reached out to casting directors, acting coaches, and other industry professionals with their ears to the ground about the actors who are teetering on the verge of stardom. After some heated debates and additional investigation, here they are, presented for posterity: The 2014 Backstage 30.
CLICK HERE TO VIEW THE 2014 BACKSTAGE 30 SLIDESHOW!
---
Backstage 30 Alumni: Where Are They Now?
Actors from the First and Second Annual Backstage 30 lists have already gone on to do amazing things. See what some Backstage 30 alum are up to below!
Nat Wolff, who made our first-ever Backstage 30 list, has come a long way. He has a lead role in the upcoming "Paper Towns," and this summer saw him stealing scenes in "Palo Alto" and "The Fault in Our Stars."
Heléne Yorke received rave reviews as Olive Neal in the Broadway musical "Bullets Over Broadway," also starring Zach Braff and Marin Mazzie.
John Gemberling has moved on to the popular Web series turned Comedy Central show "Broad City," and has a role on NBC's upcoming sitcom "Marry Me."
Ciara Renée was recently named the new lead in the Broadway production of "Pippin."
Emily Meade can currently be seen on HBO's "The Leftovers."
Eloise Mumford will next be seen in the heavily anticipated film adaptation of "Fifty Shades of Grey."
Aya Cash is currently starring on FX's new series "You're the Worst."
Lucy DeVito is taking on the Web and supernatural realms with a starring role on the Hulu series "Deadbeat," about a man who tries to solve the problems of ghosts.
Want to see more? Check out 2013's Backstage 30!