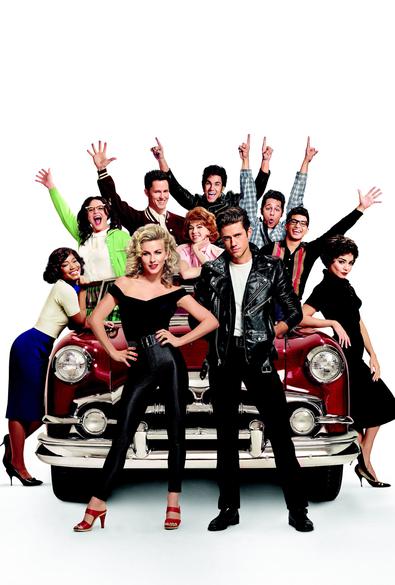 It's only fitting that Thomas Kail is directing "Grease: Live," Fox's foray into live musical theater telecasts. His childhood movie collection practically foretold it. "I grew up with two sisters," he says, "and we owned three movies: 'Grease,' 'It's a Wonderful Life,' and 'Grease 2.' And you can only watch 'Wonderful Life' in the last half of the year. So I don't remember a time when I didn't know 'Grease.' "
Jim Jacobs and Warren Casey's '50s teenage-romance musical served as an introduction to the theater world as well. "It was also the first musical I saw live, years later, after [seeing] the film," says Kail, who went on to stage such Broadway hits as "In the Heights," "Magic/Bird," and, most recently, "Hamilton." "Grease: Live," which will star Aaron Tveit, Julianne Hough, and Vanessa Hudgens in the roles embodied in the 1978 film by John Travolta, Olivia Newton-John, and Stockard Channing, respectively, has been in the works at Fox for almost two years. Following the model pioneered by NBC's live telecast presentations of "The Sound of Music," "Peter Pan," and "The Wiz," Kail's one-night-only production airs Jan. 31.
"I've long admired the tradition of live telecasts and was very moved and inspired by 'Playhouse 90,' '[The United States] Steel Hour,' all those things," Kail remembers. Watching many of his friends on the NBC productions, he adds, was an inspiration; in an era where entertainment is consumed in increasingly different ways at different times, theatrical broadcasts signify a return to a collective viewing experience. "We're all part of this larger movement to bring live theater to a bigger audience."
It's also true that revivals of plays and musicals, especially when staged in this format, allow audience members of multiple generations to enjoy the story. In every revival he's directed, Kail says, "Parents bring their kids. There's something very moving about that."
So how does one stage live theater on TV? "What I've found is there's [a lot] in common with what I'm used to doing," he explains. "The idea of figuring out the best way to tell the story, getting a large group of actors, designers, and crew on the same page to get to the same goal, those things all translate.... Like anything else, you take the challenges one at a time."
In walking the fine lines between introducing young audiences to "Grease," paying homage to the classic film, and giving the story a fresh twist, Kail worked closely with collaborators old and new: live TV director Alex Rudzinski ("Dancing With the Stars"), choreographer Zach Woodlee ("Glee"), set designer David Korins ("Hamilton"), costume designer William Ivey Long ("On the Twentieth Century"), and orchestrator Tom Kitt ("Next to Normal"), who also composed some new music. "I just tried to surround myself with people who are really excellent at their jobs," he says.
Casting a production of this magnitude required more communication among creatives than usual, but the same rules of energy and alchemy applied. "It was a lot of thinking and seeing people and talking to my collaborators—Tom Kitt and [executive producer] Mark Platt, folks at the studio and the network—about who we thought would embody those characteristics," says Kail. "I'm enormously proud of this company." In addition to Tveit, Hough, and Hudgens, "Grease: Live" will feature Carly Rae Jepsen, Keke Palmer, Carlos PenaVega, Kether Donohue, and Mario Lopez.
As with any stage show, Kail's job is to prepare his team as much as possible—and then take a step back. "So much about being a director is getting the show ready for that first preview audience. I have a lot of experience making events that only happen once; it's opening and closing night in the same three-hour span." Come Jan. 31, Kail says with a laugh, he'll be "trying on leather jackets backstage.
"I'm excited for the work we have left to do and to share the experience of what we've been doing. 'Grease' is a big party and everyone is invited!"
Inspired by this post? Check out our television audition listings!