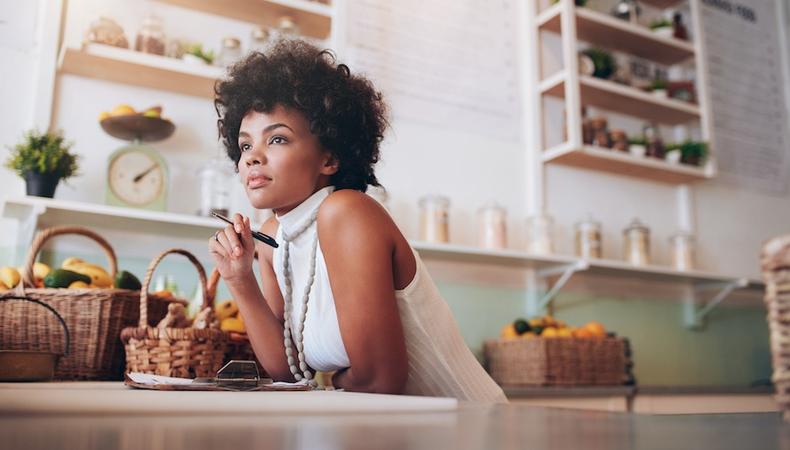 It's the start of a new year, which means there's no better time to think about what you need to do to accomplish your goals. In the rush of day-to-day life, it's not always easy to remember to pause and take a moment to reflect on what you can do to increase your odds. But doing so is your best chance for success in this competitive industry.
Recently, we were talking to a makeup artist who said her client—a talented, well-trained, pretty actress—was constantly auditioning but always felt like something was holding her back.
This got us thinking: Are actors thoughtful enough about their skills, physical presence, professional comportment, and the kinds of jobs they go after? In other words, do they take the time to really think through every aspect of their careers and how each plays into their success (or lack thereof)? It's quite possible that the thing holding that actress (and you) back might be something she'd never taken the time to consider. After all, when you're not paying attention, things slip through the cracks.
Take for example a student we once had in a Studio Master Class. Every time he didn't get the response he wanted from the industry, he complained about everyone else involved, except for himself. Not getting the audition or the callback was never his fault, and there was always someone else to blame.
READ: 5 Essential Ingredients to Acting Success
It was clear to everyone that his lack of success wasn't a result of the industry, but was due to his own unawareness. Rather than moan and be resentful, he could have taken the time to reflect on his career, figuring out that perhaps there was something missing in his skill set as an actor, and working to fix it. Instead, he plowed ahead with the same negative attitude, and continued to get rejected.
Being aware relates to a deeper thinking about everything. If you don't book as many auditions as you'd like, do your research. Who's getting your roles? What are they doing differently than you? Are you doing everything in your power to prepare for the parts you're going out for?
Take the time to objectively evaluate your voice, your physical life, and your acting skills to see where things can be strengthened. Take classes. Learn how to do dialects. Work on your voice. Sign up for dance lessons. Every time you choose to work on your skillset, you increase the opportunity of getting cast and of opening up new opportunities.

Whoever you are, take the time to deeply reflect and start every day with a new awareness of what you need to do to create your own unique personal success. At the very least, you always remain a humble and teachable student of life and art, and that is a terrific success in itself.
Ready to put your new skills to work? Check out our theater audition listings!
The views expressed in this article are solely that of the individual(s) providing them,
and do not necessarily reflect the opinions of Backstage or its staff.