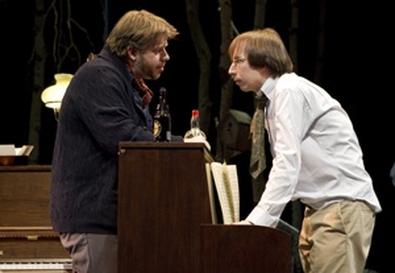 The wine flows freely at New York Theatre Workshop during "Three Pianos," a freeform riff on "Winterreise," Franz Schubert's 24-song cycle, as performed, written, and arranged by a trio of actor-musicians. As you enter the theater, you're handed a plastic cup, and complimentary vino is available in the aisles. The performers stop the show more than once for a "wine check" to ascertain if anyone needs a refill. One lucky audience member is even invited to do a shot of tequila, complete with salt and lime. The three cast members—Rick Burkhardt, Alec Duffy, and Dave Malloy—appear to be imbibing quite a bit themselves, but they probably have fruit juice or iced tea in their bottles. The resultant atmosphere is one of a booze-soaked college bull session. You know, those get-togethers where you would debate the great issues of the day with fellow students and knock back a couple of brewskies. The author-performers play versions of themselves and discuss depression, art, classical vocals versus rock vocals, and what music, particularly Schubert's, means to them.

They combine this contemporary-party template with a re-creation of a Schubertiad, a gathering of Schubert and his comrades in 18th-century Vienna. The two time periods overlap, with phrases like "Someone should go on a beer run" and "Who can float me some cash?" coming out of the mouths of Schubert's pals. Interwoven through these threads is a rumination on and performance of the composer's famous song cycle, whose title means "Winter's Journey," sung by our merry trio and played by them on the titular instruments, which they move about on Andreea Mincic's beautifully impressionistic set.

First presented last season as part of the Ontological-Hysteric Theater's Incubator series, and the winner of an Obie Award, "Three Pianos" contains individual moments that are entertaining and informative, but overall it feels like a lengthy parlor trick. There is a funny history lecture tracing the shift of musical patronage from the church to the nobility and an amusing Chico Marx bit in which one of the songs is played by the three as they move from piano to piano. But too much time is spent during the modern-day sections in self-indulgent navel-gazing and forced conflict. At two hours and 20 minutes without an intermission, the show soon loses its novelty and the format comes across as a gimmick.

Despite this, Burkhardt, Duffy, and Malloy manage to convey an infectious enthusiasm for their subject and are often quite cute and charming. Director Rachel Chavkin does her best to vary the action and keep the pace rapid, but she is ultimately defeated by the loosey-goosey nature of the material. Some editing and tightening are definitely in order, and maybe a tad less booze.



Presented by and at New York Theatre Workshop, 79 E. Fourth St., NYC. Dec. 19–Jan. 16. Tue., 7 p.m.; Wed.–Fri., 8 p.m.; Sat., 2 and 8 p.m.; Sun., 3 and 7 p.m. (212) 279-4200 or www.ticketcentral.com.