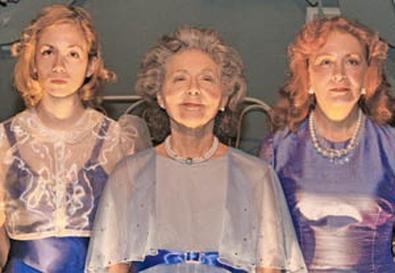 Edward Albee's 1994 Pulitzer Prize–winning drama about the three generations of a woman's life is classic, riveting theater. While director Michael Matthews' production takes a while to heat up, it delivers a powerful punch in the second act, with fine performances by Eve Sigall, Jan Sheldrick, and Leah Myette.
Based largely on the story of Albee's adoptive mother—he was adopted by Reed Albee, the owner of the Albee Theater Chain, and his wife—the play revisits the anguished life of the 92-year-old matriarch, from a wide-eyed innocent girl to a middle-aged harpy to an addled and embittered old woman. The magic of the play happens mostly in the second act, when the young woman is treated to a journey into a future filled with disappointment, betrayal, and unhappiness. The playwright hits his stride when his characters declaim about the different stages of their lives in a series of poignant and pointed remembrances.
The writing demands the very highest level of performance. The dialogue is mostly sparse and crackling, and it walks a barbed thematic tightrope. In this production, the actors are mostly up to the challenge. Sigall as the matriarch slowly sharpens her rapier in the first act, but by the second act she is sharp as steel. Sheldrick, who plays the caretaker in the first act, lets loose as the middle-aged wife in the second act, delivering an impassioned and powerful monologue on the injustices of her plight. Myette is also particularly strong in the second act, when she embodies the innocent hopes of youth that she realizes will soon be dashed on the shoals of time. And Michael Geniac handles the challenging, wordless role of the son with aplomb.
Matthews does a solid job directing the actors, finding the right focus for the play. The only distraction is the use of music and sound effects to "indicate" flashbacks. Why not let Albee's writing speak for itself? The set, by Kurt Boetcher, is fabulous, finding the right blend of natural and surreal to precisely encapsulate the world these characters inhabit.
Presented by West Coast Ensemble at the El Centro Theatre, 800 N. El Centro Ave., Hollywood. Nov. 14–Dec. 20. Thu.–Sat., 8 p.m.; Sun., 3 p.m. (323) 460-4443. www.westcoastensemble.org.