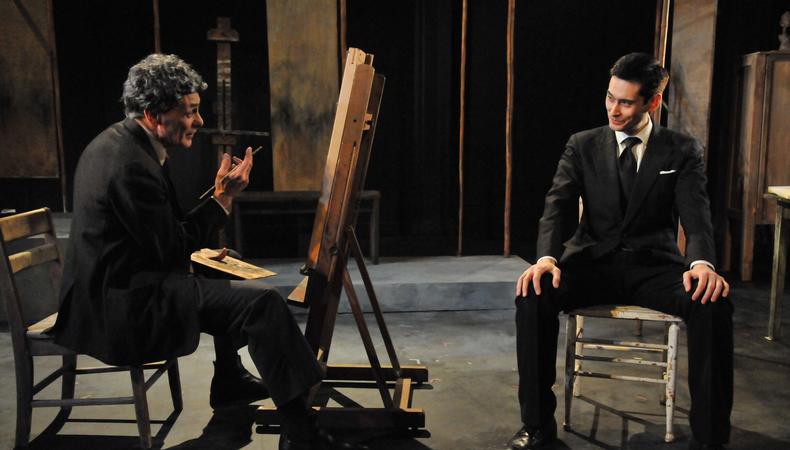 Exquisitely acted, "Three Trees" puts forth beautiful ideas concerning the transformative power of creating and inspiring art, the notion of a portrait as the container of a human spirit, and the confounding intersection of the aesthetic and the mundane in the everyday experience of an artist. Presented by Pan Asian Repertory Theatre, and intelligently directed by Ernest Abuba, the production is entrancing despite Alvin Eng's heavy-handed script.
The play tells the story of famed Swiss artist Alberto Giacometti; his wife, Annette; and his brother, Diego, whose neatly balanced, co-dependent relationships are rendered dysfunctional by the arrival of Isaku Yanaihara. A Japanese philosophy professor visiting Paris to research French existentialism, Isaku becomes Giacometti's muse, Annette's lover, and Diego's foe. The complications are multilayered and invoke weighty questions about morality, reality, and legacy.
With its stilted, impersonal dialogue that sounds more like academic discourse than anything these three intriguing characters would ever really say to one another, Eng's play is more about intellectual wrestling than physical action. It is full of prosaic lines such as "Music and art, I couldn't live a life without it." Much of the staging consists of Giacometti fidgeting at his easel as he tries to draw Isaku, who sits ramrod straight and still in a model's chair in front of him. However, because of the production's extremely well-cast actors, we really get to know and feel for each member of this provocative quartet of real-life historical figures.
French-American actor Jean-Pierre Stewart is phenomenal as the lame, sterile, scared, and scary Giacometti, a man too full of self-hatred and anxiety to enjoy intimacy with his ravishingly pretty and devoted wife. Though he sometimes speaks too quickly for us to catch every word of his character's dense, philosophical musings, Stewart generates abundant emotional intensity that he divvies out in perfectly controlled proportions and targets with laser-sharp precision. He makes visible the artist's struggle to "see" his model and reveals the mounting frustrations that accompany a declining ability to capture a likeness in clay or on paper. Marcus Ho draws a suave Isaku that stands in stark contrast to Giacometti's grittiness. With his mellifluous speaking voice, handsomely chiseled face, and cool grace, Ho makes it clear why Isaku proves irresistible to both the artist and his wife. Leah Cogan is an affecting Annette, her thin physique underscoring the character's vulnerability in the face of her husband's overpowering self-involvement. Scott Klavan brings the right sturdiness to the drama's grounding role of the practical-minded Diego.
Carol Pelletier's attractive costumes evoke the story's cultured 1950s Paris setting, and Gian Marco Lo Forte's set is spot-on. He litters the artist's studio with unfinished paintings and sculptures that look exactly like Giacometti's work (created by Danielle Baskin) and incorporates subtle Japanese references, such as the use of bamboo poles to suggest walls.
Presented by Pan Asian Repertory Theatre at the West End Theatre, 263 W. 86th St., NYC. March 28–April 14. (212) 352-3101, (866) 811-4111, www.theatermania.com, or www.panasianrep.org.
Critic's Score: B+